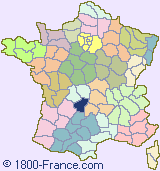 With an area of 5,857 km², the département of Corrèze is located in the région of Limousin.
The préfecture is Tulle and the sous-préfectures are Brive-la-Gailarde and Ussel.
Neighbouring departments are Cantal, Creuse, Dordogne, Lot, Puy-de-Dôme and Haute-Vienne.
The department is named after the river Corrèze, a tributary of the Vézère.