Train Travel in China by Zhimai Zhang on Unsplash.
Chapter Five: China Travel - China Rail Travel.
The hard-seat section of the train was already overcrowded.
Heads poked out of open windows to escape the stuffiness inside, the little tables were piled high with food and soft drinks for the two-day journey, and in the restaurant-car kitchen staff sweated and chopped vegetables.
A man pushed in front of me with his wife.
They only had one ticket between them which prompted an argument with the ticket collector.
The man appeared to say that he was only helping his wife aboard with her luggage, or perhaps said that they would share a berth. They both stayed on as the train pulled out.
The man later wandered around the carriage looking at the passengers for a sign of a vacant berth.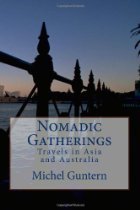 Travel Notes Online Guide to Travel
The Travel Notes Online Guide to Travel helps visitors plan their trip with country and city travel guides, local tourist information, reviewed web sites, and regular travel articles.

Join Michel on Meta-Travel.

Turn The Page: Train Carriage Commune.
If you enjoy Nomadic Gatherings, please take a moment to share it with your friends on social media.