Landing in Hong Kong by Hans Dorries on Unsplash.
Chapter Four: Colonial Gateway - Landing in Hong Kong.
Just before I left England a CAAC jet had split up on landing at Hong Kong and had to be fished out of the harbour.
I prayed against making similar headlines.
Sampans left their trails in the water like snails on the garden path, islands increased in size, mountains rose up on one side, concrete and glass edifices on the other, and then the plane taxied to inspect the ranks of the larger Cathay Pacific fleet; the green and white carriers of Little Britain south of the Wall, a leasehold Gibraltar in the middle of Asia.
The South China Sea and the 'Fragrant Harbour' were names I had romanticised about since boyhood.
My arrival wasn't one associated with trade-winds and pirates, but the gateway to China was a living adventure itself.
I wanted to get a visa and head north to the Great Wall before the unbearably cold weather settled in.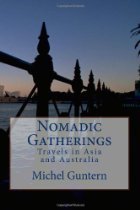 Travel Notes Online Guide to Travel
The Travel Notes Online Guide to Travel helps visitors plan their trip with country and city travel guides, local tourist information, reviewed web sites, and regular travel articles.

Join Michel on Meta-Travel.

Turn The Page: Around Hong Kong.
If you enjoy Nomadic Gatherings, please take a moment to share it with your friends on social media.