Don Khong is the largest of the islands; situated at the southern tip of Laos, just several miles from the Cambodian border.
My legs are starting to feel heavy as I walk in the centre of the main road that winds its way around the perimeter of Don Khong, Laos.
I've had enough now of waving to Laotian farmers working the rice paddies, who look surprised to see a group of four westerners on foot, this far from the small guesthouses near the river.
They might be curious as to why a girl in our group is wearing a conical hat.
She's one of those travellers who will attempt to dress as the locals do. In Thailand such people wore fisherman's pants, presumably oblivious to the fact that most Thai's are dressing more and more as westerners do.
Occasionally we walk past a young monk on his way to the local monastery but nothing extraordinary has happened in this part of Laos.
We've see a lot of crabs that have died under the blazing sun and the water buffalo lazing in the mud are always a source of amusement, but otherwise it's been just a pleasant, quiet walk and an insight into farming life in Laos.
It's all about to change. We're armed with 30 biro pens, 6 glitter decorated pencils and no less than 120 pieces of American, Bazooka bubblegum.
We had made a similar walk yesterday so we know that school's out any moment.
Last time we were here the children, aged from about six to twelve, had asked us for pens, not money, which they could use for school. The look on their faces upon discovering we had none was devastating, but here we were making amends.

Children in Laos.
We had enough pens for everyone, but in these situations it is the most adorable children that walk away with the goods.
There's a girl in a t-shirt of Brazilian footballer, Ronaldo who is continuing to sport the face of an angel whilst she asks for a biro, but she's only partially hidden the two she has already received into her pocket!
Everybody appears happy though as we continue to walk, playing games with the children.
Laos is one of the world's poorest countries and the unfortunate title of 'World's Most Bombed Country' hasn't helped money coming into Laos from tourism.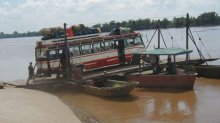 Travel by bus in Laos.
The average annual income in Laos is less than US$300 and after a quick calculation it's simple to understand why the children need pens for school, which cost the same here as they would back in England. It's nearly half a day's wages.
These children are from Si Phan Don, often referred to as the Four Thousand Islands, although the precise amount of islands varies depending on the height of the Mekong River.

Houses on Si Phan Dong, Laos.
Don Khong is the largest of the islands, situated at the southern tip of Laos, just several miles from the Cambodian border. It's the kind of place you never want to leave yet they live a life you'd never like to lead.
Houses on Si Phan Dong consists of a small wooden stilted main building, a chicken pen in the front garden with the optional extra of a pig that lives under a sheet of corrugated metal or in a barrel laid on it's side.
The children have rice paddies stretching as far as the eye can see to play in. There are neighbours, but it's a long way to walk for a cup of sugar. At least for a few days, a visit to Si Phan Don is hugely rewarding.
And other than the main activity of walking around doing nothing in particular, there are plenty of tours and attractions on offer.
For starters, there are four thousand islands to see!
If you've come this far, a must-see is the Irrawaddy dolphin.
Best to go as soon as you arrive though, as the poor Irrawaddy might not be around for too much longer. She's one of the world's most rare mammals, with numbers estimated to be as low as fifty.
Unless Cambodian gill-net fishing is bought to an abrupt end, these timid animals will be soon. How much longer until the 'Come see the Irrawaddy' tours become 'Does the Irrawaddy exist?' tours?
Other not so memorable sights to behold include the only ever attempt at a railway line in Laos (started by the French but not finished) and a large seated Buddha in Don Khong.
Best of the bunch though is a nonchalant stroll, or bike ride, around the islands, disregarding time and with little attention paid to direction.
Do watch out for snakes though!
Small, green and poisonous snakes lurk in the grass and don't think we were just incomparably unlucky when we saw three!
There may be four thousand islands here but there's not one hospital and there's only one plane at the airport.
Snake bite or not, you wouldn't want to get in it!
By Ben Morris.

Add a Business Listing - Add a Destination Guide - Add a Place to Stay.


If you find Travel Notes useful, please take a moment to like us on Facebook and share with your friends on social media.
Meta-Travel Blogging - Top Travel Blogs - Travel Notes Directory.