With six hundred friendly animals, ranging from elk to ostriches, Bearbrook Farm is a successful, award-winning combination between a tourist resort and exotic animal park.
It's a dream come true for any aspiring Dr. Dolittle.
This unique gem can be found tucked away in the little town of Vars, about twenty minutes east of Ottawa in Ontario, Canada.
With a history as interesting as the animals that roam its wide expanses, Bearbrook had its simple beginnings in 1973, when Walter and Inge Henn, both originally from Germany, decided to purchase a dairy farm in the Ottawa Valley.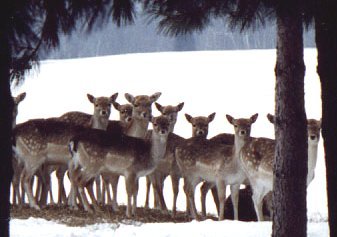 Deer in the Woods - © Phil Raby.
Over the next twenty years, the couple added chickens and pigs, and then sidelined their way into an international meat refrigeration business. Following the success of that venture, they turned to game farming.
In 1993, the Henns began a small bed and breakfast that has evolved into a 40-room, 5-suite family-friendly resort.
The clean, comfortable rooms all have private baths and phones. The immaculate suites each contain a cosy fireplace and are large enough for a couple and two children.
The suites are $149.00 (cdn) per night, while rooms range from $65 to $70 (cdn).
The resort also boasts a beautiful indoor pool and sauna. A collection of aquatic toys keep the little ones busy while adults can relax in the adjoining therapeutic whirlpool.
A hardy farm breakfast, included in the rates, is available in the large dining room steeped in rich German tradition. Platters of fresh fruit and cold cuts are offered with a basket of white and brown toast. Eggs, that are made to order, come with bacon, hash browns and home-made sausage.
But perhaps the heart of Bearbrook can be found in the barns and nature trails that contain the hundreds of animals that make up the bulk of the exotic ranch.
The animal park, which stemmed from Walter Henn's wish to raise deer, has grown to accommodate wild boar, ostriches, lamas, buffaloes, emu, elk and shaggy-haired highland cattle.
Along the nature trails, the fallow and red deer run gracefully among pine trees.

Whitetail Deer at Bearbrook Farm - Phil Raby.
Delicate Sitka deer can be found eating from piles of hay in wooden troughs and elk graze lazily, stopping occasionally to observe approaching strangers.
Human affection is something the animals are used to.
Deer will bound up to sniff at visitors without a hint of apprehension.
At first, you believe they are simply looking for food-filled hands, but it seems what they rally crave are pats on their soft snouts.
That friendliness can be found in the domesticated animals as well.
Rows of goats and sheep stick their heads out of their enclosures vying for your attention. I especially had a hard time convincing a white billy goat, that clambered half way out of his pen, that he couldn't come home with me.
The horse barn harbours various Shetland ponies, lamas and a magnificent pair of Clydesdales. It was a thrill to touch the shiny black creatures that patiently waited as we stretched to pat their silky noses.
The same couldn't be said for two chocolate-coloured mules competing rudely for all the affectionate strokes by braying loudly.
Chickens, peacocks, turkeys, guinea pigs and even a few hibernating turtles are a few of the other animals at the farm. Patrolling the barns are several just-have-to-cuddle cats that enjoy all the visitors as much as the other animals.
Bearbrook Farm:
Visit the farm and stay a night or two at the Tourist Inn.
By AP Rodrigues.

Add a Business Listing - Add a Destination Guide - Add a Place to Stay.


If you find Travel Notes useful, please take a moment to like us on Facebook and share with your friends on social media.
Meta-Travel Blogging - Top Travel Blogs - Travel Notes Directory.