November brings the largest Great White Sharks to Mexico; the eighteen foot long sharks a big draw for divers.
November usually brings to mind visions of Thanksgiving, voting ballots and recovering from Halloween candy. However, in the world of Great White sharks, November is their Spring Break.
Isla Guadalupe, 210 miles off the coast of Mexico, has become the world-wide recognised dive destination for an unprecedented number of Great White sharks (Carcharodon carcharias) and exceptional opportunities for divers seeking encounters with these misunderstood denizens of the deep.
After four years of solid operations at the Isla Guadalupe dive site, the Shark Diver team, lead by dedicated shark specialists in conjunction with U.C Davis and CICIMAR's research teams, have noted several unique seasonal shark patterns.
Something Exciting Always Happens in November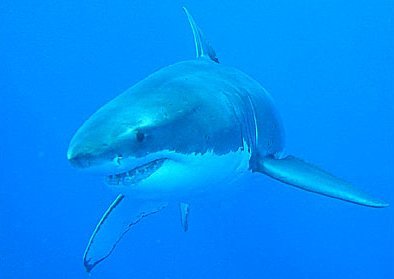 Close-up With Sharks - © Shark Diver
For the past several years we see many juvenile and mid-sized animals from September through late October. But when the seasonal temperature shifts, the real giants appear!
The giants in question are massive female Great White sharks that appear in large numbers later in the shark season.
In early November, when water temperatures dip several degrees lower, larger breeding-aged female Great White sharks stalk the waters at Isla Guadalupe looking for something the Shark Diver research team is trying to discover.
We have data showing these sharks actively stalking the small Guadalupe Fur Seals (pups and adults), early in the shark season. By November these pups are quite big and begin to play offshore, which is the equivalent of ringing the dinner bell for females who need to consume mass quantities of food to fuel up for the winter and for breeding season.
There are few places in the world that feature consistent sightings and interactions with Great White sharks as Isla Guadalupe.
A divers' best chance of seeing sharks as long as 18 feet (or more) is in November.
As we have discovered with past Great White shark diving, off the coast of California in Ano Nuevo and off the Oregon coastline, sharks of that size don't just wander around aimlessly - they are destination animals, just like any migratory species.
By Patrick Douglas.

Add a Business Listing - Add a Destination Guide - Add a Place to Stay.


If you find Travel Notes useful, please take a moment to like us on Facebook and share with your friends on social media.
Meta-Travel Blogging - Top Travel Blogs - Travel Notes Directory.