Where to go and where to stay in Palo Alto.
Palo Alto is served by two major freeways, Highway 101 and Interstate 280, and is traversed by the Peninsula's main north-south boulevard, El Camino Real (CA-82).
Train connection is available via Caltrain with service to San Francisco and San Jose.
Located 35 miles south of San Francisco and 14 miles north of San Jose, Palo Alto is a part of the San Francisco Metropolitan Bay Area and the Silicon Valley.
Museum of American Heritage:
Located in the historic Williams House and Gardens near downtown Palo Alto, MOAH aims to create innovators of the future through inventions of the past.
Palo Alto Airport: (PAO)
Used mainly by daily commuters who fly (usually in private, single-engined aircraft) from their homes in the Central Valley to work in the Palo Alto area. No touch and go operations between 21:00 and 07:00 local time.
Palo Alto History Project:
A collection of notes and photographs on the history of Palo Alto, California.
Santa Clara Valley Transportation Authority:
Provides primary bus service through Palo Alto, to the south bay and Silicon Valley.
Hotels in Palo Alto:
There's a wide choice of places to stay along Palo Alto's El Camino Real.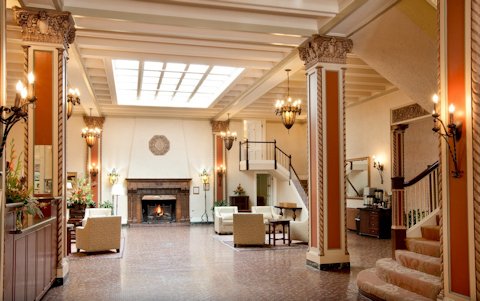 The Cardinal Hotel: (235 Hamilton Ave)
Built in 1924, the Cardinal Hotel was Palo Alto's premiere hotel. Retaining the grace and serenity of days past, the gracious lobby still provides a delightful glimpse of Old Palo Alto.
Intel Museum:
At the Intel Museum, visitors are immersed in the micro-miniature world of computer chips as they learn how they are designed, manufactured and placed into thousands of products in our everyday world. The Intel Museum has 3,500 square feet of interactive exhibits that appeal to both children and adults. It is designed as a self-guided experience, but guided tours may be arranged in advance for groups. Located in the Robert Noyce Building at 2200 Mission College Blvd, Santa Clara.
Palo Alto Festival of the Arts:
This community-friendly, high-art event in late August attracts over 100,000 people every year from throughout the West Coast. The Palo Alto Arts Festival takes place on tree-lined University Avenue, in beautiful downtown Palo Alto; 35 miles south of San Francisco. The backbone of the festival and the key to its success are the 300 fine artists and crafters who display booths along University Ave. Special attractions include a kids' art & crafts area, three major music venues, and the Italian Street Painting Expo. Local micro-brews and fine wines are offered to accompany the many gourmet foods being served. Free parking is within a block or two of the festival.
Palo Alto Players:
The Peninsula's oldest theatre company, the Palo Alto Players, has been producing quality live theatre in Palo Alto since 1931. Based at the Lucie Stern Theater, built in 1933, the Palo Alto Players produces a season of comedies, dramas, classics and musicals from September to June. Palo Alto Players walk-up box office is also open one hour before showtime at the Lucie Stern Theater, 1305 Middlefield Rd. in Palo Alto. To order tickets by phone, call (650) 329-0891.
Paramount's Great America:
Experience the exhilarating rides and hair-raising roller coasters at Northern California's most thrilling theme park. Paramount's Great America offers fun and exciting rides, shows, concerts, characters, and beautiful sights above the park on Eagles Flight. From heart-pounding thrill ride and dazzling stage shows to eye-popping fireworks or a cuddle with your favourite Nickelodeon characters, Paramount's Great America is the ultimate entertainment experience for the entire family. Located at 4701 Great America Pkwy, Santa Clara.
Shoreline Amphitheatre:
Experience the country's largest outdoor concert venue, featuring top music artists and concerts, plus the latest technical and visual sound systems. Shoreline's featured artists are showcased in an award-winning, state-of-the-art concert facility which delivers an amazing sonic experience. Shoreline also features unique craft booths, eclectic foods, cold beverages and a friendly staff. Located in Mountain View, 10 miles north of San Jose and 35 miles south of San Francisco.
Contributed by Stephanie Wansek.
California Travel Notes:
California tourist information with details about travel to and around the state. Where to stay and what to see is made easier with insider tips and hand-selected California links, by dedicated editors and visitors to TravelNotes.org - The Online Guide to Travel.
California Weather:
7-day forecasts and weather videos for California.

Add a Business Listing - Add a Destination Guide - Add a Place to Stay.


If you find Travel Notes useful, please take a moment to like us on Facebook and share with your friends on social media.