There are 12 counties in the Alamo Area region of Texas.
Visiting the Alamo Area
Converse, Fredericksburg, Hondo, Kerrville, Live Oak, New Braunfels, Pleasanton, San Antonio, Schertz, Seguin, Universal City.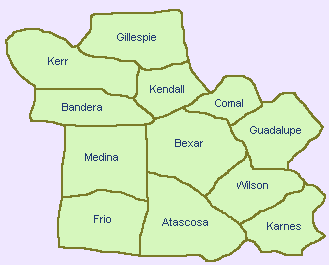 Atascosa, Bandera, Bexar, Comal, Frio, Gillespie, Guadalupe, Karnes, Kendall, Kerr, Medina, Wilson.
07 - Atascosa County: Jourdanton.
Located near the center of Atascosa County, about 37 miles south of downtown San Antonio, Jourdanton was founded in 1909 and named after Jourdan Campbell.
10 - Bandera County: Bandera.
Bandera calls itself 'The Cowboy Capital of the World'.
15 - Bexar County: San Antonio.
San Antonio captures the spirit of Texas. The seventh largest city in the United States, the city has retained its sense of history and tradition, while carefully blending in cosmopolitan progress.
Leon Valley was incorporated on March 31st, 1952, when the local residents became aware that the City of San Antonio was preparing to annex the area. Legend has it that the Leon Valley area was once the site of a stagecoach stop between Bandera and San Antonio, with the first settlers arriving in the early 1800s.
San Antonio is the most visited city in Texas. From The Alamo and San Antonio's many other missions to an evening stroll along the San Antonio River Walk - Visit San Antonio, and be inspired.
46 - Comal County: New Braunfels.
82 - Frio County: Pearsall.
86 - Gillespie County: Fredericksburg.
94 - Guadalupe County: Seguin.
128 - Karnes County: Karnes City.
130 - Kendall County: Boerne.
133 - Kerr County: Kerrville.
163 - Medina County: Hondo.
247 - Wilson County: Floresville.
Alamo Area Council of Governments.
Texas Travel Notes:
Texas tourist information with details about travel to and around the state. Where to stay and what to see is made easier with insider tips and hand-selected Texas links, by dedicated editors and visitors to TravelNotes.org - The Online Guide to Travel.
Texas Weather:
7-day forecasts and weather videos for Texas.

Add a Business Listing - Add a Destination Guide - Add a Place to Stay.


If you find Travel Notes useful, please take a moment to like us on Facebook and share with your friends on social media.