There are 7 counties in the Brazos Valley region of Texas.
Visiting the Brazos Valley Region
Brenham, Bryan, Caldwell, College Station, Giddings, Hearne, Madisonville, Navasota.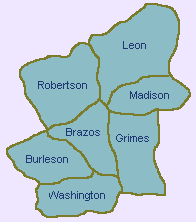 Brazos, Burleson, Grimes, Leon, Madison, Robertson, Washington.
21 - Brazos County: Bryan.
26 - Burleson County: Caldwell.
93 - Grimes County: Anderson.
145 - Leon County: Centerville.
157 - Madison County: Madisonville.
198 - Robertson County: Franklin.
239 - Washington County: Brenham.
Brazos Valley Council of Governments.
Texas Travel Notes:
Texas tourist information with details about travel to and around the state. Where to stay and what to see is made easier with insider tips and hand-selected Texas links, by dedicated editors and visitors to TravelNotes.org - The Online Guide to Travel.
Texas Weather:
7-day forecasts and weather videos for Texas.

Add a Business Listing - Add a Destination Guide - Add a Place to Stay.


If you find Travel Notes useful, please take a moment to like us on Facebook and share with your friends on social media.