There are 13 counties in the Concho Valley region of Texas.
Visiting in the Concho Valley Region
Brady, Junction, San Angelo, Sonora.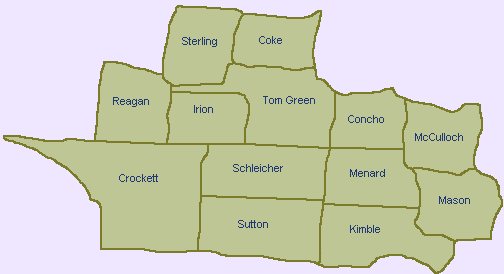 Coke, Concho, Crockett, Irion, Kimble, McCulloch, Mason, Menard, Reagan, Schleicher, Sterling, Sutton, Tom Green.
41 - Coke County: Robert Lee.
48 - Concho County: Paint Rock.
53 - Crockett County: Ozona.
118 - Irion County: Mertzon.
134 - Kimble County: Junction.
154 - McCulloch County: Brady.
160 - Mason County: Mason.
Mason, located on the western side of the Hill Country, offer's a beautiful combination of rugged Texas landscape, historic, recreational and cultural opportunities for any visitor or resident.
164 - Menard County: Menard.
192 - Reagan County: Big Lake.
Big Lake, located in West Texas, is on State Highway 137 & U.S. Highway 67 about 65 miles west of San Angelo.
207 - Schleicher County: Eldorado.
216 - Sterling County: Sterling City.
218 - Sutton County: Sonora.
226 - Tom Green County: San Angelo.
Concho Valley Council of Governments.
Texas Travel Notes:
Texas tourist information with details about travel to and around the state. Where to stay and what to see is made easier with insider tips and hand-selected Texas links, by dedicated editors and visitors to TravelNotes.org - The Online Guide to Travel.
Texas Weather:
7-day forecasts and weather videos for Texas.

Add a Business Listing - Add a Destination Guide - Add a Place to Stay.


If you find Travel Notes useful, please take a moment to like us on Facebook and share with your friends on social media.