There are 12 counties in the Deep East Texas region of Texas.
Visiting the Deep East Texas Region
Center, Crockett, Diboll, Jasper, Livingston, Lufkin,Nacogdoches.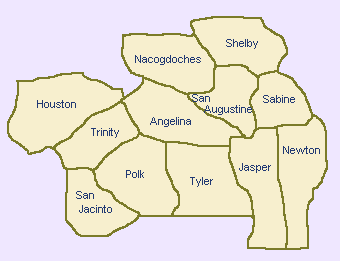 Angelina, Houston, Jasper, Nacogdoches, Newton, Polk, Sabine, San Augustine, San Jacinto, Shelby, Trinity and Tyler.
03 - Angelina County: Lufkin.
113 - Houston County: Crockett.
121 - Jasper County: Jasper.
174 - Nacogdoches County: Nacogdoches.
176 - Newton County: Newton.
187 - Polk County: Livingston.
202 - Sabine County: Hemphill.
203 - San Augustine County: San Augustine.
204 - San Jacinto County: Coldspring.
210 - Shelby County: Center.
228 - Trinity County: Groveton.
229 - Tyler County: Woodville.
Deep East Texas Council of Governments.
Texas Travel Notes:
Texas tourist information with details about travel to and around the state. Where to stay and what to see is made easier with insider tips and hand-selected Texas links, by dedicated editors and visitors to TravelNotes.org - The Online Guide to Travel.
Texas Weather:
7-day forecasts and weather videos for Texas.

Add a Business Listing - Add a Destination Guide - Add a Place to Stay.


If you find Travel Notes useful, please take a moment to like us on Facebook and share with your friends on social media.