There are 7 counties in the Golden Crescent region of Texas.
Visiting the Golden Crescent Region
Cuero, Edna, Gonzales, Port Lavaca, Victoria.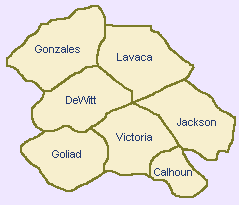 Calhoun, DeWitt, Goliad, Gonzales, Jackson, Lavaca, Victoria.
29 - Calhoun County: Port Lavaca.
62 - DeWitt County: Cuero.
Cuero was known as 'Arroyo del Cuero' in Spanish (Creek of the Rawhide); a reference to cattle that would get stuck in the mud along the creek bank.
Cuero Chamber of Commerce and Visitors Center:
Located in the original post office building on Church Street. The Heritage Museum is in the same building, so visitors can see a wide array of exhibits exclusively telling the Cuero story.
Yoakum is centrally located between Austin, Corpus Christi, Houston, and San Antonio. Hwy 77-A serves as Yoakum's major corridor traveling north and south; while Hwy 111 connects Yoakum to Hwy 183 and Hwy 77 traveling east and west.
88 - Goliad County: Goliad.
89 - Gonzales County: Gonzales.
120 - Jackson County: Edna.
143 - Lavaca County: Hallettsville.
235 - Victoria County: Victoria.
Golden Crescent Regional Planning Commission.
Texas Travel Notes:
Texas tourist information with details about travel to and around the state. Where to stay and what to see is made easier with insider tips and hand-selected Texas links, by dedicated editors and visitors to TravelNotes.org - The Online Guide to Travel.
Texas Weather:
7-day forecasts and weather videos for Texas.

Add a Business Listing - Add a Destination Guide - Add a Place to Stay.


If you find Travel Notes useful, please take a moment to like us on Facebook and share with your friends on social media.