There are 11 counties in the Nortex region of Texas.
Visiting the Nortex Region
Bowie, Burkburnett, Graham, Iowa Park, Jacksboro, Vernon, Wichita Falls.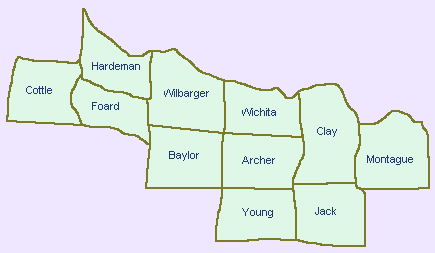 Archer, Baylor, Clay, Cottle, Foard, Hardeman, Jack, Montague, Wichita, Wilbarger, Young.
05 - Archer County: Archer City.
12 - Baylor County: Seymour.
39 - Clay County: Henrietta.
51 - Cottle County: Paducah.
78 - Foard County: Crowell.
99 - Hardeman County: Quanah.
119 - Jack County: Jacksboro.
169 - Montague County: Montague.
243 - Wichita County: Wichita Falls.
Burkburnett
Burkburnett, located just north of Wichita Falls, was settled by ranchers as early as 1856.
Iowa Park
Iowa Park, on the Fort Worth and Denver City Railway, was founded in 1888.
The settlement, originally called Daggett Switch, grew rapidly after an immigration train from Iowa was organised by the Texas Panhandle Company.
244 - Wilbarger County: Vernon.
252 - Young County: Graham.
Nortex Regional Planning Commission.
Texas Travel Notes:
Texas tourist information with details about travel to and around the state. Where to stay and what to see is made easier with insider tips and hand-selected Texas links, by dedicated editors and visitors to TravelNotes.org - The Online Guide to Travel.
Texas Weather:
7-day forecasts and weather videos for Texas.

Add a Business Listing - Add a Destination Guide - Add a Place to Stay.


If you find Travel Notes useful, please take a moment to like us on Facebook and share with your friends on social media.