There are 17 counties in the Permian Basin region of Texas.
Visiting the Permian Basin Region
Andrews, Big Spring, Fort Stockton, Lamesa, Midland, Monahans, Odessa, Pecos.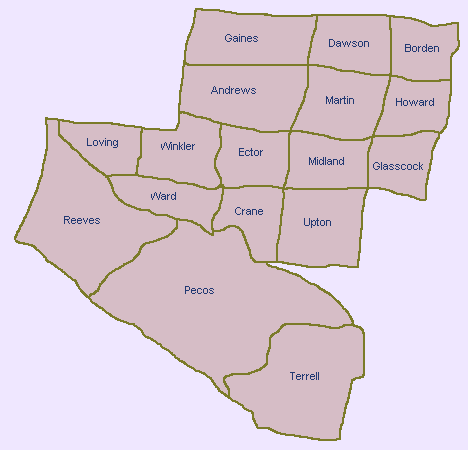 Andrews, Borden, Crane, Dawson, Ector, Gaines, Glasscock, Howard, Loving, Martin, Midland, Pecos, Reeves, Terrell, Upton, Ward, Winkler.
02 - Andrews County: Andrews.
Andrews
Andrews was founded in 1937. Andrews enjoys an average of 316 days of sunshine per year; making conditions ideal for those who love to spend time outdoors.
17 - Borden County: Gail.
52 - Crane County: Crane.
58 - Dawson County: Lamesa.
Lamesa
Lamesa had its beginnings in July, 1903 when a block of 160 acres was carved out of the home section of Frank Conner's Ranch. During World War II Lamesa and Dawson County provided more men per capita for the armed services than any other county in Texas.
68 - Ector County: Odessa.
83 - Gaines County: Seminole.
87 - Glasscock County: Garden City.
114 - Howard County: Big Spring.
151 - Loving County: Mentone.
159 - Martin County: Stanton.
165 - Midland County: Midland.
186 - Pecos County: Fort Stockton.
195 - Reeves County: Pecos.
222 - Terrell County: Sanderson.
231 - Upton County: Rankin.
238 - Ward County: Monahans.
248 - Winkler County: Kermit.
Permian Basin Regional Planning Commission.
Texas Travel Notes:
Texas tourist information with details about travel to and around the state. Where to stay and what to see is made easier with insider tips and hand-selected Texas links, by dedicated editors and visitors to TravelNotes.org - The Online Guide to Travel.
Texas Weather:
7-day forecasts and weather videos for Texas.

Add a Business Listing - Add a Destination Guide - Add a Place to Stay.


If you find Travel Notes useful, please take a moment to like us on Facebook and share with your friends on social media.