There are 3 counties in the South East Texas region of Texas.
Visiting the South East Texas Region
Beaumont, Groves, Lumberton, Nederland, Orange, Port Arthur, Port Neches, Vidor.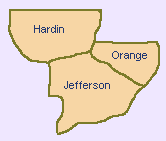 Hardin, Jefferson, Orange.
100 - Hardin County: Kountze.
123 - Jefferson County: Beaumont.
181 - Orange County: Orange.
South East Texas Regional Planning Commission.
Texas Travel Notes:
Texas tourist information with details about travel to and around the state. Where to stay and what to see is made easier with insider tips and hand-selected Texas links, by dedicated editors and visitors to TravelNotes.org - The Online Guide to Travel.
Texas Weather:
7-day forecasts and weather videos for Texas.

Add a Business Listing - Add a Destination Guide - Add a Place to Stay.


If you find Travel Notes useful, please take a moment to like us on Facebook and share with your friends on social media.