There are 15 counties in the South Plains region of Texas.
Visiting the South Plains Region
Brownfield, Levelland, Littlefield, Lubbock, Muleshoe, Plainview, Slaton.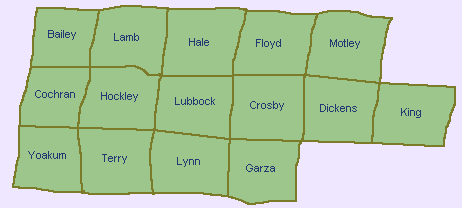 Bailey, Cochran, Crosby, Dickens, Floyd, Garza, Hale, Hockley, King, Lamb, Lubbock, Lynn, Motley, Terry and Yoakum.
09 - Bailey County: Muleshoe.
Muleshoe
Muleshoe was founded in 1913 when the Pecos and Northern Texas Railway built an 88-mile line from Farwell, Texas to Lubbock through northern Bailey County.
40 - Cochran County: Morton.
54 - Crosby County: Crosbyton.
63 - Dickens County: Dickens.
77 - Floyd County: Floydada.
85 - Garza County: Post.
95 - Hale County: Plainview.
110 - Hockley County: Levelland.
Levelland
Levelland has seven public buildings scattered throughout the city that feature large format mosaics depicting regional and historic themes.
135 - King County: Guthrie.
140 - Lamb County: Littlefield.
Littlefield
Littlefield is located in the heart of cotton country on the beautiful Llano Estacado. Construction on the American Cotton Growers Denim Textile Plant began in May, 1975 and Littlefield ibecame known as the Denim Capital of the West.
152 - Lubbock County: Lubbock.
Slaton
Slaton is a small West Texas agricultural community, established in 1911 by the Santa Fe Railroad.
153 - Lynn County: Tahoka.
173 - Motley County: Matador.
223 - Terry County: Brownfield.
251 - Yoakum County: Plains.
South Plains Association of Governments.
Texas Travel Notes:
Texas tourist information with details about travel to and around the state. Where to stay and what to see is made easier with insider tips and hand-selected Texas links, by dedicated editors and visitors to TravelNotes.org - The Online Guide to Travel.
Texas Weather:
7-day forecasts and weather videos for Texas.

Add a Business Listing - Add a Destination Guide - Add a Place to Stay.


If you find Travel Notes useful, please take a moment to like us on Facebook and share with your friends on social media.