Of the 116,516 Americans that lost their lives during World War I, 30,922 are interred at overseas American military cemeteries.
St. Mihiel, in Thiaucourt, contains 4,153 burials and declares 284 as missing.
After World War I, the ABMC erected a memorial chapel in each of the eight American military cemeteries in Europe.
American Battle Monuments Commission maintains 25 permanent American burial grounds, and 26 separate memorials, monuments and markers on foreign soil.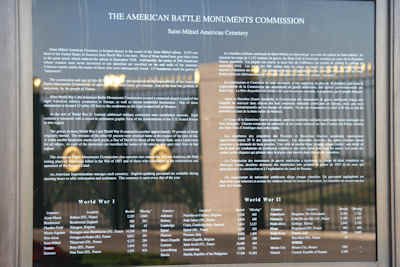 1914-1918 Great War Centenary
American Battle Monuments Commission.
Armistice Signing in Compiegne.
Artstetten Castle in June.
British Cemetery at Messines Ridge.
Fort de Douaumont, Verdun.
German Bunker at Tyne Cot Cemetery.
Hill 60 Cratered Landscape.
Montsec American Monument.
Pozieres British Cemetery.
Saint-Mihiel American Cemetery.
Their Name Liveth For Evermore.
World War One Trenches.