Of the 116,516 Americans that lost their lives during World War I, 30,922 are interred at overseas American military cemeteries.
St. Mihiel, in Thiaucourt, contains 4,153 burials and declares 284 as missing.
After World War I, the ABMC erected a memorial chapel in each of the eight American military cemeteries in Europe.
American Battle Monuments Commission maintains 25 permanent American burial grounds, and 26 separate memorials, monuments and markers on foreign soil.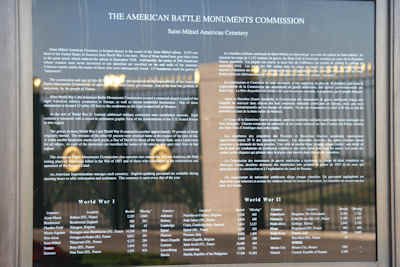 Remembrance Sunday - Lest We Forget.
>> August - Montsec American Monument.