---
TravelNotes:
The Online Guide to Travel.
---
Use the interactive map of Germany to travel around the German Bundesländer.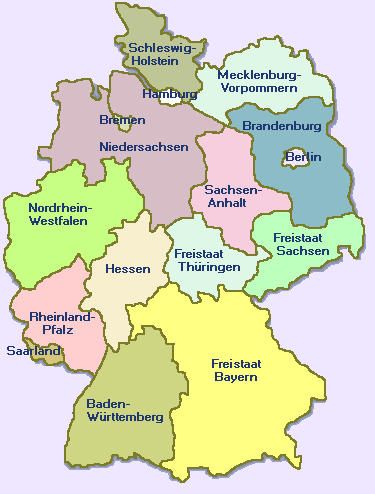 Regional Map of Germany -- © 1800-Germany.com
Free Maps for Personal Webpages
[1800/Germany/1germany_resources.htm]
Germany, Austria and Switzerland:
Highlights the best local sights and activities, friendly places to eat and sleep, suggested day plans and itineraries that mix the famous and not-so-famous, and clear transportation instructions that make it easy to get anywhere by car, train, or foot. Chapters include Munich, Bavaria, the Rhine Valley, Berlin, Vienna, Salzburg, Gimmelwald, and Prague.
Baden- Württemberg
Berlin
Brandenburg
Bremen
Freistaat Bayern
Freistaat Sachsen
Freistaat Thüringen
Hamburg
Hessen
Holstein
Mecklenburg- Niedersachsen
Nordhein- Westfalen
Rheinland- Pfalz
Saarland
Sachsen- Anhalt
Schleswig- Vorpommern