Transportation is an important part of travel and a major concern of most travellers; as they consider how to get to a destination when trip planning, or how to get around when they get there.
Buses, trains, ships and planes are the most common forms of public transportation but there are a number of other ways to get to a travel destination.
Travel and Transportation Photography.
A collection of travel pics can be bought online as framed prints or posters to decorate the walls of your home or office.
For a small fee, images may also be used on personal websites or licensed for commercial purposes.
Travel Stock Photography:
All images are licensed on a non-exclusive, rights managed basis.
Print Your Favourite Photos:
Create museum-quality masterpieces with custom frames and mats.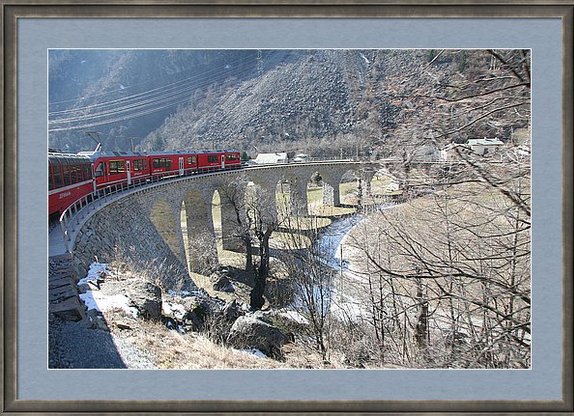 Bernina Express In Winter:
The Bernina Express panoramic train is the highest mountain railway in the Alps. The section between Thusis and Tirano has been classed as a UNESCO World Heritage site.
Animals, Architecture, Autumn, Beaches, Boats, Bridges, Castles, Cities, Coastal, Doors, Festivals, Food and Drink, Fountains, Historic, Hotels, Lakes and Rivers, Landmarks, Landscapes, Markets, Museums, Mountains, Nightlife, People, Reflections, Religious Buildings, Rural, Seascape, Spring, Sports, Streets, Summer, Sunsets, Towns, Transport, Trees, Up Close, Urban, Village Life, Waterfalls, Windows, Winter.
Travel and Transportation Photography.
Getting there and getting around in travel destinations around the world.
If you find Travel Notes useful, please take a moment to like us on Facebook and share with your friends on social media.