Short URL: http://tnot.es/CO - National Anthem of Colombia.
Colombia is the only South American country from where you can swim in both the Caribbean and the Pacific.
Quick Links
Cali, Carnaval, Cartagena, Colombia Travel Guides, Colombia Travel Tips, Cheap Hotels and Hostels in Colombia, Map of Colombia, Medellín, San Andres and Providence, Santa Fé de Bogotá, Santa Marta, Travel in Colombia.
Countries neighbouring Colombia are: Panama, Venezuela, Brazil, Peru and Ecuador.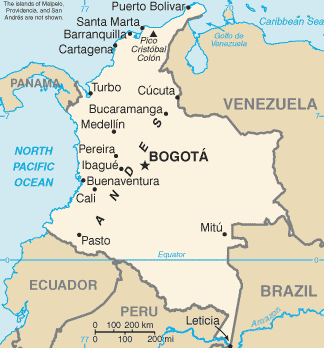 Weather in Colombia
View a graphical weather forecast for the week ahead in places around Colombia.
Barranquilla Weather, Bogota Weather, Bucaramanga Weather, Cali Weather, Cartagena Weather, Cucuta Weather, Ibague Weather, Leticia Weather, Medellin Weather, Pereira Weather, San Andres Weather, Santa Marta Weather.
Cartagena's position on the Caribbean Sea would make it an attractive tourist destination, even without its colonial heritage.
In 1533 the Spanish founded a city that would become known as the Queen of the Indies.
The old colonial city is well preserved, and it's the centre of activities during the Cartagena Festival in November.
Cartagena was also the venue of the drug summit attended by George Bush.
Also visit the San Felipe fortress for an excellent view of the modern and old sitting almost side by side.
Accommodation in Cartagena
Hotels in Cartagena:
Find hotels in Cartagena with special online rates.
Compare Colombian Hotel Prices
Archipiélago de San Bernardo, Armenia, Barranquilla, Bogota, Bucaramanga, Buenaventura, Cali, Cartagena de Indias, Chia, Cucuta, Ibague, Leticia, Manizales, Medellin, Pacho, Paipa, Pasto, Pereira, Popayan, Quimbaya, Rionegro, San Andres, Santa Marta, Valledupar.
More commonly referred to as Bogotá, the capital of Colombia is situated in central Colombia at an altitude of 2,640 m.
In 1538 Spanish conquistador Gonzalo Jiménez de Quesada set the foundations for what would be the viceregal capital of New Granada, near the Chibcha Indian settlement of Bacatá.
Simón Bolívar, The Liberator from Venezuela, captured Bogotá in 1819 and it became the capital of Gran Colombia (encompassing modern Colombia, Ecuador, Panama, and Venezuela).
Bogotá's first churches were built in the 1560's, and the National cathedral sits on the site of an earlier native temple.
A good view of the sprawling city can be had from the shrine of Monserrate, located on a nearby mountain.
The Gold Museum, in Bogota, is a must visit for its magnificent collection of pre-Colombian gold works of art.
Outside of Bogotá, the Salt Cathedral of Zipaquirá is quite unique and you can easily visit Tequendama Falls, which plunge through a canyon in the Andean jungle.
Accommodation in Bogota
Hotels in Bogota:
Find hotels in Bogota with special online rates.
Sort Bogota Hotels by: Hotel Price, Hotel Rating, Hotel Name.
Located in a mountain valley, at an altitude of about 1,525 m, Medellín is the capital of Antioquia.
Medellin was founded in 1675, and the city's large cathedral is a testament to the Spanish colonial period.
Colombia's second largest city is famous for its orchids and trigger happy cocaine exporters.
You can view the collection of orchids in the botanical gardens' Orquideorama, but sniffing coke is illegal.
What's So Nice About Medellin:
Read Peter's Guide to Medellin and you'll find out.
Accommodation in Medellin
Hotels in Medellin:
Find hotels in Medellin with special online rates.
Founded in 1536, the most beautiful Colombian women are said to come from Cali.
The Cali cartel also made a name for themselves in the illegal export of cocaine and the ruthless ways about getting market share.
San Pedro Cathedral and the Church and Monastery of San Francisco are Cali's major religious sights.
Accommodation in Cali
Hotels in Cali:
Find hotels in Cali with special online rates.
The archipelago of San Andrés and Providence lies 480 miles north-west of the Colombian mainland and includes San Andrés, Providence and St. Catherine; Bolívar and Albuquerque islets; Cotton, Haynes, Johnny, Roncador, Serrana, Serranilla, Quitasueño, Rocky, and Crab cays and Alicia and Bajo Nuevo sand banks.
Santa Marta:
Founded in 1525, Santa Marta is the oldest surviving colonial town in Colombia.
Backpacking in Colombia:
Lonely Planet reader, Arno Witte, adds his insightful travelogue to supplement the traveller's publication.
Colombia Talkzone:
Friendly talkzone about Colombia by people who live and travel there.
Colombia Travel Tips:
Peter's online guide to Colombia is packed with useful information.
Colombia News
Colombian Post:
Get the latest news and views from Colombia with the interactive edition of the Colombian Post.
Carnaval de Barranquilla:
This tribute to carnival in Colombia is mostly in Spanish, although the pictures speak for themselves.
Travel to Colombia:
Browse Amazon's best-selling list of books on travel in Colombia.
Regional Directory - Search The Web - Top Travel Blogs and Websites: South America.

If you find Travel Notes useful, please take a moment to like us on Facebook and share with your friends on social media.