Short URL: http://tnot.es/KW - National Anthem of Kuwait.
The independent state of Kuwait includes the islands of Bubiyan, Warbah, and Faylakah.
Quick Links
Brief History of Kuwait, Kuwait City, Kuwait Travel Guides, Map of Kuwait.
Countries neighbouring Kuwait are: Iraq and Saudi Arabia.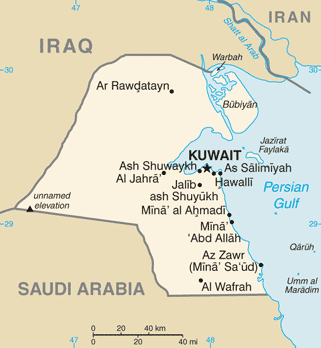 Kuwait City Weather:
View a graphical weather forecast for the week ahead in Kuwait City.
The founder of the al-Sabah dynasty became sheikh, in 1756.
Kuwait was briefly a part of the Ottoman Empire, until 1899; when the British stepped in, at the request of the reigning emir.
In the early 1920's the northern and southern borders of Kuwait were properly established, after raids from the Saudi Arabian province of Najd saw the British come to the emirate's aid again.
Kuwait gained full independence on June 19th, 1961, with its sheikh taking the title of emir, and formal British protection was ended.
From August 1990 to February 1991, Saddam Hussein restated Iraq's historical claim to Kuwait and occupied the region as Iraq's 19th province.
Allied troops stormed the desert to liberate the country and plug its leaking oil.
The capital, Kuwait City, dates from 1710; when Anizah migrants from the central Arabian Peninsula set up shop there.
The city's drinking water is contained in two large minaret-style storage tanks.
Radio Kuwait:
Offers real audio clips, twice a day if you want to catch up on the news.
Accommodation in Kuwait City
Hotels in Kuwait City:
Find hotels in Kuwait City with special online rates.
Compare Kuwaiti Hotel Prices
Abu Halifa, Al Jahra, Ardiyah, Fahaheel, Hawally, Kuwait City, Mangaf, Sabahiya.
Travel to Kuwait:
Browse Amazon's best-selling list of books on travel in Kuwait.
Regional Directory - Search The Web - Top Travel Blogs and Websites: Middle East.

If you find Travel Notes useful, please take a moment to like us on Facebook and share with your friends on social media.