Short URL: http://tnot.es/MX - National Anthem of Mexico.
After independence, New Spain chose to be named after its capital, Mexico City.
Quick Links
Acapulco, Cancun, Cozumel, Los Cabos, Map of Mexico, Mazatlán, Mexican Festivals, Mexico Adventures, Mexico City, Mexico Tours, Mexico Travel, Mexico Travel Guides, Oaxaca, San Miguel de Allende, The History of Mexico, Yucatan.
Countries neighbouring Mexico are: Belize, Guatemala and America; or rather, the states of California, Arizona, New Mexico and Texas.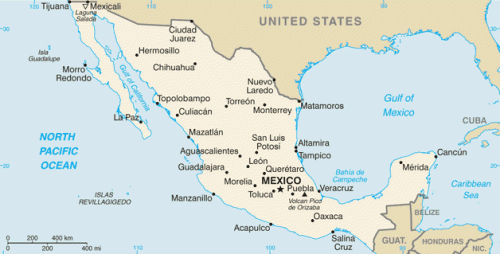 Weather in Mexico
View a graphical weather forecast for the week ahead in places around Mexico.
Acapulco Weather, Aguascalientes Weather, Cabo San Lucas Weather, Cancun Weather, Chetumal Weather, Chihuahua Weather, Ciudad Juarez Weather, Cozumel Weather, Culiacan Weather, Guadalajara Weather, Hermosillo Weather, La Paz Weather, Laredo Weather, Leon Weather, Manzanillo Weather, Matamoros Weather, Mazatlan Weather, Mexicali Weather, Mexico City Weather, Monterrey Weather, Merida Weather, Morelia Weather, Nuevo San Luis Oaxaca Weather, Playa del Carmen Weather, Potosi Weather, Puebla Weather, Queretaro Weather, Tampico Weather, Tijuana Weather, Toluca Weather, Torreon Weather, Veracruz Weather.
Founded in 1524, on top of the ancient Aztec capital of México-Tenochtitlan, Mexico City is the capital of Mexico and the point of entry for most international visitors, unless they're going straight to Cancun or travelling overland.
Accommodation in Mexico City
Hotels in Mexico City:
Find hotels in Mexico City with special online rates.
Hilton Mexico City Airport Hotel: Mexico City, Mexico.

Aeropuerto International.
Hotel Details.
Hotel Rates.
Add Hotel Review.
View Map.

Official Website:
Hilton Mexico City Airport.

The Hilton Mexico City Airport is located inside the airport terminal at Mexico City's Benito Juarez International Airport, on the third level of the gate F1 in the International arrivals area.

Guaranteed Best Hotel Rates Online
Book a Room at the Hilton Mexico City Airport

Hotel amenities include elevators, currency exchange, laundry services, 24-hour room service, safe deposit boxes, business centre, secretarial services, and a fitness centre. Dining options include the on-site restaurant and a bar.

Guest rooms feature satellite tv, movies on-demand, two telephones, voicemail, dataports, climate controls, mini-bar, room safes, alarm clocks, coffeemakers, hairdryers, high-speed Internet access, irons and ironing boards, and electronic door locks.
Sort Mexico City Hotels by: Hotel Price, Hotel Rating, Hotel Name.
Compare Mexican Hotel Prices
Some of the most popular destinations in Mexico
Acapulco, Aguascalientes, Boca Del Rio, Cabo San Lucas, Campeche, Cancun, Chetumal, Chichen Itza, Chihuahua, Ciudad Juarez, Cozumel, Cuernavaca, Durango, Guadalajara, Guanajuato, Isla Mujeres, Ixtapa Zihuatanejo, Leon, Loreto, Manzanillo, Mazatlan, Merida, Mexicali, Mexico City, Monterrey, Morelia, Nuevo Laredo, Nuevo Vallarta, Oaxaca, Palenque, Playa del Carmen, Playas de Rosarito, Puebla, Puerto Aventuras, Puerto Escondido, Puerto Morelos, Puerto Vallarta, Queretaro, Saltillo, San Cristobal de las Casas, San Jose del Cabo, San Luis Potosi, San Miguel de Allende, Tampico, Tijuana, Toluca, Tulum, Veracruz, Villahermosa, Zacatecas.
Mexico City by Bus
Mexico City has four long-distance bus terminals, depending on which direction you're travelling.
North - Terminal Norte
Located at Avenida de los Cien Metros, this is Mexico's largest bus station and deals with most buses coming from the US/Mexico border.
There are also services to the Pacific Coast, as far south as Manzanillo and Puerto Vallarta; the Gulf Coast, as far south as Tampico and Veracruz; and to the cities of Colima, Durango, Guadalajara, Morelia, San Luis Potosí and Zacatecas.
Buses also leave here for the pyramids of San Juan Teotihuacán and Tula.
East - Terminal Oriente
Also known as TAPO, buses from here travel to Amecameca, Oaxaca, Puebla, San Cristóbal de las Casas, Veracruz, Xalapa and the Yucatán Peninsula.
South - Terminal Sur
Also known as Terminal Tasquena, the bus station is located at Av. Taxqueña 1320 (next to the Taxqueña Metro stop - last stop on Line 2).
Buses from here go to Acapulco, Cuernavaca, Taxco and Zihuatanejo.
West - Terminal Poniente
Located at Sur 122 and Tacubaya (next to the Observatorio Metro station), this is the smallest terminal and serves the route between Mexico City and Toluca.
Buses also go to Acapulco, Colima, Guadalajara, Ixtapa-Zihuatanejo, Ixtapan de la Sal, Morelia, Querétaro, Uruapan and Valle de Bravo; although Terminal Norte is a better choice for some of these.
The Sandos Caracol Eco Beach Resort and Spa sits on the exclusive Mayan Riviera in Mexico, ten minutes away from the charming village of Playa del Carmen. This all-inclusive beach resort is in a naturally beautiful area at the edge of an exotic jungle surrounded by mangroves and natural lagoons making it the ideal destination for taking things easy.
Cancun is located south-west of Miami, west of Cuba and south-east of Mexico City.
The International airport is close to the hotel zone, along the beach, and the downtown area, where you'll find the local markets and bus station; for exploring more of Mexico.
The best restaurant in Cancun, for sea food and Yucatecan specialities, is Habichuela. This restaurant is somehow hidden behind Parque las Palapas but as it's been open a long time, all taxi drivers can drive you to the place.
Sent in by: Discovery Cancun.
Cancun-City:
In the last 20 years the city of Cancun has gone from a small jungle village to one of the world's best-known holiday resorts.
Cancun Guide:
Comprehensive guide to Cancun with useful information to help you plan your Cancun vacation.
Caribbean Princess:
Located in Cancun, the Caribbean Princess has 84 rooms. Meal plan and all inclusive packages, honeymooners welcome.
10% discount to Travel Notes members.
Travel Yucatan:
The Yucatan Peninsula is divided into the states of Quintanna Roo, Yucatan and Campeche. From coral reefs and sandy beaches to ancient ruins and Mexican culture, there's something for everyone in Yucatan.
Visit Cancun:
Comprehensive travel information about Cancun, Cozumel, Playa del Carmen, Tulum, Isla Mujeres, Mayan Riviera and Costa May.
Accommodation in Cancun
Hotels in Cancun:
Find hotels in Cancun with special online rates.
Sort Cancun Hotels by: Hotel Price, Hotel Rating, Hotel Name.
Isla Bicycleta is the only bike rental business on the island of Cozumel offering high quality, nearly new, bikes; including mountain bikes, comfort bikes, and road bikes.
Escape to Cozumel: by Emma Beyn
Just off the coast of Mexico's Riviera Maya lies the small island of Cozumel, a Caribbean gem of an island.
TechsMex Divers:
If you're looking for a dive and stay package in Cozumel, Oliver and Janie Robertson also offer accomodation for divers at their Las Lunas Inn, on 40th Avenida Norte.
Cozumel Accommodation
Las Lunas Inn:
Simple, clean and affordable Cozumel lodging; ideal for travellers, adventurers and divers who like to relax in a tropical garden.
Acapulco Destination Guide:
If you love swimming, shopping and an exciting nightlife, then Acapulco could well be the ideal holiday destination for you.
Acapulco Links:
We moved the Acapulco links over to our Acapulco City Guide section. See you there!
Accommodation in Acapulco
Hotels in Acapulco:
Find hotels in Acapulco with special online rates.
Sort Acapulco Hotels by: Hotel Price, Hotel Rating, Hotel Name.
One of the oldest settlements in Baja California, San Jose was founded in 1730 as a Jesuit Mission.
The ten block 'historic district', in central San Jose, still retains its colonial atmosphere to this day.
Some of the best restaurant values can be found in the small town of San Jose del Cabo - with world class chefs starting their own small restaurants: El Chilar, La Dolce Vita, Chiantis and Baan Thai.
Cabo Good Times:
Phil Koehn's multi-faceted guide to the good times in Los Cabos, Baja, Mexico.
Accommodation in Los Cabos
Dreams Golf Resort and Spa: Los Cabos, Mexico.

Km. 18.5 Carretera Transpeninsular.
Hotel Details.
Hotel Rates.
Add Hotel Review.
Read Hotel Reviews.
View Hotel Video.
View Map.

Official Website:
Dreams Los Cabos.

Dreams Los Cabos Suites Golf Resort and Spa is a family-friendly, all-inclusive resort located in the Corridor section of Los Cabos.

The open-air hacienda-style architecture offers spacious luxury suites in varying sizes, all with ocean views from private and furnished terraces.

The all-inclusive plan covers all meals, snacks, beverages, activities, entertainment, taxes, and gratuities. No wristbands are required.

Guaranteed Best Hotel Rates Online
Book a Room at the Dreams Golf Resort & Spa

Resort amenities: three swimming pools (two with swim-up bars), sandy beach, full-service spa and fitness centre, four gourmet a-la-carte restaurants, two snack bars, 24-hour room service, kids club, concierge, laundry service, and gift shop.

Dining options include El Patio, specialising in daily theme buffet nights; Seaside Grill, serving lunch, drinks, and dinner by the pool and beach; Himitsu, specialising in a fusion of pan-Asian and hibachi delicacies; Oceana, a-la-carte seafood served in a quiet romantic seaside setting; and Portofino, serving a-la-carte Mediterranean and Italian cuisine.

Drinks are also served at a lobby bar featuring an outdoor fire pit.
El Encanto Inn:
A romantic colonial hacienda-style inn, close to San Jose del Cabo's beaches, restaurants and galleries. 19 rooms and 12 newly appointed poolside suites.
15% discount for Travel Notes members except during Thanksgiving and Christmas/New Year.
Hotels in Los Cabos:
Find hotels in Los Cabos with special online rates.
Unlike other holiday destinations that were developed strictly to lure tourists, Mazatlán is first and foremost a flourishing Mexican seaport. Here the visitor will experience Mexico's rich cultural heritage and traditions.
Sent in by: GoMazatlan.
Mazatlan Attractions:
Mazatlán is an ideal, affordable vacation choice for the family as it offers something for everyone: fishing, sailing, surfing, kayaking, bird-watching, golf, tennis, horseback riding, great dining and nightlife, shopping, music and entertainment.
Mazatlan Travel Guide:
Mazatan has ten miles of sandy beaches, and is visited by more than a million outsiders a year.
Travel to Mazatlan:
Nadine and Henry have made Mazatlan their home and have a lot of information on their site for travellers wishing to visit this part of Mexico.
Accommodation in Mazatlan
Hotels in Mazatla:
Find hotels in Mazatlan with special online rates.
Sort Mazatlan Hotels by: Hotel Price, Hotel Rating, Hotel Name.
Mazatlan Accommodation:
In the heart of the Golden Zone, Mazatlán's hotels elegantly complement the excellent Pacific Ocean beaches. A variety of resorts and hotels in to suit everyone's needs - from newlyweds to families.
Oaxaca:
General information and travel tips for the state of Oaxaca.
Accommodation in Oaxaca
Hotels in Oaxaca:
Find hotels in Oaxaca with special online rates.
Sort Oaxaca Hotels by: Hotel Price, Hotel Rating, Hotel Name.
Festivals in Mexico:
It seems like there's always a feast or a festival in Mexico. Find out when and where the major holidays occur.
Go2Mexico:
Learn more about the Mexican culture before you go to Mexico.
Mexico Desconocido:
Discover more about Mexico with this excellent resource.
Mexico Hotel Guide:
Wherever you're going in Mexico, book online and save money on your hotel accommodation.
As it's located in the mountainous region of central Mexico, visitors to San Miguel de Allende are advised to bring a good pair of comfortable walking shoes and even some warm clothing in the warmer months of March to May, as the night time temperatures can be chilly.
The rainy season runs from June to October but don't let that put you off. The air is cooler when the rains come and the desert starts to flower.
This magnificent city is a famous art and crafts colony, a shoppers delight, with treasures from all over Mexico. There is also a golf course, tennis courts and mineral baths nearby.
Colonial San Miguel:
Nothing can replace actually walking down the narrow cobblestone streets of San Miguel de Allende, but here's a little virtual tour to set the scene.
Getting to San Miguel:
San Miguel de Allende is about 4 hours by bus from Mexico City, although the nearest international airport is the Aeropuerto del Bajio (BJX) -- about 70 miles away and served by Aeroméxico, Mexicana, Continental and American Airlines.
Insiders Guide to San Miguel:
Collection of essays and writings about life in San Miguel de Allende.
Portal San Miguel:
Dedicated to serving the needs and interests of tourists and residents of San Miguel de Allende.
San Miguel Artists:
Find artists, art schools, instructors and galleries or use the calendar to learn about upcoming shows and other community events in San Miguel.
Where to Stay in San Miguel
Casa de la Cuesta:
Enjoy the warmth of traditional Mexican colonial architecture, comfortable and quiet bedroom suites each with access to outdoor living areas and patios, plus a uniquely personal environment created by Casa de la Cuesta's fine collection of Mexican folk art, crafts and antiques.
Casa de Liza:
A 17th century colonial estate located in the historical centre of San Miguel de Allende; overlooking the ancient park-like grounds of El Chorro, the natural spring around which San Miguel was founded.
Casa Diana:
Casa Diana is located in a house designed by
Pedro Friedeberg, the last of the Surrealist artists. Enjoy some of the best views of San Miguel de Allende's famous sunsets as well as an art gallery and a day spa.
Casa Quetzal:
Considered a luxury boutique hotel, the Casa Quetzal's theme-based, gracefully furnished suites have their own living and dining room with kitchenette.
Hotel Rincón del Cielo:
The Hotel has 16 suites, with cable television in all rooms. Some of the accommodations include amenities such as Jacuzzi, fireplace and a sitting area.
Hotels in San Miguel:
Find hotels in San Miguel with special online rates.
Mérida is a cosmopolitan city that retains its colonial air and majesty of its buildings with a marked French influence, from the beginning of the last century.
Places of note include La Plaza Mayor, the Cathedral of San Ildefonso, the Government Palace, the Santa Isabel Chapel and Santa Ana, Santa Lucía and Santiago parks.
An hour and a half away, the Ría Celestún Biosphere Reserve offers a natural exhibition that shows off thousands of pink flamingos; an important wintering site on the Gulf of Mexico, for birds travelling within the central migratory bird flyway.
Gobierno del Estado de Yucatán:
The official website of the Yucatan State Government.
Hacienda Santa Cruz:
Just twenty minutes from Merida, Hacienda Santa Cruz provides spacious living quarters, a dining room with a 35-foot ceiling, a deep and peaceful swimming pool, a restored chapel, and extensive grounds to wander and watch the wildlife.
Yucatan Living:
Expatriates living, working and playing in Merida and the Yucatan.
Yucatan Today:
Travel and tourist guide for Merida, Mexico and the Yucatan Peninsula; where you'll find Spanish colonial
cities and cathedrals, mayan ruins, haciendas, exotic birds, caves, cenotes and beautiful beaches.
Merida
Merida English Library:
The 'Friday Get Togethers' happen on the first Friday of every month. On even numbered months you meet at the Merida English Library (February, April, June, August, October and December), while on the odd numbered months it's generally at the 'La Hach' bar; in the Fiesta Americana Hotel.
Turismo Merida:
The official tourist presentation from the Merida Government.
Accommodation in Merida
Hotels in Merida:
Find hotels in Merida with special online rates.
Fiesta Americana Hotel: Merida, Mexico.

Av Colon 451 Paseo de Montejo
Hotel Details.
Hotel Rates.
Add Hotel Review.
View Map.

Official Website:
Fiesta Americana Merida.

The Fiesta Americana Mérida has a privileged location in the beautiful 'White City' where two of the most important avenues in Mérida meet: The Colón and the Paseo Montejo.

This belle époque-style, five-star hotel offers 350 large and comfortable rooms.

The building's architecture combines the Porfiria style with the highest technology in hotel services, making this one of the best hotels in the country, and without a doubt, the host of Mérida.

Guaranteed Best Hotel Rates Online
Book a Room at the Fiesta Americana Hotel

All the rooms are located off a large, elegant lobby.

Facilities include a shopping centre, two restaurants, bar, pool, tennis court, and a health club with saunas, steam room (men only), whirlpool, and massage.
Sort Merida Hotels by: Hotel Price, Hotel Rating, Hotel Name.
Absolute Adventures' Shark Diver:
Discover the wild world of Great White Shark cage diving in the U.S. and Mexico. The ultimate White Shark dive adventure is closer than you think!
$200 off standard rates for Travel Notes members.
Harley Davidson Tours:
Motorcycle tours along the Mayan Riviera, Mexico's popular tourist corridor, including the beach towns of Cancun, Playa del Carmen and Tulum.
Illuminado Tours:
Fun, safe and relaxing tours of the Yucatan Peninsula. Mayan ancient wisdom, Chichen Itza, day and custom tours available. Based in Merida.
Cavern Diving in Mexico:
Located in Playa del Carmen, Cavern Team specialises in guided dives in the Riviera Maya's cenotes -- underground rivers that form the largest interconnected cave and cavern system in the world.
Great White Sharks in Mexico:
November usually brings to mind visions of Thanksgiving, voting ballots and recovering from Halloween candy. However, in the world of Great White sharks, November is their Spring Break.
More detailed travel destination information for:
Acapulco, Cancun, Los Cabos, Mexico City, Playa del Carmen.
Travel to Mexico:
Browse Amazon's best-selling list of books on travel in Mexico.
Regional Directory - Search The Web - Top Travel Blogs and Websites: USA.

If you find Travel Notes useful, please take a moment to like us on Facebook and share with your friends on social media.