Find out more about Arizona before you travel. Order tourist brochures then research things to do and places to stay in Arizona.
Book a Rental Car - Check out Flights - Compare Hotel Rooms.
Choose a City in Arizona
US Hostels:
Ideal for backpackers and those travelling on a budget: dorms, shared accommodation and private rooms.
Become an Arizona City Guide:
You really know the Arizona scene - where to eat, where to stay, and what to do. Tell our visitors more about the sights and delights and how to make the most of their time in Arizona.
Arizona at a Glance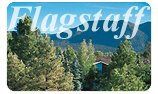 Flagstaff, Arizona:
Flagstaff is a perfect take-off point for several day trips to diverse settings.
The quality of life in Flagstaff is about as close to Utopia as one can get; it is voted annually as one of the top cities in which to live.
Situated at the foothills of the San Francisco Peaks at an elevation of 7,000 feet, Flagstaff offers four unique seasonal climates providing for superb hiking, skiing, camping and outdoor recreation opportunities, in addition to its rich and diverse art and cultural attractions and friendly and warm hospitality.
Phoenix, Arizona:
A replica pioneer village depicts 19th century life on I-17 just north of the city.
The 'Valley of the Sun' has become a popular nickname for Phoenix and its adjacent suburbs; where sunshine dominates the weather more than 300 days a year.
Fall and spring are the best times to visit Phoenix, when the temperatures are mild and the crowds are minimal.
Pheonix Attractions
Arizona Center
Arizona Science Center
Desert Botanical Garden
Heard Museum
Herberger Theater Center
Historic Heritage Square
Mystery Castle
Orpheum Theatre
Papago Park/Hole-In-The-Rock
Patriots Square Park
Phoenix Art Museum
Phoenix Symphony Hall
Phoenix Zoo
Pueblo Grande Museum
Shemer Art Center and Museum
South Mountain Park
St. Mary's Basilica
Taliesin West
Telphone Pioneers of America Park
Tovrea Castle
Wesley Bolin Memorial Plaza
Wrigley Mansion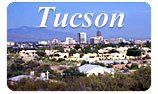 Tucson, Arizona:
Tourism is a major contributor to Tucson's prominence, with 10 percent of all jobs dedicated to the Tucson tourism industry.
Approximately 60 miles from the border of Mexico, and with a good number of ghost towns situated in between, Tucson has a somewhat eccentric flair distinguishing it from the more formal atmosphere of Phoenix, the state capital.
Tucson is a perfect year-round destination with both cultural and outdoor activities running around the calendar.
Arizona @ Travel Notes:
Travel and tourism links for Arizona.
Globe, Arizona
Arizona's Other Canyon: by Catt Foy.
The Salt River Canyon is perhaps one of Arizona's best-kept secrets and the advantage to the traveler is access to a near-pristine wilderness with some of the most spectacular scenery in the state.
The Grand Canyon
The Grand Canyon: by Kathryn Lemmon.
Photos and descriptions hardly do justice to the vast, multi-colored canyon walls sculpted from the earth over the millennia by the mighty Colorado River.
Kayenta, Arizona
Visit Monument Valley: by Peggy Bechko.
Monument Valley straddles Northern Arizona and Southern Utah and takes a little effort to get there, unless you happen to own a small plane.
You could also take the Monument Valley Tour from Flagstaff.
Phoenix, Arizona
More Than Just a Barren Desert: by Chris Tourigny.
For many travelers, Phoenix, Arizona conjures up visions of barren deserts, sand dunes and tumbleweeds. In all actuality, it's quite the opposite.
Sentinal of the Sonoran Desert: by Catt Foy.
Located in central and southern Arizona, and parts of northern Mexico, the Sonoran desert is home to an American icon - the saguaro cactus (Carnegiea gigantea).
Taking a Wright Turn in Phoenix: by Douglas Welch.
I have always been an admirer of Frank Lloyd Wright's designs and a visit to Taliesin West was my first opportunity to immerse myself fully in his life and work.
Scottsdale, Arizona
Saddle Up the Lexus: by Leon Schwarzbaum.
Scottsdale, Arizona has become a magnet for vacationers and retirees, offering big city attractions amid breath-taking desert surroundings.
Sedona, Arizona
The Pink Jeep Tour: by Wendy Maxey.
When in Sedona, do as the Sedonians do and go four-wheeling in a Jeep. The Pink Jeep Tour is all the rage. Actually, it's been all the rage for over 50 years.
Vortex Hunting in Red Rock Country: by Kathryn Lemmon.
If you're serious about locating a vortex, Sedona has specialized maps and guidebooks that lead to the general area, though the exact spots are not so simple to pin down.
Tucson, Arizona
Back to the Great Outdoors: by Rita Cook.
Dude Ranches are a vestige to the days when cowboys roamed the mountains and valleys and horses were the normal mode of transportation.
Welcome To Tucson: by Paul Trevethan, Jr.
Tucson, Arizona is slowly making its mark on the map with its rich history, a full card of attractions, and the friendly people who are always willing to lend a helping hand.
Write For Travel Notes
Submit an Arizona Travel Article:
If you're on the road or have just returned from somewhere in Arizona, send us your updates for publication.
Sightseeing Tours, Events and Attractions.
Arizona Travel Guides:
Browse Amazon's best-selling list of books on travel in Arizona.
Backpackers:
Budget accommodation around the United States and Canada.
Travel by Car:
Driving distances between major cities in the United States.
Travel Industry
Add Your Tours - Add Your Property

Add a Business Listing - Add a Destination Guide - Add a Place to Stay.



If you find Travel Notes useful, please take a moment to like us on Facebook and share with your friends on social media.
North America Index - North America Tourism - North America Websites.