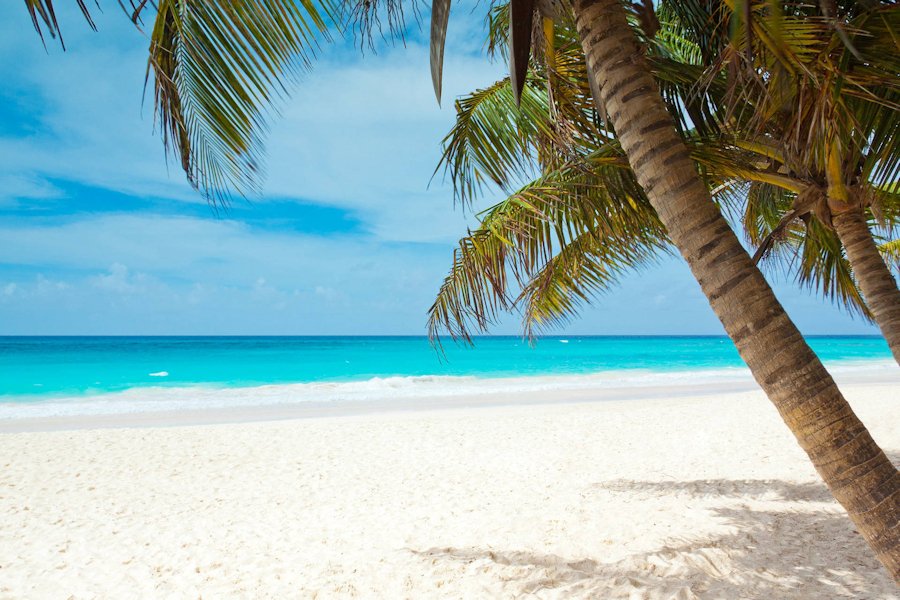 Relax on a Caribbean Beach.
Travel Notes: Latin America - Caribbean Travel Notes.
Short URL: https://tnot.es/Carib
Caribbean Travel and Tourism on Travel Notes

Find Caribbean Travel and Tourist Information with links to official travel and tourism websites and island resources for visitors to the Caribbean.
About The Caribbean
Whether you're looking for an all-inclusive, romantic getaway, a family vacation or an adventure-filled trip, the Caribbean has something for everyone.
Take the time to dream about your Caribbean holiday with the help of our online travel resources, and get ready to enjoy all that this beautiful region has to offer.
Map of The Caribbean Islands
Around The Caribbean
From Anguilla to Venezuela, travellers and tourists can find out more about The Caribbean at Travel Notes with travel articles, discussions and links.
Anguilla - Antigua & Barbuda - Aruba - Bahamas - Barbados - Belize - Bermuda - British Virgin Islands - Cayman Islands - Colombia - Costa Rica - Cuba - Curacao - Dominica - Dominican Republic - Grenada - Grenadines - Guadeloupe - Haiti - Jamaica - Martinique - Mexico - Nevis - Panama - Puerto Rico - St. Barths - St. Kitts - St. Lucia - St. Martin - St. Vincent - Trinidad & Tobago - Turks & Caicos - US Virgin Islands - Venezuela.
The Caribbean Region
The Caribbean region consists of numerous islands, islets, and reefs, as well as coastal regions of Central and South America.
The Caribbean islands are divided into two groups: the Greater Antilles and the Lesser Antilles; which is further divided into the Leeward Islands and the Windward Islands.
The Greater Antilles make up most of the land mass of the entire West Indies.
These include the Cayman Islands, Cuba, Hispaniola (Dominican Republic and Haiti), Jamaica, and Puerto Rico.
The Lesser Antilles forms the eastern boundary of the Caribbean Sea with the Atlantic Ocean.
Leeward Antiles
The southerly islands of the Lesser Antilles, located just north of the Venezuelan coast: Aruba, Bonaire, Curacao.
Leeward Islands
The northern islands of the Lesser Antilles chain; starting east of Puerto Rico and running south towards Dominica: US Virgin Islands, British Virgin Islands, Anguilla, St. Martin, Saint-Barthelemy, St. Kitts & Nevis, Barbuda & Antigua, Montserrat, Guadeloupe.
Windward Islands
The southern islands of the Lesser Antilles: Dominica, Martinique, St. Lucia, St. Vincent, Grenadines, Grenadines, Barbados, Trinidad & Tobago.
Located south-east of the Gulf of Mexico and the North American mainland, east of Central America, and north of South America, the Caribbean is a vibrant and fascinating region with a rich history, diverse culture, and stunning natural beauty.
Arrival of The Europeans
Prior to the arrival of European colonizers, the Caribbean was inhabited by a number of indigenous peoples, including the Taíno, Carib, and Arawak peoples.
The arrival of Christopher Columbus in 1492 marked the beginning of European colonization, which brought with it slavery and the forced migration of millions of Africans to the Caribbean.
The region was dominated by European powers, including Spain, France, England, and the Netherlands, who established colonies and plantations that produced lucrative crops such as sugar, coffee, and tobacco.
This legacy of colonialism and slavery has had a lasting impact on the region, and many Caribbean countries continue to struggle with issues such as poverty, economic inequality, and political instability.
Caribbean Culture
The Caribbean has a rich and diverse culture, influenced by the indigenous peoples, European colonizers, and African slaves brought over during the colonial era.
Music is an integral part of Caribbean culture, with genres such as reggae, calypso, and salsa originating in the region.
The cuisine of the Caribbean is also a fusion of African, European, and indigenous flavors, and is known for dishes such as jerk chicken, plantains, and rice and beans.
Tourism
Tourism is a major industry in the Caribbean, and the region is known for its beautiful beaches, clear waters, and stunning natural attractions such as waterfalls and rainforests.
However, tourism also has its downsides, including an impact on fragile ecosystems and the displacement of local communities.
Vulnerabilities
The Caribbean is also vulnerable to a range of environmental challenges, including hurricanes, rising sea levels, and the degradation of coral reefs.
These issues are exacerbated by climate change, and many Caribbean countries are taking steps to address these challenges and promote sustainable development.
The Caribbean Hurricane Network contains information, weather discussions and local reports regarding tropical systems threatening the Caribbean islands.
Choosing The Right Caribbean Island
With an island for every taste, the Caribbean is the ultimate place for relaxation.
You'll find white sands and turquoise water throughout the Caribbean Sea and Gulf of Mexico.
Some islands are lush, with rainforests and mountain trails, while others have desert climates and coral beaches.
The right Caribbean island for you will depend on your personal preferences and travel style.
Do some research and consider the factors below to help narrow down your options to find the perfect Caribbean island for your next vacation.
Wherever you visit, taste regional specialties such as conch fritters and get out on the water with snorkeling and sailing excursions.
Activities
What do you want to do on your trip?
If you're looking for adventure, consider islands like Puerto Rico, Jamaica, or the Dominican Republic; which offer everything from hiking and ziplining to surfing and snorkeling.
If you want a more laid-back experience, try the smaller islands of the Bahamas, St. Kitts, or Barbados; which are known for their beautiful beaches and relaxed atmosphere.
Budget
Caribbean islands can vary widely in price, with some islands catering to luxury travellers and others offering more budget-friendly options.
If you're looking to save money, consider destinations like the Dominican Republic, Jamaica, or the Bahamas, which offer a range of accommodations and activities at a variety of price points.
Culture
Each Caribbean island has its own unique culture and history, so consider what kind of experience you want.
For example, if you're interested in exploring colonial architecture and historic sites, you might enjoy Puerto Rico or the Virgin Islands.
If you're more interested in the local music and cuisine, check out islands like Jamaica or Trinidad & Tobago.
Easy to Reach
How easy is it to get to the island?
Some islands, like Puerto Rico and the Dominican Republic, have major airports with direct flights from many U.S. cities.
Other islands may require multiple flights or ferry rides to reach, which can add time and expense to your trip.
Weather
The Caribbean is known for its sunny, warm weather, but it can vary depending on the season and location.
Consider when you're planning to travel and what kind of weather you prefer.
Some islands may be more prone to hurricanes during certain times of the year, while others may be too hot and humid for some travellers.
Caribbean Cruises
A cruise is a complete vacation, so it's important that you choose the one that's right for you.
Whether you're looking for a last-minute three-day cruise to the Bahamas or a 15-night tour of the Caribbean, there's often good savings to be made when you book a cruise online.
Caribbean Cruise Tips
If you're worried about planning a Caribbean getaway during hurricane season, consider the islands south of the hurricane belt: Aruba, Bonaire, Curacao, Trinidad and Tobago; for a good chance of beautiful weather during these months.
North of The Caribbean
The Lucayan Archipelago is located in the western North Atlantic Ocean east of Florida and north of the Greater Antilles: Bahamas, Turks & Caicos.
Despite its location off the coast of North Carolina, Bermuda became an associate member of the Caribbean Community (CARICOM) in 2003.
Popular Cruise Lines
Azamara Club Cruises, Carnival Cruise Lines, Celebrity Cruises, Costa Cruises, Crystal Cruises, Cunard Cruises, Disney Cruise Line, Holland America Line, MSC Cruises, Norwegian Cruise Line, Oceania Cruises, Princess Cruises, Regent Seven Seas, Royal Caribbean, Seabourn Cruise Line, Silversea Cruises, Uniworld River Cruises, Windstar Cruises.
Cruise Critic
Cruise Critic is the leading cruise reviews site, which hosts the largest cruise community in the world.
Cruise Critic is not a booking agent and does not charge any service fees to users.
Cruise Direct
Cruise Direct makes it easy to find and buy the perfect cruise vacation with some of the best cruise deals for Carnival, Celebrity, Crystal, Holland America, Norwegian, Princess, Royal Caribbean and Windstar ships.
All Inclusive Resorts
Many all-inclusive resorts are located in The Caribbean, not just because of the sun and sea but because the operational costs are cheaper; and so is the rum.
Caribbean Islands - Caribbean Island Maps.
Weather in the Caribbean:
Local weather forecasts for destinations around the Caribbean region.
Travel Notes Online Guide to Travel
Africa - Asia - Caribbean - Europe - Middle East - North America - Oceania - South America.

The Travel Notes Online Guide to Travel helps visitors plan their trip with country and city travel guides, local tourist information, reviewed web sites, and regular travel articles.
Travel and Tourism Guides on Travel Notes
If Travel Notes has helped you, please take a moment to like us on Facebook and share with your friends on social media.


Travel & Tourism With Industry Professionals.
Online Travel Resources

Advertise - Affiliates - Airlines - Airports - Business Listings - Car Hire - City Guides - Cruises - Favourite Places - Flights - Hostels - Hotels - Lodging - Rail Travel - Round The World - Timeshares - Topsites - Tours - Travel Blogs - Travel Directory - Travel Insurance - Travel SEO - Vacation Rentals.

Europe.