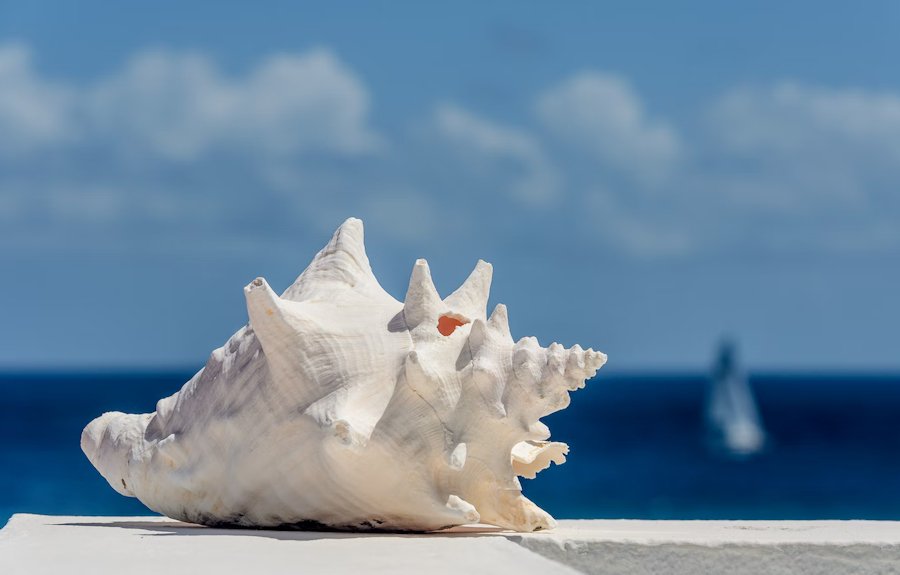 Anguilla by Steve Adams on Unsplash.
Travel Notes: Latin America - Caribbean - Anguilla Travel Notes - Updated 04 August, 2023.

Short URL: https://tnot.es/AI
Anguilla Travel and Tourism on Travel Notes

Find Anguilla travel and tourist information with links to official travel and tourism websites and state resources for visitors to Anguilla.
About Anguilla
Anguilla is a small island nation located in the Caribbean Sea known for its beautiful white sand beaches, crystal clear waters, and vibrant culture.
Popular activities to enjoy in Anguilla include swimming, sunbathing, snorkeling, and diving. The island also has a variety of restaurants and bars, featuring fresh seafood and local cuisine.
Map of Anguilla
Anguilla is a small British dependency situated at the northern end of the Leeward Islands in the Caribbean.
Anguilla is located east of Puerto Rico and the Virgin Islands, and north of Saint Martin.
Anguilla as a country consists of the main island of Anguilla, along with several smaller islands and cays.
The total land area of Anguilla is only 91 square kilometers (35 square miles), and the population is around 15,000 people.
Anguilla - Caribbean Paradise
Anguilla is a beautiful and peaceful destination that offers visitors a chance to relax and enjoy the natural beauty of the Caribbean.
Anguilla History
Christopher Columbus claimed discovery in 1493; the island became a British colony in 1650; and was governed as part of Saint Kitts, Nevis, Anguilla, from the early 18th Century.
Anguilla became a separate dependency with internal self-government following British intervention to quell two years of rebellion; formalised with the Anguilla Act of 1980.
Pre Columbian
Archaeological research reveals that the little Italian seaman, who felt like a Spaniard, didn't really discover the island at all.
Anguilla Landscape
Anguilla is a low-lying island, 16 miles long by three miles wide at its widest point.
Anguilla isn't very big but it has a lot of places of interest, few road names, and few signs.
Crocus Hill is the he highest point on Anguilla, at just 65 meters above sea level.
Anguilla Language and Culture
The official language of Anguilla is English, and the country has a parliamentary democracy with a constitutional monarchy.
The monarch of Anguilla is the same as that of the United Kingdom, and the country is a British Overseas Territory.
The culture of Anguilla is a blend of African, European, and Caribbean influences.
The island has a strong musical tradition, with genres like soca, calypso, and reggae being popular.
Anguillan cuisine is also influenced by the island's history and geography, with seafood and local ingredients being featured prominently in many dishes.
Anguilla Culture:
Anguilla heritage, and a look at the local lingo.
Anguilla Traditions and Customs
Anguilla Activities:
What to do when the sun goes down or you just want to get away from the beach.
Anguilla Hotels:
Find the right hotel for you, in Anguilla.
The capital of Anguilla is The Valley.
Map of The Valley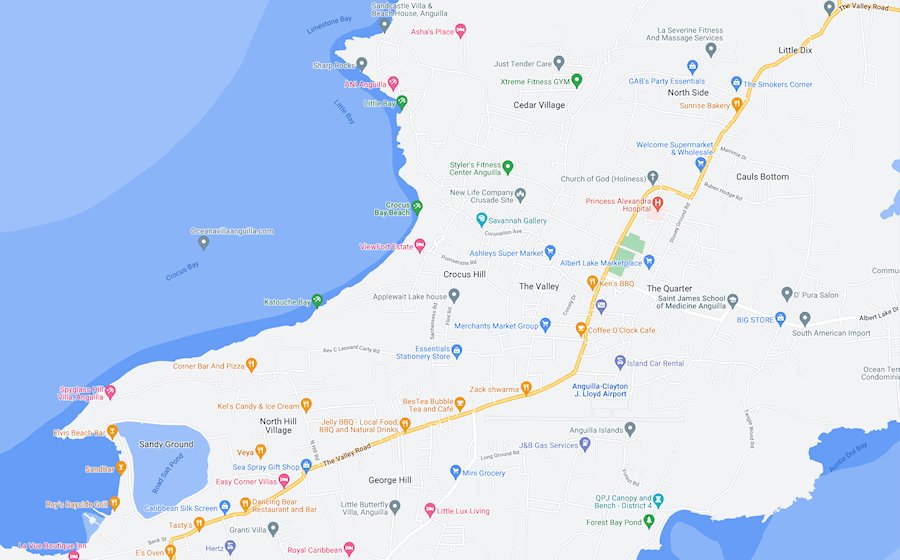 Out and About in Anguilla
Anguilla Beaches:
Some of Anguilla's beaches are quite an adventure to get to.
Places to Visit Around Anguilla
Blowing Point, Island Harbour, Sandy Ground, East End Village, West End Village.
Crocus Bay, Little Bay, Meads Bay, Rendezvous Bay, Sandy Hill Bay, Sandy Island, Scilly Cay, Scrub Island, Shoal Bay.
Anguilla is known for its beautiful beaches, turquoise waters, and coral reefs.
Tourism is the main industry in Anguilla, and the island has a number of luxury resorts and villas that attract visitors from all over the world.
In addition to tourism, the island also has a small agricultural sector, producing fruits and vegetables for local consumption.
Visit Anguilla
Anguilla is a British overseas territory located in the eastern Caribbean Sea.
If you're planning a visit to Anguilla, here are some things to consider.
Best Time to Visit
The best time to visit Anguilla is during the dry season, which runs from December to April.
The temperatures during this time are typically in the mid-80s Fahrenheit (around 30 degrees Celsius), and there is less rain and humidity.
Local Cuisine
Anguillan cuisine is a fusion of African, European, and Caribbean flavors.
Some popular dishes include conch fritters, grilled lobster, and Johnny cakes (a type of fried bread).
Things to Do
Some popular activities in Anguilla include visiting the beaches, snorkeling or scuba diving, and exploring the island's historical and cultural landmarks.
You can also take a boat tour around the island or go fishing.
Getting To and Around Anguilla
The main way to get to Anguilla is by air.
The island has its own airport, the Clayton J. Lloyd International Airport, which has regular flights to and from other Caribbean islands as well as the United States and Canada.
Alternatively, you can fly into the nearby island of St. Maarten and then take a ferry to Anguilla.
Flights to Anguilla - AXA
Airlines and Airports - Flights.
Anguilla by Road
True to British tradition, driving is on the left.
Tourist Information Offices
Anguilla Tourism:
Getting to Anguilla, and other information for tourists.
Anguilla Excursions
Where to Stay in Anguilla
Anguilla has a range of accommodations, from luxurious resorts to smaller guesthouses and villas.
Some popular options include the Four Seasons Resort and Residences, the Malliouhana, Auberge Resorts Collection, and the Frangipani Beach Resort.
Island Accommodation:
Where to stay on the island of Anguilla.
Anguilla Hotels - Anguilla Resorts - Anguilla Villas.
Anguilla Dining:
Eating out in Anguilla.
Anguilla Travel Guides - Caribbean Maps.
Weather in the Caribbean:
Local weather forecasts for destinations around the Caribbean region.
Travel Notes Online Guide to Travel
Africa - Asia - Caribbean - Europe - Middle East - North America - Oceania - South America.

The Travel Notes Online Guide to Travel helps visitors plan their trip with country and city travel guides, local tourist information, reviewed web sites, and regular travel articles.

Antigua & Barbuda.
Travel and Tourism Guides on Travel Notes
If Travel Notes has helped you, please take a moment to like us on Facebook and share with your friends on social media.


Travel & Tourism With Industry Professionals.