Short URL: https://tnot.es/VI
US Virgin Islands Travel and Tourism on Travel Notes

Find US Virgin Islands Travel and Tourist Information with links to official travel and tourism websites and state resources for visitors to US Virgin Islands.
About The US Virgin Islands
The easternmost outpost of the United States, the US Virgin Islands consists of three islands and about 50 islets, most of which are uninhabited.
Map of Charlotte Amalie - US Virgin Islands
Weather in the Caribbean:
Local weather forecasts for destinations around the Caribbean region.
The Caribs were stronger than the original Arawak Indians and had overran them by the 15th century.
Christopher Columbus visited the islands on his second voyage, in 1493, and named them after St Ursula and the virgin martyrs associated with her.
Denmark colonised St. Thomas in 1666, and The Danish West Indies Company controlled the group until Frederick V, King of Denmark, bought the islands in 1755.
Great Britain blockaded St. Thomas during the Napoleonic Wars, but the island was soon returned to Denmark.
The sugar cane economy nose-dived after the abolition of slavery in 1848, and in 1917 the United States finally bought the Danish West Indies for $25 million; twenty times that was spent by tourists in 1986.
Located in the Lesser Antilles chain of the West Indies, east of Puerto Rico, the three main islands of USVI are St. Thomas, St. John, and St. Croix; each with an unique character of its own.
If you are a US citizen and wish to travel to the US Virgin Islands no passport is required as it is a US Territory.
The two major airports in the US Virgin Islands are Cyril E. King Airport (STT) on St. Thomas and the Henry E. Rohlsen Airport (STX) on St. Croix.
The Virgin Islands Port Authority (VIPA) owns and manages the two airports in the United States Virgin Islands.
Where to Stay in the US Virgin Islands


US Virgin Islands Hotel Reviews.
From world-class hotels and resorts to cosy inns, charming bed & breakfasts, and stylish villa rentals there's bound to be an ideal accommodation to suit your budget and taste in the US Virgin Islands.
Virgin Islands Activities and Tours:
Find fun things to do in the US Virgin Islands; from a few hours kayaking through the mangroves and snorkelling around historic Hassel Island in the Virgin Islands National Park, to a full-day tour of the beautiful island of St. Thomas aboard an open safari truck.
Where to Stay in the US Virgin Islands: (USVI Tourist Office)
Whether you're looking to explore the culture and history of St. Croix, kick back on St. John, or discover the cosmopolitan island of St. Thomas, the perfect U.S. Virgin Islands hotel awaits you.
The capital of the Virgin Islands, Charlotte Amalie, is located on the island of St. Thomas.
Boasting one of the best natural, deepwater harbours in the Caribbean, St. Thomas also offers stunning views of the Caribbean from Crown Mountain.
As one of the most visited ports in the Caribbean, Charlotte Amalie has its fair share of elegant dining options, exciting nightlife, and duty-free shopping.
Where to Stay in St. Thomas


Hotel photos link direct to the official hotel websites.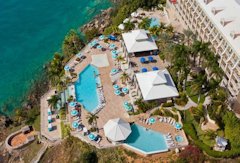 Frenchman's Reef & Morning Star Marriott Beach Resort:
5 Estate Bakkeroe, St. Thomas, US Virgin Islands.
An award-winning Caribbean resort, Frenchman's Reef Marriott Resort in St.Thomas, USVI offers guests an affordable luxury experience in an incredible location; complete with infinity pool and some of the best dining in St Thomas.

Guests at the Marriott Frenchman's Reef & Morning Star Beach Resort liked the tasty breakfast and wonderful staff; when they weren't out shopping.
St Thomas Tourism:
This cosmopolitan island retains the distinctive atmosphere of a secluded Caribbean paradise; ideal for families or couples.
St. Croix is a lovely, relaxed Caribbean vacation destination.
If you're looking to escape the crowded resorts and overdeveloped islands, staying at a private beachfront villa might be the right choice for you.
Villa Margarita St Croix Vacation Rentals:
Beachfront villa vacation rental with fabulous sea views, privacy, tranquillity and romance.
10% discount if you mention Travel Notes.
St. Croix Beaches
Sunny beaches abound on this wonderful Caribbean paradise; of which all are accessible to the public, including the ones at resorts.
They may charge a fee for use of some beach facilities, and on private property there may be certain restrictions but St. Croix Beaches are all for public enjoyment according to St. Croix law.
Best St Croix Beaches:
Here are ten beaches on St Croix to give you a taste of what's waiting for you.
St Croix Dive Sites:
Map and descriptions of the best St Croix dive sites, to help you plan a diving adventure in the US Virgin Islands.
St Croix Tourist Information:
Kent and Dawn Vreeland liked St. Croix so much that after a rum-filled evening looking at the beautiful views they decided to buy a property on St. Croix. They now try to help tourists discover St.Croix through their website.
St. Croix's Danish influence can be felt in the historic towns of Christiansted and Frederiksted; with their quaint shops and pastel-coloured buildings a fine sight for tourist eyes.
Where to Stay in St. Croix
With so many gorgeous places to stay in St Croix, you'll never want to leave.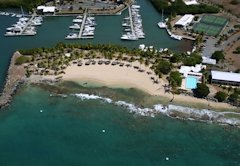 Tamarind Reef Resort, Spa and Marina:
5001 Tamarind Reef, Christiansted, US Virgin Islands.
Located on a spectacular snorkelling beach, the Tamarind Reef Resort is a 40-acre property with seaside swimming pool, four tennis courts, a lovely 154-slip marina and an indulgent spa.

Guests at the Tamarind Reef Hotel enjoyed the stunning pool, fantastic bar and superb dining.
St Croix Tourism:
Rich in cultural diversity, St. Croix has a past filled with a fascinating history; a tranquil tropical destination for vacationers, honeymooners, meeting attendees, and adventure-seeking scuba divers.
On the smallest of the Virgin Islands, nature takes care of itself; with two thirds of St John a national park.
Even if you can only visit the island for a day, its stunning views and beaches (Trunk Bay, Cinnamon Bay and Salt Pond Bay) will make the effort rewarding.
National Park Virgin Islands:
Just a short walk from the public ferry dock, heading north a couple of blocks on route 20, the Cruz Bay Visitor Center is open daily from 8:00 to 16:30.
St John Tradewinds News:
Published and distributed bi-weekly on St. John, as well as to subscribers throughout the world. Selected articles, editorial, and features available online.
Where to Stay in St. John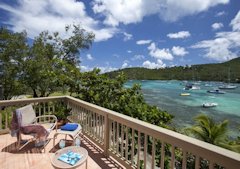 Gallows Point Resort:
3 AAA Gallows Point Road, Saint John, US Virgin Islands.
Nestled on a beautifully landscaped tropical peninsula and surrounded by the blue, pristine waters of the Caribbean, Gallows Point Resort is the ideal blend of luxurious living in perfect harmony with St. John's spectacular natural beauty.

Guests at the Gallows Point Resort liked the good-sized beds and its great location; good for shopping.
St John Tourism:
Though it is the smallest of the three U.S Virgin Islands, St. John's unspoiled beauty is perhaps the greatest found anywhere in the Caribbean.
Although the U.S. Virgin Islands is a year-round destination, the best deals on hotels and attractions may be found during the summer months.
Cruise Ships Port of Call
VI Ship Schedules:
Cruise ships visiting the US Virgin Islands dock at the West Indian Company and Crown Bay facilities in St. Thomas, and at the Fredriksted Pier in St. Croix.
In St. Thomas ships also drop anchor in the outer or inner harbour, sending tenders to shuttle passengers to and from Charlotte Amalie (Waterfront) Pier. Ships also drop anchor in Cruz Bay, St. John and tender passengers to the Pier.
Virgin Islands Carnival:
Carnival in St Thomas pulsates during the month of April. First staged in 1912, during the final years of Danish occupation, Carnival was revived in 1952; after lapsing during World War I.
What's on in the Virgin Islands: (From VI now)
The online community guide to St. Thomas has expanded to include a guide for St. Croix, St. John, and Water Island.

Add a Business Listing - Add a Destination Guide - Add a Place to Stay.



If you find Travel Notes useful, please take a moment to like us on Facebook and share with your friends on social media.
Caribbean Index - Caribbean Tourism - Caribbean Travel Websites.