Short URL: https://tnot.es/BS
Bahamas Travel and Tourism on Travel Notes

Find Bahamas Travel and Tourist Information with links to official travel and tourism websites and state resources for visitors to The Bahamas.
About Bahamas
On October 12th, 1492, Christopher Columbus made his first landing in the 'New World', at San Salvador. Discovery Day has become a public holiday to commemorate this.
It was another 150 years before the British became the first Europeans to permanently settle here.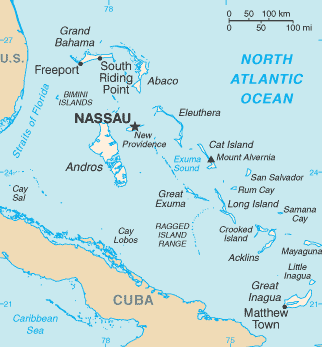 Life in The Bahamas was not a holiday in those days, and the British settlers were repeatedly attacked by the Spaniards.
Blackbeard was one of the most infamous pirates who chose to hide out in The Bahamas while running raids in the area, or up the coast to North Carolina.
During prohibition, rum runners also found The Bahamas to be a convenient location while smuggling into the United States.
Independence from Britain was finally achieved on July 10, 1973.
Weather in the Caribbean:
Local weather forecasts for destinations around the Caribbean region.
Bahamas Hotels
Bahamas Hotel Association:
The tourism industry plays a most important role in the Bahamian economy and the hotel sector makes a major contribution in this effort. The Bahamas Hotel Association (BHA) represents the interests of the country's leading hotels and a large allied membership of companies that support the industry.
Bahamas Ferries:
Bridging the distance between islands with a ferry system that aims to make inter-island travel fun. As guests ride in air-conditioned comfort, they can enjoy a meal and beverages served by cabin attendants.
Bahamas Guide:
Comprehensive guide to the Bahamas with useful information to help you plan your Bahamas vacation.
Getting to Bahamas:
Plenty of large airlines and several charter carriers serve passengers flying into The Islands Of The Bahamas. Frequent flights are available to Nassau, Freeport and The Out Islands. Although there are no direct flights from Europe to The Islands Of The Bahamas, a quick stopover in Miami is easy and perfectly viable.
Travelling Around Bahamas:
There are many options to help you get around each island in The Bahamas, and to help you hop from island to island. But remember, when you take to the road, British rules apply, so please keep to the left. Visitors may use their home driver's license for up to three months and may also apply for an international driver's license.
Bahamas Adventures
Shark Diving in Bahamas:
Patric Douglas takes Bahamas thrill-seeking divers into the world of the secretive and equally infamous Tiger Shark.

Add a Business Listing - Add a Destination Guide - Add a Place to Stay.



If you find Travel Notes useful, please take a moment to like us on Facebook and share with your friends on social media.
Caribbean Index - Caribbean Tourism - Caribbean Travel Websites.