Travel to Bahamas:
Bahamas tourist information with details about travel to and around the islands. Where to stay and what to see is made easier with insider tips and hand-selected Bahamas links, by dedicated editors and visitors to TravelNotes.org - The Online Guide to Travel.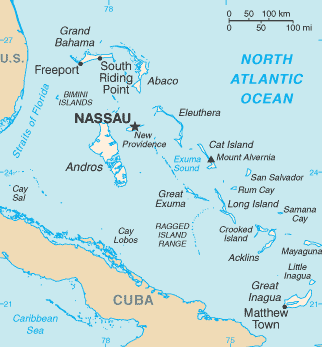 The capital of The Bahamas is Nassau.
The flag of the Commonwealth of The Bahamas has three equal horizontal bands of aquamarine, gold, and aquamarine, with a black equilateral triangle based on the hoist side.
Lucayan Indians inhabited the islands when Christopher Columbus first set foot in the 'New World' on San Salvador in 1492.
British settlement of the islands began in 1647; the islands became a colony in 1783.
Since attaining independence from the UK in 1973, The Bahamas have prospered through tourism and international banking and investment management.
Because of its geography, the country is a major transshipment point for illegal drugs, particularly shipments to the US, and its territory is used for smuggling illegal migrants into the US.
Geographically
Caribbean - chain of islands in the North Atlantic Ocean; southeast of Florida, northeast of Cuba.
Administrative Divisions
21 districts:
Acklins and Crooked Islands; Bimini; Cat Island; Exuma; Freeport; Fresh Creek; Governor's Harbour; Green Turtle Cay; Harbour Island; High Rock; Inagua; Kemps Bay; Long Island; Marsh Harbour; Mayaguana; New Providence; Nichollstown and Berry Islands; Ragged Island; Rock Sound; Sandy Point; San Salvador and Rum Cay.
Independence
10th July, 1973 (from UK).
National Holiday
Independence Day: 10th July.

Add a Business Listing - Add a Destination Guide - Add a Place to Stay.



If you find Travel Notes useful, please take a moment to like us on Facebook and share with your friends on social media.