Travel Notes: Latin America - Caribbean - Bermuda Travel Notes.


Short URL: https://tnot.es/BM
Bermuda Travel and Tourism on Travel Notes

Find Bermuda Travel and Tourist Information with links to official travel and tourism websites and state resources for visitors to Bermuda.
About Bermuda
Bermuda is a beautiful island destination with plenty of things to see and do.
Whether you are looking to relax on the beach, explore the island's history and culture, or indulge in some outdoor activities, Bermuda has something for everyone.
Map of Bermuda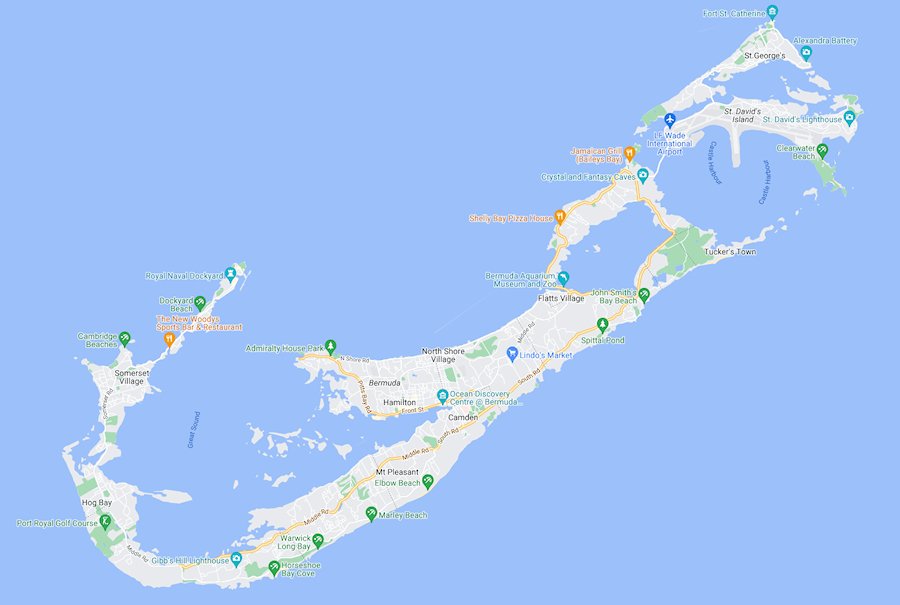 Bermuda is a self governing dependency of the United Kingdom.
The Bermudas are not in the Caribbean at all. The group of 150 small islands lie in the north Atlantic, east of North Carolina.
Bermuda was literally discovered by accident.
A Spanish navigator, Juan de Bermudez, was shipwrecked here in around 1503.
In 1609, Sir George Somers was on the way to Virginia, with a group of English colonists, when they were shipwrecked too.
It seems people should sail in the area with care.
British Overseas Territory
Bermuda is a British overseas territory located in the North Atlantic Ocean.
It is an archipelago composed of approximately 181 islands. Although about twenty of the Bermudas are inhabited, only six of them are of importance.
Of these Great Bermuda, or Main Island, is the largest at 14 miles in length. The other islands are: Somerset; Ireland; St George's; St Davids; and Boaz.
Offshore Financing
Bermuda is also known for its offshore financial services industry, which has made it a tax haven for international companies and wealthy individuals.
This industry has contributed to the island's economic prosperity but has also been the subject of controversy and criticism.
Sub-Tropical Climate
Bermuda is known for its pink-sand beaches, crystal-clear waters, and lush vegetation.
It has a subtropical climate, with warm temperatures and mild winters, making it a popular tourist destination.
Unique Culture
Bermuda is also famous for its unique culture, which is a blend of African, British, and Portuguese influences.
The traditional Bermuda shorts and colorful, knee-length socks are a familiar sight, as is the sound of the Gombey drumming and dancing, which is performed at festivals and special occasions.
World Heritage
The capital city of Bermuda is Hamilton, which is known for its historic architecture, upscale shopping, and dining.
A popular tourist destinations on the island is St. George's, a UNESCO World Heritage site with colonial-era buildings.
Settled by the British, Bermuda is a fascinating destination that offers an unique blend of natural beauty, culture, and history.
Situated some 600 miles off the Eastern seaboard of the United States, Bermuda is a luxurious island destination.
While the majority of visitors come for the beaches, Bermuda has a fair share of sights to keep one occupied.
The Royal Naval Dockyard in particular, is an attraction with significant historical importance dating back to the early American and British feuds.
This former British naval base that has been converted into a shopping and entertainment complex.
Visit Bermuda
If you are planning a trip to Bermuda, it is important to note that Bermuda has a sub-tropical climate with mild winters and warm summers.
The peak tourist season in Bermuda is between May and October when the weather is warmest and driest. However, it is also the busiest time of year, and prices for accommodations and activities can be higher.
Bermuda is Expensive But Bargains Can be Had
Although Bermuda is not as cheap as some of its Caribbean counterparts (actually it's quite expensive) Bermuda is a great choice for those looking for something a bit different.
Bermuda is fairly expensive, but bargains can be had during the off season (November to March).
Whether you are looking to relax on the beach, explore historic sites, or try local cuisine, Bermuda has something for everyone.
Best Time to Visit Bermuda
The best time to visit Bermuda is from March to June or from September to November when the weather is pleasant and the crowds are thinner.
Local Cuisine
Bermuda's cuisine is a blend of British, African, and Caribbean influences.
Make sure to try some of the island's traditional dishes, such as fish chowder, spiny lobster, and cassava pie.
Passport and Visa Requirements
To travel to Bermuda, visitors must have a valid passport and either a Bermuda entry visa or a pre-authorization for entry.
Visitors from certain countries may also require a transit visa if they are transiting through the United States.
Visitors from certain countries, such as the United States, Canada, and the United Kingdom, do not need a visa for stays of up to 90 days.
It is always best to check the most up-to-date entry requirements before planning your trip.
Where to Stay in Bermuda
Bermuda offers a range of accommodation options, from luxury resorts to budget-friendly guesthouses.
You can find a place to stay in Hamilton, the capital of Bermuda, or in one of the island's many smaller towns and villages.
The capital of the British dependency of Bermuda, is situated on Bermuda Island's Hamilton Harbour, at the east end of the Great Sound.
Map of Hamilton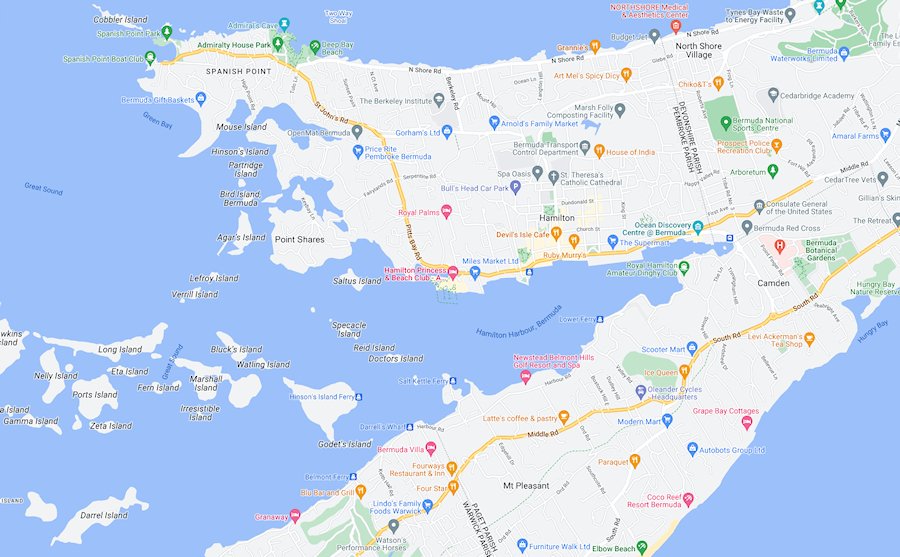 Founded by the British in 1790, Hamilton replaced St George, on St George's Island, as the colonial capital in 1815.
The harbour front has many coloured houses, and is quite an attraction for tourists.
Also visit Fort Hamilton and the government offices at Sessions House.
The Government of Bermuda consists of a Governor, a Deputy Governor, a Cabinet, and a Legislature based on two legislative chambers – a Senate and a House of Assembly.
Transportation
Although there are no car rentals in Bermuda, Bermuda public transportation is excellent and a convenient way to get around Bermuda.
You can take buses, taxis, or rent a scooter or moped to explore the island on your own.
With five convenient locations around Bermuda, mopeds can easily be hired from Oleander Cycles at Kings Wharf and Heritage wharf Cruise Terminals, and Dockyard Bermuda.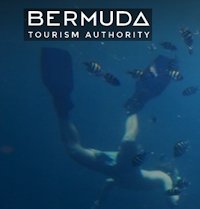 The Bermuda Tourism Authority is the official destination marketing organisation of Bermuda; a dynamic, independent and entrepreneurial tourism enterprise.
Bermuda Attractions
Travel guide sharing Bermuda attractions and vacation ideas through one family's experience and findings over many years.
Some of the top attractions in Bermuda include Horseshoe Bay Beach, St. George's Town, the Royal Naval Dockyard, and the Bermuda Aquarium, Museum and Zoo.
Some popular activities include snorkeling, scuba diving, sailing, and exploring the island's many historic sites.
Bermuda Beaches
Bermuda beaches come in all shapes and shades of sand and are excellent for swimming, snorkeling, sunbathing and relaxing.
Most famous are the south shore beaches, with vast stretches of pink-tinged sand, interspersed with tucked away coves. The white sand contains pink flecks - remains of the tiny foraminifera organism that grows beneath the reef offshore.
Bermuda Ferry Service
Travelling by ferry in Bermuda is an excellent way to get around. The new fast ferries are clean, spacious, air-conditioned and efficient. The main ferry terminal is located at Albuoy's Point in Hamilton.
Bermuda Travel Guides - Bermuda Maps.
Weather in the Caribbean:
Local weather forecasts for destinations around the Caribbean region.
Travel Notes Online Guide to Travel
Africa - Asia - Caribbean - Europe - Middle East - North America - Oceania - South America.

The Travel Notes Online Guide to Travel helps visitors plan their trip with country and city travel guides, local tourist information, reviewed web sites, and regular travel articles.
Travel and Tourism Guides on Travel Notes
Travel Professionals Based in Bermuda.
If Travel Notes has helped you, please take a moment to like us on Facebook and share with your friends on social media.


Travel & Tourism With Industry Professionals.

British Virgin Islands.