Travel Notes: Latin America - Caribbean - Bermuda Travel Notes.


Short URL: https://tnot.es/BM
Bermuda Travel and Tourism on Travel Notes

Find Bermuda Travel and Tourist Information with links to official travel and tourism websites and state resources for visitors to Bermuda.
About Bermuda
Bermuda is a self governing dependency of the United Kingdom.
The Bermudas are not in the Caribbean at all. The group of 150 small islands lie in the north Atlantic, east of North Carolina.
Map of Bermuda
Bermuda was literally discovered by accident.
A Spanish navigator, Juan de Bermudez, was shipwrecked here in around 1503.
In 1609, Sir George Somers was on the way to Virginia, with a group of English colonists, when they were shipwrecked too.
It seems people should sail in the area with care.
Although about 20 of the Bermudas are inhabited, only six of them are of importance.
Of these Great Bermuda, or Main Island, is the largest at 14 miles in length. The other islands are: Somerset; Ireland; St George's; St Davids; and Boaz.
Travel to Bermuda
Situated some 600 miles off the Eastern seaboard of the United States, Bermuda is a luxurious island destination. Settled by the British, Bermuda consists of over 170 islands.
While the majority of visitors come for the beaches, Bermuda has a fair share of sights to keep one occupied. The Royal Naval Dockyard in particular, is an attraction with significant historical importance dating back to the early American and British feuds.
Although Bermuda is not as cheap as some of its Caribbean counterparts (actually it's quite expensive) Bermuda is a great choice for those looking for something a bit different.
Bermuda is fairly expensive, but bargains can be had during the off season (November to March).
Bermuda Travel Guides - Bermuda Maps.
Weather in the Caribbean:
Local weather forecasts for destinations around the Caribbean region.
The capital of the British dependency of Bermuda, is situated on Bermuda Island's Hamilton Harbour, at the east end of the Great Sound.
Founded by the British in 1790, Hamilton replaced St George, on St George's Island, as the colonial capital in 1815.
The harbour front has many coloured houses, and is quite an attraction for tourists.
Also visit Fort Hamilton and the government offices at Sessions House.
The Government of Bermuda consists of a Governor, a Deputy Governor, a Cabinet, and a Legislature based on two legislative chambers – a Senate and a House of Assembly.
Although there are no car rentals in Bermuda, Bermuda public transportation is excellent.
With five convenient locations around Bermuda, mopeds can easily be hired from Oleander Cycles at Kings Wharf and Heritage wharf Cruise Terminals, and Dockyard Bermuda.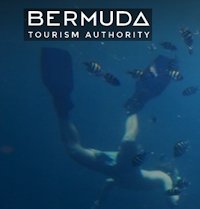 The Bermuda Tourism Authority is the official destination marketing organisation of Bermuda; a dynamic, independent and entrepreneurial tourism enterprise.
Bermuda Attractions:
Travel guide sharing Bermuda attractions and vacation ideas through one family's experience and findings over many years.
Bermuda beaches come in all shapes and shades of sand and are excellent for swimming, snorkeling, sunbathing and relaxing.
Most famous are the south shore beaches, with vast stretches of pink-tinged sand, interspersed with tucked away coves. The white sand contains pink flecks - remains of the tiny foraminifera organism that grows beneath the reef offshore.
Bermuda Ferry Service
Travelling by ferry in Bermuda is an excellent way to get around. The new fast ferries are clean, spacious, air-conditioned and efficient. The main ferry terminal is located at Albuoy's Point in Hamilton.

Travel Professionals Based in Bermuda.
Become a Member to Add Your Bermuda Listing.
Travel Notes Online Guide to Travel
The Travel Notes Online Guide to Travel helps visitors plan their trip with country and city travel guides, local tourist information, reviewed web sites, and regular travel articles.

Join Michel on Meta-Travel.

Airlines and Airports.

Add a Business Listing - Add a Destination - Add a Place to Stay - Add URL.



Affiliates - Caribbean Tourism - Caribbean Travel Websites.
If you find Travel Notes useful, please take a moment to like us on Facebook and share with your friends on social media.