Short URL: https://tnot.es/MQ
Martinique Travel and Tourism on Travel Notes

Find Martinique Travel and Tourist Information with links to official travel and tourism websites and state resources for visitors to Martinique.
About Martinique
Martinique, an Overseas Department of France, lies between Dominica and St Lucia.
Martinique is of volcanic origin and relatively mountainous.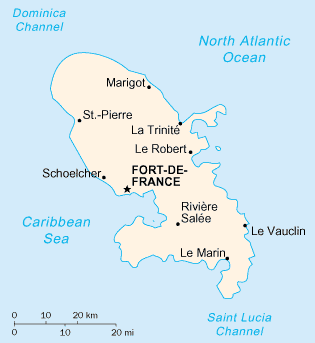 The British occupied Martinique on several occasions during the colonial wars between France and Great Britain.
Napoleon's wife, the Empress Josephine, was born in Martinique and a statue to honour her stands in a public garden.
In 1902 Mont Pelee erupted, destroying Saint-Pierre; which was then the island's largest city.
Weather in the Caribbean:
Local weather forecasts for destinations around the Caribbean region.
The capital of Martinique, once called Fort-Royal, is in the west of the island; on the Bay of Fort-de-France.
Three forts defend the landlocked harbour.
The landscapes of the Caravelle Peninsula and the Atlantic Coast will charm even the most jaded traveller.
Comite du Tourisme de la Martinique:
You'll need to speak French (well, read it at least) to get the most out of the official Martinique Tourism website but if you intend to travel to Martinique, I presume you can. Bon voyage!
L'Express des Isles:
Operates regular sea services between the islands of Guadeloupe, Dominica, Martinique and St. Lucia.
Martinique Guide:
Comprehensive guide to Martinique with useful information to help you plan your Martinique vacation.
Martinique Touring Ideas:
Some suggested sightseeing highlights, from the Martinique Promotion Bureau, to help you decide where to travel around Martinique.
Ti'Ponton:
The sailor's guide to Martinique includes information about marinas and anchorage spots around the island of Martinique.

Add a Business Listing - Add a Destination Guide - Add a Place to Stay.



If you find Travel Notes useful, please take a moment to like us on Facebook and share with your friends on social media.
Caribbean Index - Caribbean Tourism - Caribbean Travel Websites.