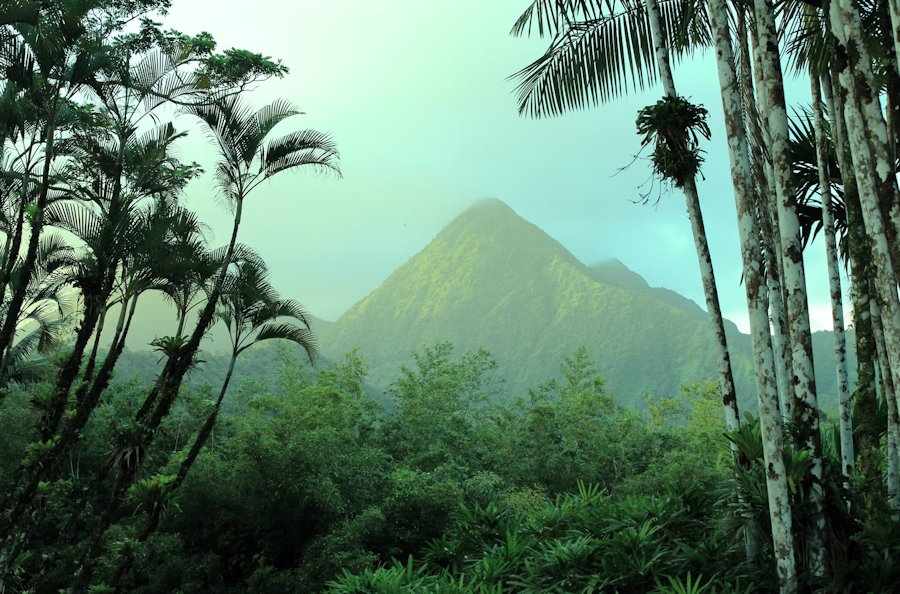 Martinique by Weronika on Unsplash.
Travel Notes: Latin America - Caribbean - Martinique Travel Notes.
Short URL: https://tnot.es/MQ
Martinique Travel and Tourism on Travel Notes

Find Martinique Travel and Tourist Information with links to official travel and tourism websites and state resources for visitors to Martinique.
About Martinique
A beautiful island in the Caribbean, Martinique is a fascinating and captivating destination with a mix of French and Caribbean culture, stunning beaches, lush rainforests, towering cathedrals, and an imposing volcano.
Map of Martinique
Geography
Around 50 kilometres long and 22 kilometres wide, Martinique is situated in the eastern Caribbean Sea, about 1,125 kilometres south-east of Miami, Florida.
It is part of the Lesser Antilles and is situated between Dominica to the north and Saint Lucia to the south.
The British occupied Martinique on several occasions during the colonial wars between France and Great Britain.
Napoleon's wife, the Empress Josephine, was born in Martinique and a statue to honour her stands in a public garden.
In 1902 Mont Pelee erupted, destroying Saint-Pierre; which was then the island's largest city.
As an overseas department and region of France, Martinique is an integral part of the French Republic.
Culture
The culture of Martinique is an unique blend of French, African, and Caribbean influences.
The official language is French, and the majority of the population speaks Creole, a French-based Creole language.
Martinique is known for its vibrant music scene, including traditional styles like zouk and biguine.
The island is also famous for its rum production, with numerous distilleries offering tours and tastings.
Economy
The economy of Martinique is diverse and supported by industries such as agriculture, tourism, manufacturing, and services.
Key agricultural products include bananas, sugarcane, and pineapples.
Tourism plays a significant role in the economy, attracting visitors from around the world.
Martinique benefits from being an integral part of France, allowing it to access the European Union market and benefit from French economic assistance.
History
Martinique was originally inhabited by the indigenous Arawak people.
Christopher Columbus arrived on the island in 1502 and claimed it for the Kingdom of Spain.
In 1635, the French settled on the island and established it as a French colony.
Martinique later became a major centre for sugar production, relying heavily on African slave labour.
The island changed hands between the French and British several times but has been under French control since the early 19th century.
Tourism
Martinique is a popular tourist destination known for its stunning natural beauty.
The island features picturesque beaches, lush rainforests, and the majestic Mount Pelée, an active volcano.
Visitors can explore the vibrant capital city of Fort-de-France, which offers a mix of historic architecture, lively markets, and cultural attractions.
The island also boasts a variety of outdoor activities such as snorkelling, scuba diving, hiking, and sailing.
As an overseas region of France, Martinique offers an unique blend of French and Creole influences, making it a fascinating destination for viaitors to explore.
Best Time to Visit
Martinique enjoys a tropical climate, with warm temperatures year-round.
The dry season, from December to May, is considered the best time to visit, as it offers sunny weather and fewer chances of rainfall.
However, even during the rainy season (June to November), the showers are often short-lived and followed by sunshine.
Cultural Delights
Immerse yourself in Martinique's rich culture by exploring its capital city, Fort-de-France.
Visit the Bibliothèque Schoelcher, an impressive 19th-century library, and explore the colourful local markets like the Spice Market and the Grand Marché.
Don't miss the chance to taste traditional Creole cuisine, which blends French, African, and Caribbean flavours.
Exploring Nature
Martinique is known for its natural beauty.
Visit the black sand beaches of Les Salines, Anse Noire, or Anse Dufour for a relaxing day by the sea.
Take a hike in the rainforests of the Parc Naturel Régional de la Martinique to discover stunning waterfalls, lush vegetation, and diverse wildlife.
Getting There
Martinique has an international airport, Aime Cesaire International Airport (FDF), which receives flights from various cities in Europe and the Americas.
You can also reach the island by ferry from nearby Caribbean islands.
Historic Sites
Martinique has a fascinating history influenced by its indigenous population, colonisation, and the sugar trade.
Visit the ruins of Saint-Pierre, known as the 'Pompeii of the Caribbean', which was destroyed by the eruption of Mount Pelée in 1902.
Explore the Habitation Clément, a former sugarcane plantation turned museum and rum distillery, to learn about the island's rum-making heritage.
Island Hopping
Martinique is well-connected to other nearby islands, making it a great base for island hopping.
Perhaps consider a day trip to neighbouring Saint Lucia, Dominica, or Guadeloupe for a change of scenery.
Outdoor Activities
Martinique offers a range of outdoor activities for adventure enthusiasts.
Go snorkelling or diving to explore the vibrant coral reefs surrounding the island.
Try your hand at windsurfing or kitesurfing in the clear waters of Anse Bonneville or Anse Corps de Garde.
You can also go hiking, horse-riding, or zip-lining for an adrenaline-filled experience.
The capital of Martinique, once called Fort-Royal, is in the west of the island; on the Bay of Fort-de-France.
Three forts defend the landlocked harbour.
Map of Fort-de-France
The landscapes of the Caravelle Peninsula and the Atlantic Coast will charm even the most jaded traveller.
Where to Stay in Martinique
Karibea Valmenière Hotel
Karibea Valmenière Hotel: 4 Av. des Arawaks, Fort-de-France, Martinique.
The hotel's spacious, bright and comfortable rooms have been decorated with care in a modern and warm spirit.
With 119 rooms spread over seven floors, the Karibea Valmeniere Hotel offers a breathtaking view of the Caribbean Sea.
Martinique as an Eco Destination
Martinique boasts a whole world of natural wonders, making it one of the Caribbean's top eco-destinations.
With awe-inspiring natural beauty, a rich cultural history, warm welcome, distinctive culinary delights, and superb rums, the French Caribbean Island of Martinique stirs passion.
Martinique and its People
The People of Martinique are proud of their cultural and historical heritage.
From fishing to agriculture, through wildlife and flora to traditional songs and dance, everything is exotic and charming in Martinique.
Trade Martinique
Martinique ranks among the most alluring and enchanting destinations in the world.
As an overseas region of France, Martinique boasts modern and reliable infrastructure – roads, water and power utilities, hospitals, and telecommunications services all on par with any other part of the European Union.
Visiting Martinique
The French Caribbean Island of Martinique was named one of the New York Times' 52 Places for Travelers to Visit in 2023.
L'Express des Isles operates regular sea services between the islands of Guadeloupe, Dominica, Martinique and St. Lucia.
Diving in Martinique
Martinique is a many faceted diving destination with warm water all year, exceptional visibility with coral reefs, volcanic plateaus and diverse underwater fauna and flora not to mention numerous wrecks from the Mount Pelée eruption in 1902.
Ti'Ponton Boating Directory
The Ti'Ponton boating directory covers Martinique, Guadeloupe, Saint-Martin/Sint Maarten, St.Lucia and St.Barths.
The sailor's guide to Martinique includes information about marinas and anchorage spots around the island of Martinique.
Martinique - Caribbean Travel Guides.
Weather in the Caribbean:
Local weather forecasts for destinations around the Caribbean region.
Travel Notes Online Guide to Travel
Africa - Asia - Caribbean - Europe - Middle East - North America - Oceania - South America.

The Travel Notes Online Guide to Travel helps visitors plan their trip with country and city travel guides, local tourist information, reviewed web sites, and regular travel articles.
Travel and Tourism Guides on Travel Notes
If Travel Notes has helped you, please take a moment to like us on Facebook and share with your friends on social media.


Travel & Tourism With Industry Professionals.

Nevis.