Short URL: https://tnot.es/GPsb
St. Barthelemy (St Barth's) Travel and Tourism on Travel Notes

Find St. Barth's Travel and Tourist Information with links to official travel and tourism websites and state resources for visitors to Saint Barthelemy.
About St. Barthelemy
St. Barthelemy is a dependency of Guadeloupe.
The French Island of St. Barthelemy is very small and very exclusive.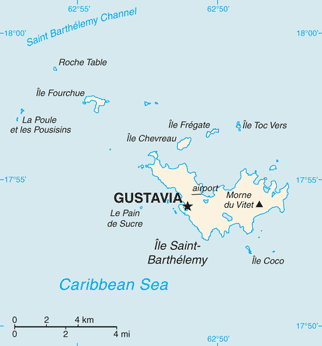 Eight miles square, St Barth's is not a budget traveller's paradise.
Because of its exclusivity, many musicians and celebrities choose to relax here; away from prying eyes.
Weather in the Caribbean:
Local weather forecasts for destinations around the Caribbean region.
Fly into St Maarten by international carrier then take the 15 minute puddle jumper flight to St Barts.
There are flights to St Barth's; from Sint Maarten, Guadeloupe, St. Croix, St.Thomas, Puerto Rico, Anguilla and Saba.
There is also a ferry service from Sint Maarten.
Don't count your luck on hitching a ride with yachties, or private pilots though. It has been done, but you'll need connections, and plenty of time.
Airlines and Airports:
There is an airport on the northern part of the island, with the popular Saint-Jean beach nearby.
Not all beaches on St. Barthelemy are easy to reach.
Some, like Anse de Columbia, only by boat or a very long walk. Choose Ainse Toiny beach in the south, if you like your water-sports a bit rougher.
Of course the shallow-water reefs make excellent snorkelling grounds, and you would be wasting your time here if you didn't go out in a boat.
St. Barth's Online:
The recipe for a rare treat.
The Civilized Explorer:
Their view of St. Barthelemy.
St Barts Rentals:
Luxury villas, hotels, beach front residences and apartments for rent in St Barthelemy island.
St Barth Concierge
Premium Island Vacations:
Guy, James and Vincent have selected the most experienced travel consultants, with a deep knowledge and love of St Barth to assist you with all your travel, accommodation and personal needs.

Add a Business Listing - Add a Destination Guide - Add a Place to Stay.



If you find Travel Notes useful, please take a moment to like us on Facebook and share with your friends on social media.
Caribbean Index - Caribbean Tourism - Caribbean Travel Websites.