Chameau, Terre-de-Haut, Guadeloupe by Viktor Ruppert on Unsplash.
Travel Notes: Latin America - Caribbean - Guadeloupe Travel Notes - Updated 04 August, 2023.
Short URL: https://tnot.es/GP
Guadeloupe Travel and Tourism on Travel Notes

Find Guadeloupe Travel and Tourist Information with links to official travel and tourism websites and state resources for visitors to Guadeloupe.
About Guadeloupe
Guadeloupe, a group of islands in the eastern Caribbean, is a beautiful and culturally rich destination with a unique blend of French and Caribbean influences.
With its stunning beaches, rich culture, and delicious cuisine, it's no wonder that Guadeloupe is a popular choice for travellers looking to experience something special in the French Caribbean.
Map of Guadeloupe
An Overseas Department of France, Guadeloupe forms part of the French West Indies.
The Islands of Guadeloupe
The archipelago consists of two main islands - Basse-Terre and Grande-Terre - and several smaller islands.
The two main islands of Guadeloupe look like a butterfly on the map, with Basse-Terre the left wing and Grande-Terre the right.
Separated by the Salt River, a narrow arm of the Caribbean Sea, the two islands are linked by a bridge.
Guadeloupe is a French overseas region located in the eastern Caribbean Sea, and it consists of a group of islands, including Basse-Terre, Grande-Terre, Marie-Galante, Les Saintes, and La Désirade.
Economy
Guadeloupe's economy is primarily based on tourism, agriculture, and light industry.
The islands are known for producing sugarcane, bananas, and pineapples, as well as rum, which is a popular export.
Language
The official language of Guadeloupe is French, and the local Creole language is also spoken.
Population
The population of Guadeloupe is approximately 400,000, and the majority of the people are of African and European descent.
Tourism
Guadeloupe is a popular tourist destination because of its beautiful beaches, tropical climate, and unique culture.
The islands offer a variety of activities, including hiking in the rainforest, snorkeling and scuba diving in coral reefs, and visiting historical sites like Fort Louis Delgrès; a fortress built in the 19th century.
Visiting Guadeloupe
Best Time to Visit
Guadeloupe has a tropical climate with two seasons, a dry season from December to May and a rainy season from June to November.
The best time to visit is during the dry season when you can enjoy the beaches and outdoor activities without worrying about rain.
Food and Drink
Guadeloupean cuisine is a blend of French and Caribbean influences, featuring seafood, tropical fruits, and spices.
Some of the must-try dishes include accras (fried cod fritters), boudin (blood sausage), and colombo (curry).
Don't forget to try the local rum, which is a popular drink in Guadeloupe.
Getting There
The main airport in Guadeloupe is Pointe-à-Pitre International Airport, which is serviced by several airlines from Europe, North America, and other Caribbean islands.
Once you arrive, you can get around the islands by renting a car, taking a taxi, or using the local bus system.
Language
French is the official language in Guadeloupe, but English is also spoken in tourist areas.
Knowing a few basic French phrases can be helpful when communicating with locals.
Things to Do
Guadeloupe has a lot to offer visitors, including beautiful beaches, national parks, and historical sites.
Some of the must-see attractions include the Jardin Botanique de Deshaies botanical gardens, and the Memorial ACTe museum; which tells the history of slavery and colonialism in the Caribbean.
Guadeloupe Experiences
All the islands of the French West Indies are in the Lesser Antilles.
These are: Martinique, Guadeloupe and the five small island dependencies of Guadeloupe: Marie-Galante, Iles des Saintes, Desirade, Saint-Barthelemy, and part of St Martin.
In 1946 Guadeloupe, with its dependencies, and Martinique were established as separate overseas departments of the French Republic.
During the 17th century there was a lot of naval manoeuvring between the French, Spanish, English and Dutch for control of the West Indian islands.
The official language of Guadeloupe is naturally French, but a Creole patois is widely spoken.
Where to Stay in Guadeloupe
Hotels in Guadeloupe
Dashaies Bay, Gosier, Grand Bourg, Pointe a Pitre, Pointe-Noire, Saint Barthelemy, Saint Martin, Sainte-Anne, Saint-Francois, Trois-Rivieres.
The capital of Guadeloupe, virtually destroyed by the 1979 hurricane, is located on the south-western tip of Basse-Terre Island.
Map of Basse-Terre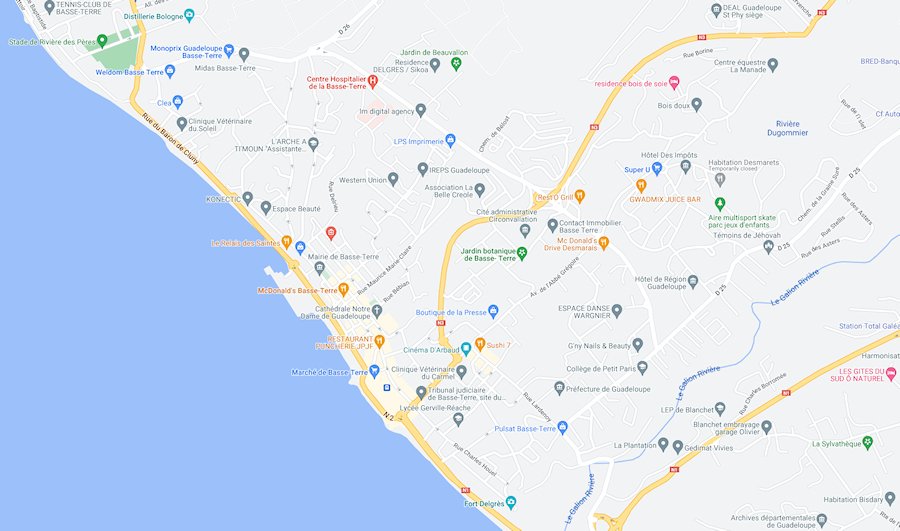 Founded by the French in 1643, Basse-Terre declined in the late 18th century when economic activity was concentrated in Point-a-Pitre.
The nearby dormant volcano of La Soufriere, situated in a large national park, is the highest point in Guadeloupe (1,484 m).
Marie-Galante is easily accessible from Point-a-Pitre, Guadeloupe's economic capital.
It takes 45 minutes by boat or 15 minutes by plane.
The largest town in Guadeloupe, Pointe-a-Pitre is situated on south-west Grande-Terre Island; on the channel that separates Grande-Terre Island and Basse-Terre Island.
Guadeloupe Tourism
Guadeloupe Islands Tourism Board:
5, Square de la Banque, Pointe-a-Pitre.
Guadeloupe - French Caribbean.
Weather in the Caribbean:
Local weather forecasts for destinations around the Caribbean region.
Travel Notes Online Guide to Travel
Africa - Asia - Caribbean - Europe - Middle East - North America - Oceania - South America.

The Travel Notes Online Guide to Travel helps visitors plan their trip with country and city travel guides, local tourist information, reviewed web sites, and regular travel articles.

Haiti.
Travel and Tourism Guides on Travel Notes
If Travel Notes has helped you, please take a moment to like us on Facebook and share with your friends on social media.


Travel & Tourism With Industry Professionals.