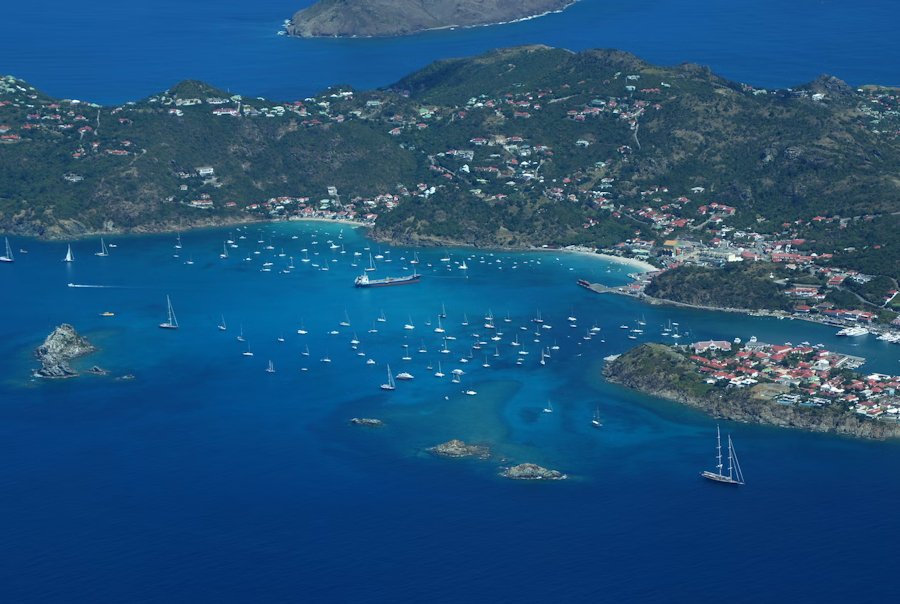 Yachts in St. Kitts and Nevis by Holger Woizick on Unsplasht.
Travel Notes: Latin America - Caribbean - Nevis Travel Notes - Updated 16 July, 2023.
Short URL: https://tnot.es/NV
Nevis Travel and Tourism on Travel Notes

Follow these Nevis travel tips for visitors to St Kitts and Nevis and enjoy your vacation in the Caribbean.
About Nevis
Popular with travellers seeking a quieter, more relaxed Caribbean, Nevis is known for its beautiful beaches, lush greenery, and rich history.
While Nevis is generally a safe island, there are still things you have to watch out for.
Map of Nevis
The sunny islands of St Kitts & Nevis offer glorious beaches, delightful restaurants, exciting nightlife and a wealth of great places to stay; many right on the sand.
Passport and Visa
For nationals of the United States, United Kingdom, Canada, and Commonwealth countries a visa is not required for stays of up to six months. A valid passport, birth certificate, naturalisation papers and a return ticket are required.
Customs
The following items are duty free. 200 Cigarettes or 100 Cigars, 1 bottle (26 Oz.) of liquor, and 1 bottle of wine. Pets are not allowed in from North America but are allowed in from England with proof that they are rabies free.
Currency
The local currency is the Eastern Caribbean Dollar (E.C.), and is based on the US Dollar. The exchange rate varies from $ 2.55 to $ 2.70 EC for one US dollar. As usual the banks give the best exchange rates and hotels the worst. Credit cards and travellers checks are widely accepted.
Creepy Crawlies and Other Dangers
While Nevis is a generally safe island, there are things you have to watch out for. Watch out where you walk with bare feet, there are red ants, scorpions, and centipedes which can sting. Watch out for the Manchenil Tree, it grows near the beach and produces a small green apple-like fruit. The leaves, branches, and sap can cause burning much like poison ivy, but worse. The numerous lizards are harmless.
Television and Radio
Most hotels have cable, so many US network and cable stations can be seen. There are also local stations from Nevis, and other nearby islands that are available on cable. There are numerous radio stations that can be received from all over the Caribbean and even the US.
Some good stations for local music and news are VON radio Nevis on 895 AM, ZIZ radio St. Kitts 555 AM, ABS radio from Antigua on 620 AM, and for a bit of a American slant on things WOSO from San Juan, Puerto Rico on 1030 AM. On the FM dial you will find far less, but you will find the GEM Radio Network scattered all over the dial. They play the same song on every station but from different islands.
Tipping
Same as in the US, 10% to 15%, depending on the service. Some restaurants and hotels will automatically add a 10% gratuity. If you are in doubt, do not feel uncomfortable asking. Usually, porters and bellhops receive $ 1.00 per bag, taxi drivers 10-15% of the fare.
Telephones
Calling the US is easy from St. Kitts & Nevis. Most hotels offer USA Direct calling service, or they can connect you with a US operator. Taxes St. Kitts & Nevis has a US $14.00 airport departure tax, a room tax of 7% and service charge of 10%.
Drinking Water
Safe spring water comes from numerous volcanic springs.
Appropriate Attire
Beach attire is appropriate for the beach but not the town, shops or restaurants. Refrain from short shorts, bikinis and bare chests in these places. Informal, but conservative, clothing is the standard.
Time Zone
Atlantic Standard Time, one hour ahead of Eastern Standard Time and the same as Eastern Daylight Time, or GMT-04:00.
Banks
Bank of Nova Scotia, Barclays Bank PLC, Royal Bank of Canada, St. Kitts - Nevis-Anguilla National Bank Ltd., Bank of Nevis Ltd., Nevis Co-operative Banking Co. Ltd. Banking hours are Monday through Thursday from 8:00 am to 3:00 PM and Friday from 8:00 am to 5:00 PM. The St. Kitts & Nevis National Bank is also open from 8:30 am - 11:00 am on Saturdays.
Medical Facilities
St. Kitts & Nevis has doctors on call at hotels and a 24-hour Emergency Department. Recompression chambers are available by air ambulance at nearby Saba and in St. Thomas. Pharmaceutical services are widely available.
Shopping Hours
Monday through Saturday 8:00 am to noon and 1:00 PM - 4:00 PM. On Thursdays, most shops close for the afternoon.
Tourism Authority
The Nevis Tourism Authority (NTA) is a statutory body created to assist the travel and tourism industry on the island of Nevis.
St Kitts and Nevis - Caribbean Island Maps.
Weather in the Caribbean:
Local weather forecasts for destinations around the Caribbean region.
Travel Notes Online Guide to Travel
Africa - Asia - Caribbean - Europe - Middle East - North America - Oceania - South America.

The Travel Notes Online Guide to Travel helps visitors plan their trip with country and city travel guides, local tourist information, reviewed web sites, and regular travel articles.

Puerto Rico.
Travel and Tourism Guides on Travel Notes
If Travel Notes has helped you, please take a moment to like us on Facebook and share with your friends on social media.


Travel & Tourism With Industry Professionals.