Short URL: https://tnot.es/CR
Costa Rica Travel and Tourism on Travel Notes

Find Costa Rica Travel and Tourist Information with links to official travel and tourism websites and state resources for visitors to Costa Rica.
About Costa Rica
Costa Rica is a National Park, or at least that's what it seems like once you get out of San Jose.
Countries neighbouring Costa Rica are: Nicaragua and Panama.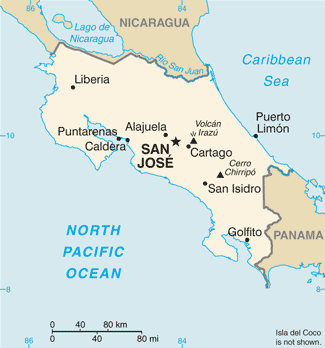 Weather in South America:
Local weather forecasts for destinations around Latin America.
The capital of Costa Rica is on the central plateau of the country, at an altitude of 1,170 m. Founded in 1736 as Villa Nueva, the new town became the country's capital in 1823.
San Jose contains an 18th-century cathedral and some Spanish colonial buildings, but most of the city looks scruffy.
The National Museum holds exhibitions of art and natural history. If you've been to Paris you may note that the National Theatre bears a resemblance to the Opera.
On August 2 of every year, Costa Ricans celebrate the Day of Our Lady of Angels, the Patron Saint of Costa Rica. Thousands of Costa Ricans take part in a huge procession, that ends up in the Basilica of Los Angeles; a cathedral in Cartago, 20 kilometres from San Jose.
Buses in San Jose
If you intend to take a bus in Downtown San Jose, it is recommended to have the exact amount for the bus fare, before you go out of your hotel. Do not take your money out of your pocket in the streets, and do not stand on the stairs of the bus for long. If you do, the bus driver may be rude with you because you are delaying him.
Costa Rica Schedules:
Find bus, train and ship connections in Costa Rica. The 'List of Stopping Points' button lets you easily select your departure and arrival points; automatically filling them in on the main form for you.
Maptak:
Detailed Costa Rica maps including provincial, city, national parks, historic, political, physical and road maps.
The Southern Pacific region of Costa Rica is the country's richest and most diverse area. Its national parks are pristine, offering unparalleled opportunities to observe and enjoy nature.
Lush tropical forests, majestic peaks, rolling hills and a wealth of marine habitats are among the its many geographic attractions.
Hotel Villas Rio Mar:
Ten thatched roof bungalows with 4 rooms each, landscaped gardens, a swimming pool, tennis court and a Palenque style restaurant. Located on the Southern Pacific coast of Costa Rica, just outside the small village of Playa Dominical.
La Mariposa Hotel:
Elegant romantic, honeymoon, and wedding accommodations in tropical gardens on the Pacific Coast of Costa Rica.
Osa Peninsula
Unspoiled and virgin, the Osa Peninsula is one of the most biologically diverse natural reserves in the world. A land where the outstanding scenery of the tropical rainforest mixes with the richness and calm beauty of the Golfo Dulce and the Pacific Ocean.
Villas Corcovado:
Luxury villas strategically located on the Golfo Dulce Forestal Reserve, Peninsula de Osa; between the Corcovado National Park and Las Esquinas and Piedras Blancas National Parks.
Manuel Antonio National Park:
This park is just south of Quepos. on the Pacific Coast, 132 km from San Jose. It is so popular perhaps because of its expensive white sand beaches backed by an evergreen forest that grows right up to the high-tide line.
National Parks:
There is some excellent information on this super site, but even the best intentioned text can never compare with the beauty of undisturbed nature.
Tamarindo Bay:
Both Playa Grande and Playa Langosta are protected nesting areas for the giant leatherback turtle, and are part of the Costa Rican national park system. The turtles arrive to lay their eggs from October to March.
One of Costa Rica's major provinces includes the entire Caribbean coast up to the Talamanca mountain range.
Puerto Limon
Christopher Columbus apparently visited the Native American village of Cariari in 1502, upon which Puerto Limon was built in 1871. The railway was built 20 years later to speed up the shipping of Costa Rican bananas.
The city is the second largest in Costa Rica and is differentiated from the rest of Costa Rica by its heavy Caribbean influence. In October, Puerto Limon plays host to a huge carnival that attracts visitors from all over the world.
Visitors can relax on the nearby beaches or take a walk in Vargas Park and view the botanical gardens.
Away From Puerto Limon
Puerto Limon is also an ideal gateway for visits to other beautiful towns and areas:
The canals at Tortugero, for the green sea turtle nesting grounds.
Cahuita, home to a National Park bearing the name and Costa Rica's largest coral reef.
Puerto Viejo, a lively tourist town with great restaurants.
Manzanillo, where the national park is home to freshwater dolphin, manatees and other natural sites.
Village of Parismina
Parismina is a village in the Limon province of Costa Rica, located about half way between Tortuguero and Limon on the Tortuguero canals. Ecotourism and sport fishing opportunities abound in this untouched beachfront paradise.
Blessed with the same abundance of sea turtles found in Tortuguero, the village of Parismina is a great (and more affordable) alternative to visiting Tortuguero.
Attractions in Puntarenas province include:
Puerto Jimenez, on the Osa Peninsula, and home to the Corcovado National Park.
San Vito, near the Panama border, where Italian immigrants settled 50 years ago with some of the best pizza recipes in Costa Rica. Here you'll also find the country's largest concentration of indigenous peoples and primary rainforest.
There's great scuba diving on this coast, to islands such as Isla de Cano; off of luxurious Drake's Bay.
Click on Costa Rica:
Costa Rica travel guide by Ticonet.
In Costa Rica:
Cleanly presented information from history and culture, to geography and the weather.
Tourism in Costa Rica:
Plan your trip to Costa Rica with the help of the Costa Rica Tourism Board.
Costa Rica News
The Tico Times:
The Tico Times Online provides a brief review of the weekly print edition.
Cheap Hotels and Hostels in Costa Rica.
Hotel Vista Golfo: (The Miramar Golden Hills Hotel)
A small, quiet hotel located in the middle range mountains (2100ft above sea level), Hotel Vista Golfo offers comfortable rooms with private and hot water bathrooms. Adventure Tours can also be arranged.
Centrally located between San Jose and Guanacaste the hotel is a perfect starting point for trips to Costa Rica's Cloud Forest or Isla Tortuga.
Costa Rica Earth:
Trading as Costa Rica Tour and Travel since 1997, Costa Rica Earth is owned and operated by Costa Ricans with the main objective is of providing useful information and assistance for travellers around the world.
Costa Rica Expeditions:
Money back guarantee. They feel so strongly that a guide is the single most important element of a successful trip that they'll give you your money back if you don't agree.
J and C Tours:
Located on the Northern Pacific side of Costa Rica in a fun beach town, Playas del Coco, the company specialise in private and small group tours and transportation in Guanacaste; with information on the best beaches and hotels in the area.
Tourist Information Flamingo: (Claudia's Bike Rentals)
Claudia Hladik provides free, helpful advice to travellers visiting Flamingo, Potrero, Surfside, and Brasilito; an area of Guanacaste province great for sailing, horseback riding, diving, canopy tours, sport fishing and surfing.
Learning Spanish in Costa Rica:
You'll enjoy Costa Rica more if you can speak Spanish and you'll enjoy learning Spanish while immersing yourself in the culture of Costa Rica.

Add a Business Listing - Add a Destination Guide - Add a Place to Stay.



If you find Travel Notes useful, please take a moment to like us on Facebook and share with your friends on social media.
South America Index - South America Tourism - South America Websites.