Short URL: https://tnot.es/NI
Nicaragua Travel and Tourism on Travel Notes

Find Nicaragua Travel and Tourist Information with links to official travel and tourism websites and state resources for visitors to Nicaragua.
About Nicaragua
Nicaragua is the largest country in Central America; situated between Honduras and Costa Rica.
The Caribbean coastal plain is known as the Mosquito Coast.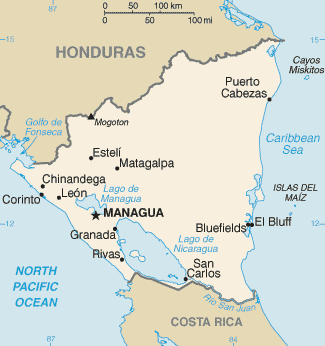 Weather in South America:
Local weather forecasts for destinations around Latin America.
The capital of Nicaragua is located in the lowlands of western Nicaragua, on the southern shore of Lake Managua.
There wasn't so much Spanish influence during colonial times in Managua, as Granada and Leon were the larger cities of prestige.
Managua was made the capital of Nicaragua, when the country gained independence in 1855, in order to neutralise the political competition between her two finer sisters.
The 20th century has not been kind to Managua, with earthquakes and civil war disfiguring her face, hyper inflation wounding her heart, and her soul forced to make an out of body experience.
On the north-west shore of Central America's largest lake, Lake Nicaragua, Granada was founded by the Spanish in 1523 and still has many colonial buildings and churches from their time here.
Conservative Granada was the country's most important city, in the 19th century, until Managua rose to prominence as Nicaragua's capital after independence.
Tourists are attracted to the scenic islands in the lake and nearby Mombacho volcano. The twin volcanoes of Concepcion and Maderas are on the island of Ometepe; a wonderful sight on the road from Costa Rica.
Granada Attractions:
Things to do in around Granada.
Situated in western Nicaragua, Leon was founded in 1524, and became the base of the Liberal party in the 19th century.
Leon's 18th-century cathedral is one of the largest in Central America.
Experience Nicaragua:
A modern multimedia experience to help you learn more about Nicaragua.

Add a Business Listing - Add a Destination Guide - Add a Place to Stay.



If you find Travel Notes useful, please take a moment to like us on Facebook and share with your friends on social media.
South America Index - South America Tourism - South America Websites.