Short URL: https://tnot.es/HN
Honduras Travel and Tourism on Travel Notes

Find Honduras Travel and Tourist Information with links to official travel and tourism websites and state resources for visitors to Honduras.
About Honduras
Honduras is one of the largest countries in Central America. Its neighbours are Nicaragua, El Salvador and Guatemala.
The Pacific coast of Honduras is only 64 km long; actually the Gulf of Foseca. The Caribbean coastline, in the north of the country, is ten times longer.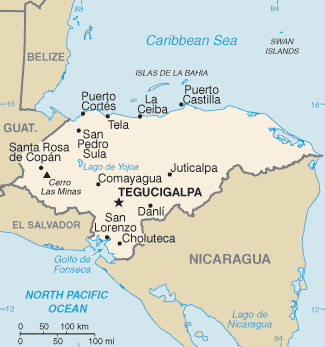 Humidity is high in the tropics, and there's plenty of rainfall in the north.
The dry season lasts from November to May; a good time to visit.
Weather in South America:
Local weather forecasts for destinations around Latin America.
The capital of Honduras is on the Choluteca River, in the south central part of the country.
Established in the late 16th century, Tegucigalpa alternated with Comayagua as the capital of Honduras from the 1820s to 1880.
In the late 1930s it was merged with the town of Comayaguela, across the Choluteca River, to form the Central District.
Tegucigalpa is one of the few capitals in the world without a railway.
American School of Tegucigalpa:
The American School's motto 'Excellence For All' represents the synergy of a college preparatory curriculum, a multi-lingual, multi-cultural student body, a talented, and dedicated multi-national faculty, and a supportive parent community.
Tegucigalpa Tips:
Getting around Tegucigalpa can be a confusing experience. Despite the colonial history of the city, it does not have the typical Spanish layout of square streets around the Central Park. This is mostly due to the fact that terrain around the city did not allow this.
This ceremonial centre of the Old Mayan Empire is in the north-west of Honduras, and is one of the most important finds in the region.
Copan Ruinas:
A tranquil oasis of ancient culture and sublime nature nestled in the foothills of western Honduras, just 7 miles from the Guatemala border.
Copan Ruins:
Reasonable collection of descriptive photographs from around the ruins at Copan, or Xukpi, as it was know in earlier times.
Accommodation in Copan
Hotel Camino Maya:
The hotel has a colonial style with a central garden and a roofing corridor that connect the 23 rooms. There's also a swimming pool, three restaurants, three bars (one with billiard table and karaoke) and a discotheque.
Most Roatan resorts have in-house diving operations.
There are also numerous dive shops offering dives and diving courses for beginners and more advanced divers.
Roatan Island is located in The Bay Islands, off the North coast of Honduras, in the Caribbean. Roatan is widely known for its great diving, unpopulated and unspoiled East End, trophy fishing, and colourful West End.
Roatanet:
Visitors guide to Roatan, with information on Roatan Island, scuba diving, hotels, vacation rentals, restaurants, fishing, maps, real estate and dive shops.
When travelling to Roatan, even for snorkelling, bring along a couple of disposable waterproof cameras. Even if you don't dive, you can get some great shots of rays, parrot fish and occasionally a turtle while snorkelling just a little off the shore.

By Roatanet.
Roatan Yacht Club:
The hotel's central location makes it the ideal place for property hunters and divers alike; with an outdoor dining area giving a tropical feel, while enjoying local and international cuisine.
Honduras Info:
Located in Tegucigalpa, this is the only information centre of its kind in Honduras. It offers a large collection of documents in English and Spanish on current socio-economic and trade issues, as well as data banks with information on doing business in Honduras.
Honduras This Week:
English-language, Central American weekly review.
Honduras Tips:
Helpful guide for people planning on travelling around Honduras.
La Ruta Moskitia:
At the heart of the Mosquito Coast lies the Rio Platano Biosphere Reserve, a UNESCO World Heritage Site. In addition to containing over three hundred bird species and some of Central America's greatest biodiversity, the Rio Platano Biosphere Reserve is also home to four distinct indigenous groups: the Miskito, Pech, Garifuna, and Tawahka.
Lets Go Honduras:
Not the Let's Go travel guide but maybe equally as good. Honduras tourist information linked with other tourism related sites; trip planning tools to help potential visitors to arrange their travel plans, and on-line booking and payment services.
Sidewalk Mystic:
Honduras vacation guide with numerous tips, recommendations and suggestions of places to visit and stay. Plan your own vacation to Honduras as you read along.
It's a little known fact that Honduras is home to more intact rainforest, cloud forest and pine forest than it's more well-known and visited neighbours, Guatemala and Costa Rica.
With more than 100 protected areas in Honduras these national parks, biosphere and wildlife reserves offer an unforgettable experience and the perfect environment for nature lovers.
The vast range of habitats is home to some 225 mammal species. Monkeys, jaguars, ocelots, pumas, sloths, armadillos, ant-eaters, deer, and bats are only a small sample of the diversity of mammals that inhabit Honduras.
Amphibian and reptile species are also found in Honduras, and include such species as the barba amarillo, coral snake, iguana, caiman, crocodiles and hawksbill and leatherback turtles.
It's hard to name all the beautiful and impressive birds to be found in Honduras, as there are far too many. Macaws, toucans, quetzals, motmots, parrots, tanagers, orioles, herons, ibis, terns and kingfishers are all found as are many other common and rare species.

By Mesoamarica Travel.
Mesoamarica Travel:
Incoming tour operator, specialising in eco-tourism, with its head office in San Pedro Sula, Honduras.
Trujillo National Parks:
Trujillo is blessed to be surrounded by two national parks both of which are relatively accessible due to their location close to town. Parque Nacional Capiro - Calentura (National Park) and Reserva de Vida Silvestre Laguna Guaimoreto (Wildlife Preserve) are part of the system of 68 protected areas that the Honduran government has set up within the last ten years.
With its proximity to the Pico Bonito National Park, the Cangrejal River, the Cuero and Salado Wildlife Refuge, the Cayos Cochinos Marine Reserve and the Bay Islands (Roatan, Utila and Guanaja) its no wonder La Ceiba has been officially proclaimed the Eco-Tourism Capital of Honduras.
La Ceiba is also known as the 'Friendliest City in Honduras' and the 'Entertainment Capital of Honduras'.
Ecotourism Map of La Ceiba:
Excellent map (large) of the Ecotouristic attractions in and around La Ceiba.
La Ceiba Tips:
Taking buses from La Ceiba is the much easier than San Pedro Sula or Tegucigalpa, as they have a central bus terminal from where most of the busses arrive and leave from.
Map of La Ceiba:
Road names aren't on the map but a numbered key makes it easy enough to find your way around.
Mapping La Ceiba:
Large map of La Ceiba, with street names. The hotels aren't named so you might like to compare this map with the smaller one above.
Explore Honduras:
Tour operator specialising in short excursions around Honduras.

Add a Business Listing - Add a Destination Guide - Add a Place to Stay.



If you find Travel Notes useful, please take a moment to like us on Facebook and share with your friends on social media.
South America Index - South America Tourism - South America Websites.