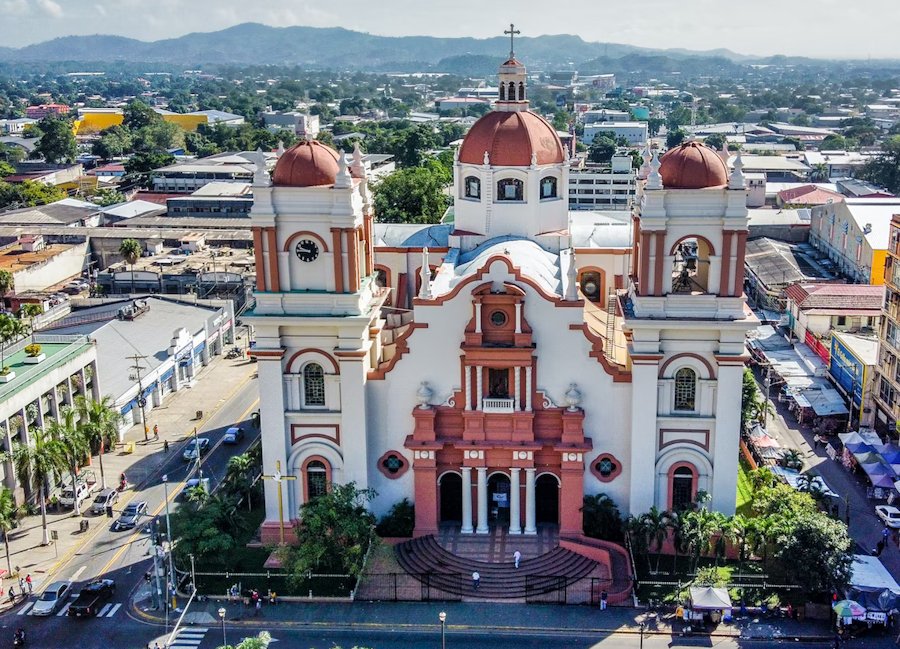 Catedral de San Pedro Sula, Honduras by Héctor Emilio Gonzalez on Unsplash.
Travel Notes: Latin America - Honduras Travel Notes - Updated 27 May, 2023.

Short URL: https://tnot.es/HN
Honduras Travel and Tourism on Travel Notes

Find Honduras Travel and Tourist Information with links to official travel and tourism websites and state resources for visitors to Honduras.
About Honduras
As Honduras is known for its beautiful landscapes, diverse wildlife, and rich cultural heritage, there are plenty of things to see and do for visitors to Honduras.
Visitors to Honduras can explore the Copan Ruins, dive crystal-clear waters off the Bay Islands, relax at Lake Yojoa, or hike in the Pico Bonito National Park.
Map of Honduras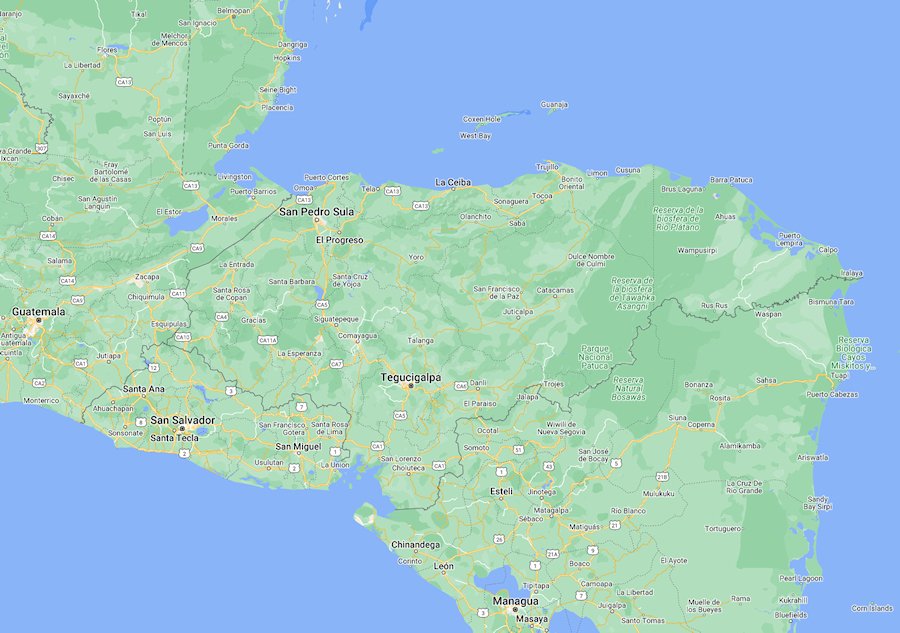 Honduras is one of the largest countries in Central America.
Countries neighbouring Honduras: Nicaragua, El Salvador and Guatemala.
Honduras Travel Guides - Honduras Maps.
Weather in South America:
Local weather forecasts for destinations around Latin America.
Honduras, officially known as the Republic of Honduras, is a country located in Central America; bordered by Guatemalato the west, El Salvador to the south-west, Nicaragua to the south-east, the Caribbean Sea to the north, and the Pacific Ocean to the south.
The capital and largest city of Honduras is Tegucigalpa.
Brief History
Honduras was originally inhabited by indigenous peoples before being colonised by Spain in the 16th century.
It gained independence from Spain in 1821 and subsequently became a part of the Federal Republic of Central America.
Political instability, military rule, and economic challenges have characterised much of Honduras' history.
In recent decades, Honduras has experienced social and political unrest, as well as high levels of crime and poverty.
Challenges
Honduras faces several challenges, including poverty, crime, corruption, and political instability.
It has one of the highest homicide rates in the world and struggles with gang-related violence.
Additionally, issues like deforestation, environmental degradation, and natural disasters such as hurricanes pose significant challenges for the country.
Despite the challenges, Honduras has a rich cultural heritage, natural beauty, and potential for economic development.
Efforts are being made by the government and various organisations to address these challenges and promote sustainable growth and stability in the country.
Economy
Honduras has a developing economy with agriculture, manufacturing, and services sectors.
Major exports include coffee, bananas, textiles, and shrimp.
However, the country faces socio-economic challenges, including income inequality and a large informal economy.
Efforts have been made to attract foreign investment and promote economic growth, particularly through special economic zones and tourism development.
Geography
Honduras has a diverse geography that includes a long coastline along the Caribbean Sea and a smaller coastline along the Gulf of Fonseca, in the Pacific Ocean.
It is known for its rugged mountain ranges; including the Sierra Madre Mountains, which run through the western part of the country.
The interior of Honduras consists of fertile valleys, rivers, and dense forests.
Honduran Culture and People
The population of Honduras is approximately ten million people.
The country has a rich cultural heritage influenced by its indigenous roots (including the Lenca, Maya, and Garifuna peoples) as well as Spanish colonialism.
The majority of the population is of mixed indigenous and European descent, and Spanish is the official language.
Honduran cuisine includes dishes such as baleadas (a tortilla filled with beans, cheese, and other ingredients) and traditional dishes like 'sopa de caracol' (conch soup).
Tourism
Honduras boasts a diverse range of natural attractions, including beautiful Caribbean beaches, coral reefs, rainforests, and archaeological sites.
The Bay Islands, such as Roatán, Utila, and Guanaja, are popular destinations for diving and snorkelling enthusiasts.
The Mayan ruins of Copán, an UNESCO World Heritage site, are a significant archaeological site and draw visitors from around the world.
If you're planning a trip to Honduras, here are some destinations and activities you might want to consider.
Remember to take necessary precautions while travelling in Honduras, such as staying informed about safety conditions, avoiding risky areas, and following local guidelines.
It's also advisable to consult with the relevant authorities or seek advice from a travel agency to ensure a safe and enjoyable visit.
Cayos Cochinos
A group of small islands and cays off the northern coast of Honduras, Cayos Cochinos is a protected marine reserve with pristine beaches, clear waters, and abundant marine life.
It's a fantastic spot for snorkelling, diving, and enjoying the untouched natural beauty.
Copán Ruins
Located near the border with Guatemala, the Copán Ruins is an ancient Maya archaeological site and an UNESCO World Heritage site.
Explore the well-preserved ruins of pyramids, temples, and intricate stone carvings.
The on-site museum provides further insights into the Mayan civilisation.
Gracias
Situated in western Honduras, Gracias is a charming colonial town surrounded by mountains.
It features picturesque cobblestone streets, historic churches, and the imposing San Cristóbal Fort; offering panoramic views of the town and the surrounding countryside.
La Ceiba
Located on the northern coast, La Ceiba is a vibrant city known for the lively Carnaval de La Ceiba, one of the biggest and most colourful carnival celebrations in Central America.
It's also a gateway to the Pico Bonito National Park, a lush rainforest offering hiking trails, bird-watching, and opportunities for eco-tourism.
Roatán
Roatán is one of the Bay Islands in the Caribbean Sea and is renowned for its stunning beaches, crystal-clear waters, and vibrant coral reefs.
It's a popular destination for diving and snorkelling, where you can explore the colourful marine life and enjoy water activities like swimming, kayaking, and paddleboarding.
Tegucigalpa
As the capital city of Honduras, Tegucigalpa offers a mix of modern and historical attractions.
Visit the historic centre, explore the National Identity Museum, and take in the views from the Picacho Hill viewpoint.
Tegucigalpa also serves as a starting point for exploring other parts of the country.
Utila
Another Bay Island, Utila offers a more laid-back and budget-friendly experience compared to Roatán.
It's known for its excellent diving spots, including the chance to dive with whale sharks.
Utila has a relaxed atmosphere, beautiful beaches, and a lively backpacker scene.
The Pacific coast of Honduras is only 64 km long; actually the Gulf of Foseca.
The Caribbean coastline, in the north of the country, is ten times longer.
Humidity is high in the tropics, and there's plenty of rainfall in the north.
The dry season lasts from November to May; a good time to visit.
The capital of Honduras is on the Choluteca River, in the south central part of the country.
Map of Tegucigalpa
Established in the late 16th century, Tegucigalpa alternated with Comayagua as the capital of Honduras from the 1820s to 1880.
In the late 1930s it was merged with the town of Comayaguela, across the Choluteca River, to form the Central District.
Tegucigalpa is one of the few capitals in the world without a railway.
American School of Tegucigalpa
Founded in 1946, the American School of Tegucigalpa is one of the original bilingual schools of Honduras. The school, catering to students from many nations, is divided in four school levels: Pre-School, Elementary School, Middle School and High School.
Tegucigalpa Tips
Getting around Tegucigalpa can be a confusing experience.
Despite the colonial history of the city, it does not have the typical Spanish layout of square streets around the Central Park.
This is mostly due to the fact that terrain around the city did not allow this.
The ceremonial centre of the Old Mayan Empire is one of the most important finds in the region.
This tranquil oasis of ancient culture and sublime nature nestled in the foothills of western Honduras is located just seven miles from the Guatemala border, in the north-west of Honduras.
Copan is a small town with cobblestone streets and a multicultural ambiance typical of a regularly visited but not too crowded destination.
Where to Stay in Copan Ruinas
Hotel Marina Copan
Hotel Marina Copan: Calle Centroamerica / Ave. 18 Conejos, Copan Ruinas.
Travel back through time to the centuries of the Maya in this modern hotel which has closely guarded its colonial architecture and nurtured its natural surroundings for years.
Overlooking the Central Plaza, Hotel Marina Copan has been at the heart of the Copan experience since 1945; a convenient base for exploring the historical Maya World nearby.
Roatan is widely known for its great diving, unpopulated and unspoiled East End, trophy fishing, and colourful West End.
Most Roatan resorts have in-house diving operations.
Map of Roatan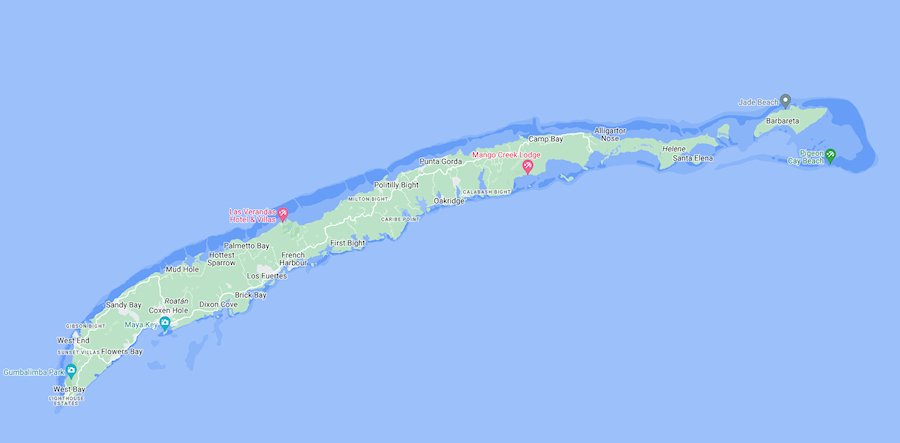 There are also numerous dive shops offering dives and diving courses for beginners and more advanced divers.
Roatan Island Travel Guide
Roatan Island is located in The Bay Islands, off the North coast of Honduras, in the Caribbean.
When travelling to Roatan, even for snorkelling, bring along a couple of disposable waterproof cameras. Even if you don't dive, you can get some great shots of rays, parrot fish and occasionally a turtle while snorkelling just a little off the shore.
Where to Stay on Roatan Island
Las Verandas Hotel & Villas
Las Verandas Hotel & Villas: Pristine Bay French Harbour.
The hotel's landscape is enriched with luscious gardens romantically decorated with bougainvillea, hibiscus, and palm trees.
Only twenty minutes from the International Airport, Las Verandas features luxurious villas and suites to accommodate families of all sizes.
Roatan Marketing
Tortuga Digital is a Roatan based marketing company that prides itself on personalised and professional service.
International clients include tour operators, luxury hotels, resorts and tourism service providers, while locally the company works with some of the region's most important businesses, leading tourism operators and real estate companies.
Visitors to Roatan can find more information on Roatan Island, scuba diving, hotels, vacation rentals, restaurants, fishing, maps, real estate and dive shops on the Tortuga Digital managed, Roatanet.
Honduras Experiences
Honduras is more than a destination, it's a way of life.
Honduras Turismo
Honduras is the country with the second greatest tangible colonial heritage in all of Central America.
Honduran gastronomy is very varied, since it has pre-Columbian, Spanish, Creole and, to some extent, African elements mixed in the pan.
The Honduran Institute of Tourism is located in the Government Civic Center, Tegucigalpa.
The Mosquito Coast
At the heart of the Mosquito Coast lies the Rio Platano Biosphere Reserve, a UNESCO World Heritage Site.
In addition to containing over three hundred bird species and some of Central America's greatest biodiversity, the Rio Platano Biosphere Reserve is also home to four distinct indigenous groups: the Miskito, Pech, Garifuna, and Tawahka.
It's a little known fact that Honduras is home to more intact rainforest, cloud forest and pine forest than it's more well-known and visited neighbours, Guatemala and Costa Rica.
With more than 100 protected areas in Honduras these national parks, biosphere and wildlife reserves offer an unforgettable experience and the perfect environment for nature lovers.
The vast range of habitats is home to some 225 mammal species. Monkeys, jaguars, ocelots, pumas, sloths, armadillos, ant-eaters, deer, and bats are only a small sample of the diversity of mammals that inhabit Honduras.
Amphibian and reptile species are also found in Honduras, and include such species as the barba amarillo, coral snake, iguana, caiman, crocodiles and hawksbill and leatherback turtles.
It's hard to name all the beautiful and impressive birds to be found in Honduras, as there are far too many. Macaws, toucans, quetzals, motmots, parrots, tanagers, orioles, herons, ibis, terns and kingfishers are all found as are many other common and rare species.
Trujillo National Parks
Trujillo is blessed to be surrounded by two national parks, both of which are relatively accessible due to their location close to town.
Parque Nacional Capiro - Calentura (National Park) and Reserva de Vida Silvestre Laguna Guaimoreto (Wildlife Preserve) are part of the system of protected areas set up by the Honduran government.
La Ceiba is also known as the 'Friendliest City in Honduras' and the 'Entertainment Capital of Honduras'.
With its proximity to the Pico Bonito National Park, the Cangrejal River, the Cuero and Salado Wildlife Refuge, the Cayos Cochinos Marine Reserve and the Bay Islands (Roatan, Utila and Guanaja) its no wonder La Ceiba has been officially proclaimed the Eco-Tourism Capital of Honduras.
La CeibaTravel Tips
Taking buses from La Ceiba is the much easier than San Pedro Sula or Tegucigalpa, as they have a central bus terminal from where most of the busses arrive and leave from.
Travel Notes Online Guide to Travel
Africa - Asia - Caribbean - Europe - Middle East - North America - Oceania - South America.

The Travel Notes Online Guide to Travel helps visitors plan their trip with country and city travel guides, local tourist information, reviewed web sites, and regular travel articles.


Airlines and Airports.
Travel and Tourism Guides on Travel Notes
If Travel Notes has helped you, please take a moment to like us on Facebook and share with your friends on social media.


Increase Bookings & Reach More Customers.