Flamingo on Renaissance Island, Aruba by Lino Ogenio on Unsplash.
Travel Notes: Latin America - Caribbean - Aruba Travel Notes - Updated 03 September, 2023.


Short URL: https://tnot.es/AW
Aruba Travel and Tourism on Travel Notes

Find Aruba Travel and Tourist Information with links to official travel and tourism websites and state resources for visitors to Aruba (Dutch Antilles).
About Aruba
Aruba is a popular travel destination in the southern Caribbean known for its beautiful beaches, clear blue waters, and year-round sunny weather.
The island attracts tourists looking for a relaxing vacation with plenty of activities to do, including snorkelling, scuba diving, exploring national parks, and experiencing the local culture and cuisine.
Map of Aruba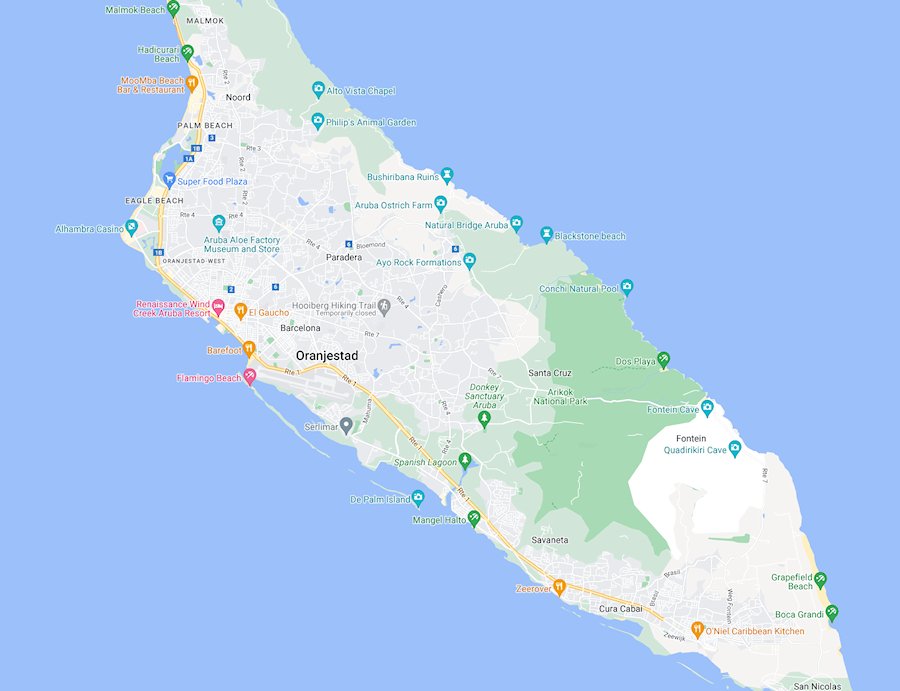 Aruba is an autonomous part of the Netherlands.
Formerly part of the Dutch Antilles, Aruba was granted home rule by the Netherlands in 1986.
Aruba is a small island nation located in the southern Caribbean Sea, about 29 kilometres off the coast of Venezuela.
Aruba has a population of approximately 110,000 people and covers an area of 193 square kilometre.
It is one of the four constituent countries that form the Kingdom of the Netherlands, along with the Netherlands, Curaçao, and Sint Maarten.
The capital and largest city in Aruba is Oranjestad.
Aruba Economy
Aruba has a high standard of living and is considered to be one of the most prosperous nations in the Caribbean.
In terms of economy, Aruba is heavily dependent on tourism, which accounts for over 90% of its GDP.
The country also has a well-developed financial sector, which includes offshore banking and insurance services.
Aruba Language and Culture
Aruba is a magical island with a rich multi-cultural heritage, European charm and Latin flavour.
Its alabaster beaches, turquoise Caribbean waters and sun-kissed days are as world-renowned as the warm hospitality of its 90,000 friends you haven't met yet.
The official languages in Aruba are Dutch and Papiamento, a creole language that is spoken by most Arubans.
Aruba Tourism
Aruba is known for its beautiful beaches, crystal-clear waters, and sunny weather year-round.
It is a popular tourist destination, attracting millions of visitors every year.
Aruba Wildlife
The island is also home to a variety of wildlife, including iguanas, flamingos, and sea turtles.
Aruba Tourism
Aruba may be best known for its beautiful beaches and perfect weather, but venture off the sand and you're sure to be amazed by an incredible set of new and exciting things to do.
The hotel side of Aruba boasts luxury high-rises, casual beachfront resorts, scintillating nightlife, exciting water sports, world-class cuisine, action-packed casinos, spectacular shopping and rejuvenating spas.
In contrast, the undisturbed wild windward coast and desert interior of Aruba present a host of unique natural wonders, interesting historical sites, magnificent panoramas, and private hideaways off-the-beaten path.
The Aruba Chamber of Commerce and Industry was instituted on the 8th of September 1930 by law as the official representative of trade and industry on Aruba.
Visit Aruba
Aruba is a beautiful island located in the southern Caribbean Sea, known for its white sandy beaches, crystal clear waters, and warm weather year-round.
Whether you're looking for relaxation or adventure, you're sure to find it in Aruba.
Aruba Activities
There are plenty of activities to do in Aruba, such as snorkeling, scuba diving, hiking, and visiting cultural landmarks like the California Lighthouse or the Arikok National Park.
Aruba Activities - Things to do in Aruba.
Aruba Beaches
Aruba is famous for its beautiful beaches, with Eagle Beach, Palm Beach, and Baby Beach being some of the most popular.
Eagle Beach is particularly known for its soft white sand and turquoise waters, while Palm Beach is perfect for watersports like jet-skiing and parasailing.
Aruba beaches are considered to be among the cleanest, widest, and most spectacular in the Caribbean region.
Bati Bleki
Bati Bleki means to 'gossip' in Papiamento, the native language of Aruba. Rona Coster's popular gossip column in the local newspapers is updated regularly with the latest on the island, including new events and attractions.
Best Time to Visit
Aruba is a great destination to visit year-round, as the island enjoys a consistent warm and sunny climate.
However, the high season is from December to April, which means prices for accommodation and activities may be higher during that period.
Culture
Aruba has a rich cultural heritage, with influences from the Arawak people, Spanish, Dutch, and African cultures.
You can explore the island's history at the Archaeological Museum of Aruba or visit local art galleries and craft markets.
Eating Out in Aruba
Aruba has a diverse culinary scene, influenced by its multicultural population.
You can find everything from traditional Caribbean dishes to international cuisine.
Seafood is particularly fresh and delicious, and you must try the local specialty, 'Keshi Yena', a stuffed cheese dish.
If you're not eating in, at your hotel in Aruba, you may want to consider eating out at one of the many restaurants in Aruba.
Nightlife
Aruba has a vibrant nightlife, with bars, nightclubs, and casinos that stay open late into the night.
The Palm Beach area is particularly popular for its nightlife scene.
Safety
Aruba is considered a safe destination for travelers. However, it's always important to exercise caution and be aware of your surroundings.
Aruba Excursions
Oranjestad, the capital of Aruba, is situated on the western side of the island.
Map of Oranjestad, Aruba
Where to Stay in Oranjestad
Aruba Travel Guides - Aruba Maps.
Weather in The Caribbean:
Aruba is blessed with clear skies, bright sunshine and cooling trade winds practically every day of the year.
Flights to Aruba - AUA
Airlines & Airports - Flights.
Travel Notes Online Guide to Travel
Africa - Asia - Caribbean - Europe - Middle East - North America - Oceania - South America.

The Travel Notes Online Guide to Travel helps visitors plan their trip with country and city travel guides, local tourist information, reviewed web sites, and regular travel articles.

Bahamas.
Travel and Tourism Guides on Travel Notes
If Travel Notes has helped you, please take a moment to like us on Facebook and share with your friends on social media.


Travel & Tourism With Industry Professionals.