Find out more about Colorado before you travel. Order tourist brochures then research things to do and places to stay in Colorado.
Book a Rental Car - Check out Flights - Compare Hotel Rooms.
Choose a City in Colorado
US Hostels:
Ideal for backpackers and those travelling on a budget: dorms, shared accommodation and private rooms.
Become a Colorado City Guide:
You really know the Colorado scene - where to eat, where to stay, and what to do. Tell our visitors more about the sights and delights and how to make the most of their time in Colorado.
Colorado at a Glance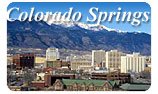 Colorado Springs, Colorado:
Tourist amenities such as bars, restaurants and hotels can be found clustered together in a few areas - downtown, North Academy Blvd., and the historic districts of Old Colorado City and Manitou Springs.
Colorado Springs, Colorado's second-biggest city, is just an hour's drive down I-25 from Denver, but it has a character all its own.
While the museums are open year-round, including the Pro Rodeo Hall of Fame, one of the best reasons to visit the area is the spectacular scenery.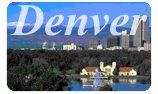 Denver, Colorado:
With more than 16,000 hotel rooms in the Denver area, visitors also should have no trouble locating just the right place to hang their hats.
With the expansive Midwestern plains to the east and the majestic Rocky Mountains to the west, Denver feels like the center of the country. In fact, it nearly is. Denver International Airport, the sixth busiest in the world, is only 340 miles from the midpoint of the continental United States.
In downtown Denver, free shuttle-bus service operates about every 10 minutes until 11 pm, running the length of the 16th Street Mall and stopping at two-block intervals.
Denver Attractions
Astor House Museum
Boettcher Mansion
Buckhorn Exchange
Budweiser Brewery Tours
Buffalo Bill Museum
Cave of the Winds
Children's Museum of Denver
Chuckwagon Suppers
Colorado History Museum
Colorado Railroad Museum
Coors Brewery
Copper Mountain Resort
Denver Museum of Natural History
Denver Pavilions
Denver Zoo
Dinosaur Discover Museum
Estes Park
Exciting Whitewater
Garden of the Gods
Golden Pioneer Museum
Greyhound Racing
Isle of Capri Casino
Larimer Square
Lone Tree Golf Club
Pike's Peak
Rocky Mountain Quilt Museum
Royal Gorge
St. Nicks
Scenic Mountain Tours
Scenic Railroad
Six Flags Elitch Gardens
The Fort
Thunder Museum Gallery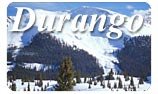 Durango, Colorado:
With countless miles of world-class mountain biking trails, a nearby ski resort, its own natural hot springs and a navigable river running right through town, Durango has become an outdoor-lover's dream destination
Tucked away in the southwestern corner of Colorado, almost 400 miles from the state capital, Durango may seem about as remote as it gets. But hours away from any major population center is exactly where this easygoing town wants to be.
Summer is really the best time to visit, especially if you're a steam locomotive enthusiast. Between May and October the Durango & Silverton Narrow Gauge Railroad does four round-trips daily.
Colorado @ Travel Notes:
Travel and tourism links for Colorado.
Aspen, Colorado
A Day in Aspen: by Wendy Maxey.
The City of Aspen has a suburban feel to it. It has neighborhoods and schools, tree-lined streets and two-story houses.
Spend Spring in Aspen: by Shelley Poulton.
Aspen in winter means skiing, celebrity spotting and extravagant prices. But visit Aspen in the spring or summer and you'll get culture, less crowds and lower costs.
St. Moritz Lodge: by Wendy Maxey.
It's no secret that Aspen, Colorado is a pricey place, a hangout for the rich, a celebrity playground - even during the offseason. However, there are certain lodging options that won't break your bank account. One in particular is the St. Moritz Lodge and Condominiums.
Summer in the Colorado Rockies: by Wendy Maxey.
It's safe to say that there's more to do in Colorado during the summer months than there is to do in the winter.
The Spirit of the Old West: by Shelley Poulton.
Near Apsen, Colorado, you can visit two former mining outposts - the 'ghost towns' of Ashcroft and Independence.
Denver, Colorado
America's Best Dude Ranches: by Rita Cook.
There are scores of dude ranches in Colorado to choose from. However, Peaceful Valley Ranch in Allenspark is just, well, downright peaceful.
The Highs and Lows of Colorado: by Leon Schwarzbaum.
Visiting tops of mountains, bottoms of gorges and a few off-beat destinations in between. There's always something amazing to see in Colorado.
Four Corners, Colorado
Mesa Verde National Park: by Rita Cook.
Located in the Four Corners area of Colorado, archeological sites in the Mesa Verde National Park were built by Ancestral Pueblo people between 600 and 1,300 AD.
Steamboat Springs, Colorado
How Steamboat Got Its Name: by Margaret Malsam.
Long before a ski mountain ever was built in Steamboat Springs, the area's thermal springs served as the great tourist attraction for the Ute Indians.
Fun Historical Facts about Steamboat.
River Rafting Adventures in Colorado: by Rita Cook.
No longer a sport limited just to the outdoorsy type; mothers, fathers, grandparents and children are all now enjoying river rafting adventures in Colorado.
Vail, Colorado
A Tale of Two Ski Resorts: by Margaret Malsam.
Aspen and Vail boast some of the best skiing in the world, but winter isn't the only season to visit.
Write For Travel Notes
Submit a Colorado Travel Article:
If you're on the road or have just returned from somewhere in Colorado, send us your updates for publication.
Sightseeing Tours, Events and Attractions.
Colorado Travel Guides:
Browse Amazon's best-selling list of books on travel in Colorado.
Backpackers:
Budget accommodation around the United States and Canada.
Travel by Car:
Driving distances between major cities in the United States.
Travel Industry
Add Your Tours - Add Your Property

Add a Business Listing - Add a Destination Guide - Add a Place to Stay.



If you find Travel Notes useful, please take a moment to like us on Facebook and share with your friends on social media.
North America Index - North America Tourism - North America Websites.