Make the most of your visit to Florida.
Book a Rental Car - Check out Flights - Compare Hotel Rooms.
Become a Florida City Guide:
You really know the Florida scene - where to eat, where to stay, and what to do. Tell our visitors more about the sights and delights and how to make the most of their time in Florida.
Florida at a Glance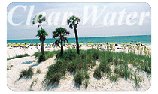 Clearwater, Florida:
Overlooking the Gulf of Mexico, Clearwater is one of the 26 diverse communities on the Pinellas Suncoast that comprise the premier vacation destination known as Florida's Beach.
This popular resort city, known for its sunshine and hospitality, offers a family atmosphere and fantastic amenities at affordable prices.
November through April is the peak tourist season. The humidity is low and temperatures are comfortable, but finding an available hotel room in a convenient location can be more challenging than at other times of the year.
Daytona Beach, Florida:
The Daytona area offers more than 400 hotels and motels with over 13,000 rooms, a great majority of them on or near the beach.
The 23-mile long beach that hugs the Daytona Beach coastline has a unique distinction. Sixteen miles of the sand is hard enough to allow vehicles to drive on it during daylight hours.
Votran, the public transit system, has instituted a free beach tram operating on a section of beach where vehicles are not permitted. Vehicles can drive on the beach at other marked locations during daylight hours.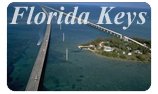 Florida Keys:
Not only are hotels available on each Key, but campsites and RV parks also abound. Rates range from $20-odd a night for campsites up to $1,000 a night for luxury accommodations.
Everyone knows about Key West, its party scene, its open arms to gay travelers and the 90-miles-to-Cuba sign, but what about the other Keys.
High season in the Keys is mid-December through March, and traffic on the Overseas Highway (and seven-mile bridge) is terribly heavy.
Fort Myers, Florida:
Fort Myers Beach, stretching along the seven-mile Estero Island, is lined with motels, hotels, restaurants, and shops.
With the Gulf of Mexico on one side and Estero Bay never more than three blocks away on the other edge, Fort Myers Beach is chock-full of ocean activities.
At the marina on the northern end of this laid-back island, you can catch a boat for a sightseeing cruise, a sunset cruise, or deep-sea fishing.
Ft. Lauderdale, Florida:
There are 28,000 hotel rooms in the greater Ft. Lauderdale area and prices range from budget to superdeluxe, varying with the season
Ft. Lauderdale bills itself as the "Venice of the Americas," and not without good reason. This is a city in which water makes up a significant part of the geography.
Prices skyrocket and reservations are a must when tourism peaks from November through early April.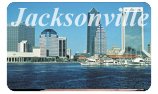 Jacksonville, Florida:
Finding a place to stay is a snap. With more than 13,000 rooms to choose from, the city offers accommodations ranging from quaint bed and breakfast inns to luxury riverfront hotels and beach getaways.
One of the state's oldest cities and a major port and commercial center, Jacksonville is called Florida's River City by the Sea. This is because it was settled along both sides of the St. Johns River where that body of water meets the Atlantic Ocean.
Fall and spring are great times for golfers. July's a winner if you're interested in hitting the beach.
Key West, Florida:
You'll find plenty of choices for accommodations in historic Old Town, from Victorian-style bed and breakfasts to chain hotels and luxury resorts.
Long a haven for creative spirits, Key West is famous for its sensational sunsets, boisterous street festivals, divine cuisine, over-the-top tropical drinks, world-class diving and snorkeling, enchanting gingerbread houses, and its laid-back, anything-goes atmosphere.
According to one local, November is the best month in Key West. The crowd is minimal and the weather is perfect.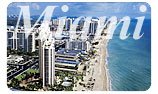 Miami, Florida:
The high season here is October through January, when tens of thousands of people flee cold winters and take up residence for the season in Miami Beach.
Nearly a dozen districts - which are divided into a myriad of neighborhoods - coexist, each possessed of their own distinct lifestyle and flavor. Between the high-energy, high-profile, model-crowded streets of South Beach and the secluded luxury of Key Biscayne, nearly every imaginable kind of vacationer's paradise awaits.
Much like other southern cities, Miami is hot in the summer. But, with the sprawling Atlantic to cool you down, it's a great time to go.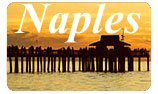 Naples, Florida:
The city whose motto is "rich in pleasures" offers more than 5,500 rooms ranging from deluxe resort properties to inexpensive motels.
With a long history as one of the world's premier resort destinations, this seaside retreat in Southwest Florida offers elegance and uncompromising natural beauty in a refined tropical atmosphere.
As a beach destination Naples has her share of summer visitors. Travelers who come during the shoulder season months of May and October will find reduced crowds, warm Gulf water, and low rainfall.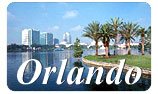 Orlando, Florida:
With an estimated 40 million visitors a year, Orlando is one of the world's top vacation spots, if not the most visited place on the planet.
Expect crowds year round. The lines at theme parks are longer on holidays, of course, and in summer when Mickey's biggest fans are out of school.
Any time is a good time to visit Orlando. Because the weather is warm year-round, Orlando is an ideal travel destination.
Orlando Attractions
American Gladiators Live
Blizzard Beach
Bok Tower Gardens
Big Tree Park
Birds of Prey
Brevard Zoo
Busch Gardens
Capone's Dinner and Show
Central Florida Zoo
Cirque du Soleil
Cypress Gardens
Daytona International
Disney Discovery Island
Disney's Epcot Center
Disney-MGM Studios
Disney Quest
Gatorland
Green Meadows Farm
Jungle Adventures
Jungleland
Kennedy Space Center
King Henry's Feast
Orlando Science Center
Pirates Dinner Adventure
River Country
Lowry Park Zoo
Mystery Fun House
Sea World
Silver Springs
Splendid China
Terror on Church Street
Typhoon Lagoon
UCF Arboretum
Uncle Donald's Farm
Universal Studios Escape
Walt Disney World Magic Kingdom
Water Mania
Wet 'n Wild
Wekiva Resort
World of Orchids
Palm Beach, Florida:
Palm Beach is home to more than 200 hotels (many of which can be found east of I-95 to A1A), which offer more than 150,000 guestrooms and suites.
Palm Beach County has long been a desired destination - not only for the rich and famous, but also for the everyman who enjoys walks through town, bike rides past the area's most beautiful Mediterranean-style homes and window-shopping on Worth Avenue.
Palm Beach is a great year-round destination. Beach season starts in spring and lasts through much of the fall. Golf season never ends.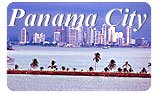 Panama City Beach, Florida:
Panama City offers recreational activities for everyone, from nine months old to 90 years old. Activities include sunbathing, swimming with the dolphins, museums and billfishing.
Panama City beaches have long been known as the world's most beautiful beaches - ranked in the top 20 in the nation. The powder-white sand, emerald green waters and tropical breezes have a hypnotic allure, which draws in visitors of all types.
June through October is the time to hit the beaches that are Panama City's claim to fame.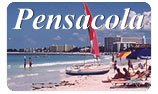 Pensacola, Florida:
The greater Pensacola area encompasses Perdido Key, Pensacola Beach, and the City of Pensacola, offering a choice of more than 8,000 guest accommodations.
Located on Florida's Panhandle, close to the Alabama border, Pensacola draws visitors looking for the ideal seaside vacation to play or relax on the sugar-white sand beaches next to the soothing Gulf of Mexico surf.
May to September is the best time to visit -- most of the attractions are open seven days a week during this time and the beaches are usually pleasant.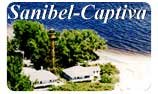 Sanibel and Captiva, Florida:
Captiva Island, ranked as one of the country's most romantic beaches, is located toward Sanibel's northern tip, connected by a short, picturesque bridge.
Secluded, shell-strewn Sanibel and Captiva Islands offer the optimal uncluttered, sophisticated beach retreat. These subtropical isles, connected to the mainland by a scenic three-mile causeway, are the southernmost in a chain of barrier islands stretching along the southwest coast.
Definitely, a year-round destination for fishermen - grouper, cobia, flounder, and other fish are hauled in 12 months out of the year.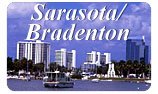 Sarasota, Florida:
Lodging is plentiful in Sarasota. From airport hotels to budget motels and elegant beach resorts, you will easily be able to find a place to meet your needs.
Often called Florida's Cultural Coast, Sarasota is a sophisticated art community and beach resort ringing Sarasota Bay and the Gulf of Mexico. The offshore islands of Longboat Key, Lido Key, and Siesta Key offer Sarasota visitors 35 miles of fine white sand beaches.
Beyond Sarasota's beaches, botanical gardens, and golf courses, it's close enough to either Tampa or Orlando for a day trip.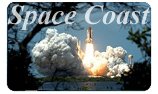 Space Coast, Florida:
Comprised primarily of Titusville, Cocoa, Cocoa Beach, Melbourne, and Melbourne Beach, the Space Coast has the closest beaches to Orlando, 35 miles away.
For an out-of-this-world experience, explore Florida's Space Coast. Stretching 72 miles on the shores of the Atlantic Ocean, this region is the center of the nation's space operations set surprisingly in the midst of protected wildlife refuges.
Port Canaveral, Disney, Orlando, numerous beaches, and baseball spring training camps are all within easy reach of Space Coasters.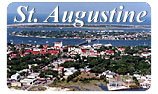 Saint Augustine, Florida:
On the Atlantic Ocean in northeast Florida, St. Augustine is the nation's oldest continuously occupied European settlement.
A combination of Old World charm, historical sites, world-class golf and tennis facilities, numerous attractions, antique shops, art galleries, and miles of unspoiled beaches makes St. Augustine an outstanding family destination.
Fall and spring are great times to visit St. Augustine. Autumn and spring's balmy days are warm enough to take advantage of St. Augustine's 40-plus miles of beach without the crowds or sweltering heat of summer.
St. Petersburg:
Lodging options are numerous. Noted for value, the area's hotels offer some of the lowest prices of Florida's beach resort areas. Accommodations range from luxury hotels and resorts to family-owned motels and apartments.
Sparkling St. Petersburg, perched on a peninsula across the bay from Tampa, has always been a resort town famous for its 361 days sunny days a year. With 234 miles of shoreline and an average temperature of 73 degrees, Florida's fourth largest city has much to offer.
While most folks visit the St Petersburg area during the spring and summer, year-round the weather is warm and there is a lot to see and do. If the beach is calling, April, May, October, and November are good shoulder season visit times.
Tallahassee, Florida:
Most lodging prices in Tallahassee stay constant year-round, unlike most other Florida destinations that vary according to season.
The Sunshine State's capitol, Tallahassee, is not your typical Florida vacation city. It doesn't have sandy, white beaches, high-rise condos, or crowded theme parks.
Given the fact it's located in Florida's panhandle, the weather is moderate year-round. If you're a football fan, you'll want to visit during the fall when the Seminole's get fired up.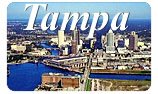 Tampa, Florida:
Whether your purpose is business, vacationing, convention-going, sight-seeing, gambling, or visiting, there's somewhere special for you to stay in Tampa.
Tampa sits at the cultural crossroads of the booming influx of the Hispanic community, the palm-laced white sands Gulf Coast, and the theme park appeal of Busch Gardens, Adventure Island, and several other tourist attractions.
Just a short ways away from Tampa is Bradenton and Sarasota. Known for beautiful beaches, these cities are worth the trip.
Florida Hotel Guide:
Where to stay around the state of Florida.
US Hostels:
Ideal for backpackers and those travelling on a budget: dorms, shared accommodation and private rooms.
Florida @ Travel Notes:
Travel and tourism links for Florida.
Florida Travel Articles:
Read what others think about Florida - Daytona Beach, Florida Keys, Jacksonville, Miami, Orlando, South West Florida and Tampa.
Write For Travel Notes
Submit a Florida Travel Article:
If you're on the road or have just returned from somewhere in Florida, send us your updates for publication.
Sightseeing Tours, Events and Attractions.
Florida Travel Guides:
Browse Amazon's best-selling list of books on travel in Florida.
Backpackers:
Budget accommodation around the United States and Canada.
Travel by Car:
Driving distances between major cities in the United States.
Travel Industry
Add Your Tours - Add Your Property

Add a Business Listing - Add a Destination Guide - Add a Place to Stay.



If you find Travel Notes useful, please take a moment to like us on Facebook and share with your friends on social media.
North America Index - North America Tourism - North America Websites.