Find out more about Massachusetts before you travel. Order tourist brochures then research things to do and places to stay in Massachusetts.
Massachusetts Hotel Reservations.
Book a Rental Car - Check out Flights - Compare Hotel Rooms.
Choose a City in Massachusetts
Top Hotel Deals in Massachusetts

Boston
US Hostels:
Ideal for backpackers and those travelling on a budget: dorms, shared accommodation and private rooms.
Become a Massachusetts City Guide:
You really know the Massachusetts scene - where to eat, where to stay, and what to do. Tell our visitors more about the sights and delights and how to make the most of their time in Massachusetts.
Massachusetts at a Glance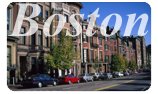 Boston, Massachusetts:
Visiting Boston is like taking a walk through history. Successfully blending old and new architecture, Boston offers visitors a wealth of vacation opportunities.
Before you travel to Boston try to decide what type of trip you want to have and plan accordingly. If you want to have the 'city' experience, you'll need to approach planning your trip differently than if you want a more relaxed 'country' experience. With Boston's wonderful transit system, moving from the city to the country and vice versa is easy.
The best time to hit boss-town is during the spring. September and October are also great months. Like much of the Northeast, the summers are hot and humid in Boston and the winters are terribly cold and not conducive to sightseeing.
Boston Attractions
Adams National Historical Site
Big Dig Visitors Center
Boston Harbour Island Cruise
Boston Museum of Fine Arts
Bunker Hill Monument
Cambridge Antique Market
Charles River Museum of Industry
Cheers - the Bull & Fich Pub
Children's Museum
Computer Museum
Cranberry World
Cybersmith Cafe
DeCordorva Museum
Essex River Cruises
Faneuil Hall/Quincy Market
Franklin Park Zoo
Freedom Trail
Harvard Square Bookstores
Hayden Planeterium
Isabella Steward Gardner Museum
JFK Birthplace
JFK Museum
John Hancock Observatory
Massachusetts Historical Society
Mayflower
Minute Man National Historic Park
Mugar Omni Theater
Museum of Bad Art
Museum of Science
Newbury St.
New England Aquarium
New England Quilt Museum
New State House
North End
Old North Church
Park Street Church
Paul Revere House
Peabody Essex Museum
Plimoth Plantation
Plum Island - Wildlife Sanctuary
Plymouth and Plymouth Rock
Sculpture Park
Sedgewick Gardens
Sky Walk Observatory
Swan Boats
USS Constitution
Whale Watching
Wolf Hollow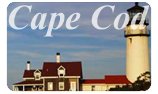 Cape Cod, Masachusetts:
Cape Cod. For some, the name alone conjures up images of quaint cottages, wind-blown sand dunes and beautiful people riding horses on barren beaches. For others, Cape Cod is a playground for the rich (think Kennedy family).
Cape Cod is comprised of 15 towns or villages in three main regions (Upper Cape, Mid-Cape and Lower Cape), all of which have molded and maintained their own characteristics over time. Of the 15, eight are accustomed to and dependent upon tourism, including Falmouth, Barnstable (which houses Hyannis), Yarmouth, Chatham, Orleans, Eastham, Wellfleet and Provincetown.
As for visiting, the Cape is at its tourist peak from mid-May to mid-September, when seasonal transients pack up their SUVs and head South. The Cape is at its best, visually, in the fall.
Massachusetts @ Travel Notes:
Travel and tourism links for Massachusetts.
Boston, Massachusetts
Boston: When To Visit; What To Do: by Rachel Goggan.
Boston can be one of the most charming places to visit for all travelers: loners, lovers, and families. It is important, however, to prepare yourself so that you make the most of your trip and don't get bogged down by poor decisions.
What to Do, See and Expect in Boston: by Rita Cook.
Boston is a city rich with history, some of it dating back to the 1600s.
Located on the banks of the Charles River and the Atlantic Ocean, the visitor will find Boston has an array of attractive riverside parks and a unique skyline that fits amazingly well with the bustling waterfront and colorful open markets.
Due to its size, Boston is a very accessible city, but it may be that its reputation as a walking city relies on the creation of one of America's first historic walking tours, The Freedom Trail.
Brimfield, Massachusetts
Brimfield Bound: by Brigitte Carucci Mesa.
Brimfield is a small town (population about 2,000), but swells in size three times a year to accommodate the Brimfield Antique Show.
About 30,000 people attend the show each year, but because the show spreads over a one-mile distance, it is more than manageable.
Northampton, Massachusetts
Hip College Towns: by Deborah Straw.
One highlight of any trip to Northampton is a visit to the city's art museum, Smith College Museum of Art, which has a world-class collection.
Provincetown, Massachusetts
Swept Away in Provincetown: by Deborah Straw.
Seemingly at the end of the earth, this small town is postcard beautiful. Provincetown is relatively quiet and eminently walkable; offering a near-perfect mix of urban and rural life styles and opportunities
Part of the charm is certainly its location, on the Outer Cape (Cod), about three hours from Boston.
Salem, Massachusetts
Salem: America's Bewitching City: by Jan McDaniel.
At first glance, it seems a typical picturesque New England Seaport; presenting colonial houses squeezed side-by-side with front steps touching the sidewalk, historic brick buildings, and shops lining the wharf.
But after three centuries, its supernatural legacy continues. Think Salem, Massachusetts and you still think witches.
Write For Travel Notes
Submit a Massachusetts Travel Article:
If you're on the road or have just returned from somewhere in Massachusetts, send us your updates for publication.
Sightseeing Tours, Events and Attractions.
Massachusetts Travel Guides:
Browse Amazon's best-selling list of books on travel in Massachusetts.
Backpackers:
Budget accommodation around the United States and Canada.
Travel by Car:
Driving distances between major cities in the United States.
Travel Industry
Add Your Tours - Add Your Property

Add a Business Listing - Add a Destination Guide - Add a Place to Stay.



If you find Travel Notes useful, please take a moment to like us on Facebook and share with your friends on social media.
North America Index - North America Tourism - North America Websites.