Find out more about Texas before you travel. Order tourist brochures then research things to do and places to stay in Texas.
Book a Rental Car - Check out Flights - Compare Hotel Rooms.
Choose a City in Texas
US Hostels:
Ideal for backpackers and those travelling on a budget: dorms, shared accommodation and private rooms.
Become a Texas City Guide:
You really know the Texas scene - where to eat, where to stay, and what to do. Tell our visitors more about the sights and delights and how to make the most of their time in Texas.
Texas at a Glance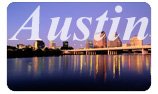 Austin, Texas:
Austin, rated on Money magazine's 'Best Places to Live' list, has become a hotbed for tourists. If it's a great place to live, it's an even better place to visit.
Austin has it; and travellers have discovered it. In fact, so many travellers have discovered Austin that officials had to build a new airport. With passenger traffic four times the national average, the new Austin-Bergstrom International Airport surpassed all expectations in its few months of operation.
Spring is the perfect time to visit Austin. Travellers will find plenty of things to do in Austin from March through May, including the South by Southwest Music and Film Festival, the Texas Hill Country Wine and Food Festival and the Austin Livestock Show and Rodeo.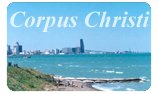 Corpus Christi, Texas:
Corpus Christi has 5,000 guestrooms downtown with another 3,800 in the outlying towns.
Corpus Christi, Texas, is known as the Premier Texas Coast Destination because it is a sparkling city that plays by sea and offers an abundance of things to do, and so much more to cast an enchanted eye upon, including such world-class attractions such as the USS Lexington and the Texas State Aquarium.
Heat lovers won't wilt in the Summer but the rest of us will enjoy Corpus Christi more in April, May, and October.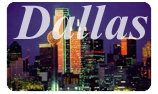 Dallas, Texas:
To reach Dallas, you will need to fly into either the large Dallas Fort Worth International Airport (DFW) or the highly popular and centrally located Love Field Airport. Unless they're flying in from great distances, most local residents prefer Love Field.
Whether you're visiting Dallas for business or pleasure, you'll be happily surprised by the many choices you'll find for hotel accommodations, exciting entertainment events and tasty cuisine.
Dallas, known for its severe thunderstorms and tornadoes, is best visited before the summer months.
Dallas Attractions
Age of Steam Railroad Museum
Arlington Ballpark
C.R. Smith Museum
Dallas Aquarium
Dallas Botanical Garden
Dallas Farmers Market
Dallas Museum of Art
Dallas Museum of Natural History
Dallas World Aquarium
Delaney Vineyards
Fair Park
Festival Marketplace Mall
Fort Worth Museum of Science
Fort Worth Stockyards
Fort Worth Zoo
Galleria
Gameworks
Grapevine Mills
Grapevine Texas
Hall of State
Irving Heritage District
Kimbell Art Museum
Legends of Baseball Museum
Lone Star Park
McKinney Avenue Trolley
Mesquite Championship Rodel
Morton Meyerson Symphony Center
Movie Studios at Las Colinas
Natural Bridge Wildlife Ranch
Omni Theater
Palace of Wax
Planet Hollywood
Pioneer Plaza
Scarborough Faire
Six Flags Over Texas
Sixth Floor Museum
South Fork Ranch
Stockyards Station
Sundance Square
Texas Motor Speedway
Traders Village
VF Factory Outlet
LEGOLAND Discovery Center Dallas Fort Worth:
3000 Grapevine Mills Parkway, Grapevine, Texas.
Made up of a series of interactive features to immerse kids into a world where their imagination can run wild with creative inspiration at every turn. Featuring a whole host of exciting attractions from the Kingdom Quest ride to an amazing recreation of Dallas' most iconic buildings, the Center not only provides fun for LEGO fans young and old, but fantastic educational benefits too.
Houston, Texas:
Houston is a very big city - the fourth largest in the United States; a mixed-bag city of cowboy pride and cosmopolitan living, oil fortunes and online companies.
The city's population is ethnically diverse, with thriving Vietnamese, Mexican, Indian and German communities, just to name a few. Houston has plenty to offer travellers of all ages and interests. At the same time, the sheer size of the city can make it a bit overwhelming for the first-timer. The trick is to take it in sections and to not try everything in one trip.
In mid-February, you'll be treated to the Houston Livestock Show and Rodeo, the largest event of this kind in the world. The famed Bayou Bend Gardens are best viewed in the Spring. In late April, the Houston International Festival spans 20 city blocks and includes over 1,800 performers from around the globe.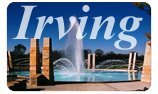 Irving, Texas:
With 250 days of sunshine every year and an average temperature of 76 degrees, Irving is more than just a place to stay near the airport.
Centrally located between Dallas and Fort Worth, Irving is serviced by two major airports - the Dallas/Fort Worth International Airport and Love Field. Located in the heart of the Metroplex, the town provides easy accessibility to five major highways: I-635, I-30, I-35, SH 183 and SH 114.
Irving is a great location for any sports fan -- from the NFL's Dallas Cowboys and the NHL's Dallas Stars to the NBA's Dallas Mavericks and MLB's Texas Rangers. PGA Tour golf at the GTE Byron Nelson Classic, thoroughbred horse racing at Lone Star Park and auto racing at Texas Motor Speedway are all winning reasons to visit Irving.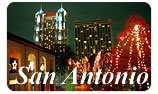 San Antonio, Texas:
Located in the center of Texas, San Antonio is warm, friendly and inviting. It offers luxurious, historical, quaint, and inexpensive places to stay.
Although San Antonio is America's 8th largest city and has a population of more than one million, it has the uncanny distinction of being a metropolitan city that acts much like a large town.
San Antonio, the 8th largest city in the U.S., is most vibrant during the Spring. In April, San Antonio plays host to its largest party (Fiesta) when rooms can be difficult to find; so book well in advance.
Texas @ Travel Notes:
Travel and tourism links for Texas.
Austin, Texas
Austin: A Capital Idea: by Paris Permenter & John Bigley.
When Mirabeau B. Lamar, the president-elect of the Texas Republic, set out to hunt buffalo in the fall of 1838, he returned home with a much greater catch than a prize buffalo: a home for the new Texas capital.
Dallas, Texas
There's More to Dallas Than The Cowboys: by Rita Cook.
Dallas came to be about 150 years ago on the banks of the Trinity River and has grown into a booming metropolis that hosts the world's second-busiest airport, the nation's most popular football team and a host of unique attractions.
San Antonio, Texas
Spring in San Antonio: by Elizabeth Sommer Spratt.
Jump into Spring a little early with a trip to San Antonio, Texas. This city blends historic, romantic and contemporary settings within a ten-blockradius.
The Golf Darling of the South: by Wendy Maxey.
When you think of golf, you probably don't think San Antonio. Why would you when you've got Pebble Beach, Palm Springs, Myrtle Beach, Scottsdale and countless other golf hubs packing them in season after season?
Well, believe it or not, San Antonio is a golfing hotspot.
What To Expect in San Antonio: by Rita Cook.
Despite boasting 1.3 million residents, San Antonio is still a quaint old town with Spanish missions and adobe buildings adorning the city.
Write For Travel Notes
Submit a Texas Travel Article:
If you're on the road or have just returned from somewhere in Texas, send us your updates for publication.
Sightseeing Tours, Events and Attractions.
Texas Travel Guides:
Browse Amazon's best-selling list of books on travel in Texas.
Backpackers:
Budget accommodation around the United States and Canada.
Travel by Car:
Driving distances between major cities in the United States.
Travel Industry
Add Your Tours - Add Your Property

Add a Business Listing - Add a Destination Guide - Add a Place to Stay.



If you find Travel Notes useful, please take a moment to like us on Facebook and share with your friends on social media.
North America Index - North America Tourism - North America Websites.