Short URL: http://tnot.es/ARtips
The Travel Notes Online Guide to Travel helps visitors find out more about travel destinations and tourist attractions in Argentina and beyond.
Argentina locals and frequent visitors share their travel tips on Travel Notes.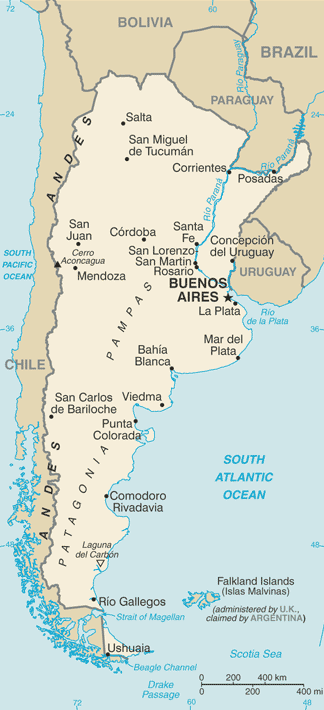 Argentina - Good Value
Argentina provides an amazing opportunity for travellers to see natural beauty, wonderfully hip urban life and geographic diversity while enjoying luxurious accommodations and great food and wine culture; all for a relatively good value.

By Sam Heitner.
Argentina Seasons - Visit Buenos Aires in Fall or Spring
Argentina, like other southern hemisphere countries, has seasons roughly opposite to those of the northern hemisphere. So a trip during the Argentine summer can be a pleasant break from winter for North Americans and Europeans.
Then again, Buenos Aires gets stiflingly hot and humid in the summertime (30ºC+), and although it has a mild winter, fall and spring are the most pleasant times to visit the capital.
Fall and spring provide a good balance for those with varied itineraries, and have the added benefit of being relatively crowd-free.
Autumn in Tierra del Fuego is a special treat, as the already beautiful landscape turns brilliant colours with the changing leaves.

By Dave Brown.
Buenos Aires - Save Money on Arrival
Once you arrive at Ezeiza - Ministro Pistarini International Airport (EZE) - you will feel like you're in the middle of the Pampas. The airport is 25 kilometres from Downtown Buenos Aires; but don't despair. Just don't take one of the expensive taxis.
If you have the time, not too much baggage, and speak a little Spanish, you can take a bus to downtown Buenos Aires and save some money.
Buses leave every 15 minutes (from 6am to almost midnight). You will need coins to pay for the fare; in a machine, inside the bus.
To change money before you board the bus, Banco de la Nacion has a better rate than the private change shops. Then ask at the Info Desk for the #86 bus stop. There are two of them outside.
Tell the bus driver that you are going to 'Centro' (downtown), and relax: you will have a nice, long one-hour travel from the airport to the heart of the city.
Since Ezeiza is the departure point, the bus will be empty. Try to sit near the back door to exit easily with your baggage. There could be plenty of people on the bus when you have to get off.
The bus takes the highways, with a few stops in small towns on the outskirts. When it gets to Rivadavia Avenue you are entering Buenos Aires; at last!
Some minutes after the bus leaves Av. Rivadavia, it will turn onto the Hipolito Yrigoyen street. In twenty minutes more, at the 1,900 block, you will see (to your left) the Congress building and a park: it's the beginning of downtown.
At the 300 block you'll arrive at Plaza de Mayo (downtown core).
Some buses (branch 'S') takes a direct highway to Congreso, but the cost is higher. Congratulations, you've just had your first adventure in Buenos Aires.

By Juan Carlos Dima.
Buenos Aires - Tango
In Buenos Aires, tango is so ingrained in the culture that even someone who doesn't like tango knows a lot about it.
Many portenos (citizens of Buenos Aires) grow up with an inner sense of tango - hearing the music on a daily basis; knowing the rhythm of the music, and implicitly understanding that the essential elements of the dance are improvisation, moving to the music, engaging in rhythmic play, and developing a heart-to-heart connection with one's partner.
Because portenos come to the tango with an implicit knowledge of its essential elements; learning the steps and figures can be sufficient for them to develop the ability to dance tango authentically.

By Teresita.
Buenos Aires - The Three Passions Experience
When in Buenos Aires, make sure you try three things: tango, steak and football.
These are the three major passions in Argentina, so you should sample them while you are in the capital.
Tango
Take in a Tango show with dinner, try out a lesson at one of the many Tango shoe shops on Suipacha street, or above the two famous cafes that give lessons - the Cafe Tortoni and Confiteria Ideal, or even just watch some outdoor Tango performers as you pass through Plaza Dorrego in San Telmo or Caminito in La Boca.
Steak
Steak is hard to avoid in Buenos Aires, and you won't want to either, as the meat here is some of the best in the world.
Try El Establo in the city centre for a good, solid Argentine 'parilla' (steakhouse), or Cabana Las Lilas in Puerto Madero if you have a lot of cash to spare and only want the best.
Backpackers will get the best, cheapest steak in the world in Restaurant Manolo, San Telmo - not too far from Plaza Dorrego and Parque Lezama. Just ask a local, it is where they will be eating!
Football
Ask the locals which football team they support, and the answer will almost certainly be Boca (Juniors), or River (Plate).
As these are the two most important football teams in Argentina, and possibly the whole southern hemisphere, the answer to this question divides the nation.
Argentines are so passionate about football that taking in a game at either stadium is not to be missed - the deafening atmosphere really has to be experienced to be believed. And if you are lucky enough to score tickets for a Superclasico (when Boca Juniors and River Plate play each other), then you can multiply that experience by 100, and see some of the best football on the planet at the same time.
Just ask your hotel concierge about tickets.

By Alan Patrick.
Buenos Aires Visitors
When in Buenos Aires, be sure to visit (maybe not at night) the most important outdoor places like Palermo Woods and Lakes (Los Bosques y Lagos de Palermo), el Rosedal, The Japanese Gardens and Botanic Gardens.
If you are interested in the Arts or cultural activities you can visit the National Museum of Fine Arts in Buenos Aires, the Museum of Latin American Art (MALBA), Jose Hernandez Museum of Argentine Popular Art, the Eduardo Sivori Museum of Plastic Art, the Evita Peron Museum, The National Library (Biblioteca Nacional de la Republica Argentina) and The Planetarium (Planetario de la Ciudad de Buenos Aires).

By Alma Petit.
Southern Patagonia
The rugged southern Patagonia region offers true adventure travel in a harsh but spectacular landscape.
The tiny town of Puerto Piramides has been a popular tourist destination since the 1960s because of the huge number of southern right whales that migrate to the surrounding Valdes Peninsula (UNESCO World Heritage Site) from June to December.
It's advisable to book hotel accommodation in Puerto Piramides early during the high season, to avoid disappointment.

By Chris Gillham.


Join Michel on Meta-Travel.
UNESCO World Heritage Sites:
The ultimate sight-seeing list of UNESCO World Heritage Sites by country.
Travel Notes Online Guide to Travel
The Travel Notes Online Guide to Travel helps visitors plan their trip with country and city travel guides, local tourist information, reviewed web sites, and regular travel articles.
Argentina Accommodation
Hotels - Bed and Breakfast - Self Catering.
If you find Travel Notes useful, please take a moment to like us on Facebook and share with your friends on social media.