Short URL: http://tnot.es/LT - National Anthem of Lithuania.
Lithuania was known as the Lithuanian Soviet Socialist Republic until 1991.
Quick Links
About Lithuania, Lithuanian Language and Culture, Lithuania Travel Guides, Map of Lithuania, Vilnius, Visiting Vilnius.
Countries neighbouring Lithuania are: Latvia, Belarus, Poland and Russia (Kaliningrad).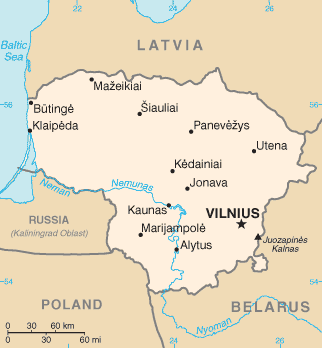 Weather in Lithuania
View a graphical weather forecast for the week ahead in places around Lithuania.
Alytus Weather, Kaunas Weather, Lentvaris Weather, Nemencine Weather, Vilnius Weather.
For centuries Lithuania acted as a buffer zone between Germany to the west and Mongols and Tartars to the east.
Lithuania is the southernmost of the Baltic States, and the largest, with a range of attractions which will appeal to even the most world-weary traveller.
Lithuania Tourism:
The Lithuanian State Department of Tourism.
Compare Lithuania Hotel Prices
Birstonas, Bubiai, Druskininkai, Eisiskes, Gargzdai, Garliava, Kaunas, Klaipeda, Marijampole, Nida, Palanga, Panevesys, Plunge, Siauliai, Silute, Trakai, Vilnius.
The capital of Lithuania is located on the Neris River, in the south-east of the country.
Gedimin chose Vilnius as the capital of the principality of Lithuania in 1323.
Lithuania was united with Poland in 1569, and incorporated into the Russian Empire in 1795.
Vilnius had a large Jewish population until Nazi Germany occupied the town during World War II.
Vilnius is easy to explore on foot, with numerous little courtyards and tiny cobble-stoned back streets to explore -- or you can take the weight off your feet at one of the many great outdoor cafes.
The old city contains the ruins of a 14th-century castle and numerous churches dating from the 16th and 17th centuries.
Many festivals are held in Vilnius, throughout the summer months, and the old Soviet-style opera house offers quality performances (at unbelievable cheap prices) any time of the year.
Autorenta Vilnius:
Autorenta was established in 1998, offering passenger car rental services in the Republic of Lithuania and all other Baltic States.
Hotel Grotthuss:
Located on a cobble-stoned street in the heart of the old town of Vilnius, within walking distance of all the major points of interest.
10% discount to Travel Notes members.
Vilnius Airport:
The Airport is built on the plateau in the south of Vilnius, 7km or 15 minutes driving time from the centre of the capital city.
There are buses every 15 minutes: Bus No 1 runs between the airport and the railway station and bus No 2 travels through the city centre to the outskirts at Šeškine.
There are also a number of minibuses that travel out to Santariškes (No 15), Fabijoniškes (No 20), Šeškine (No 23) and Pašilaiciai (No 47).
Vilnius Sightseeing:
From the In Your Pocket guidebooks. They have more than a pocketful of information for you to view electronically.
Accommodation in Vilnius
Centrum Hotels:
Small hotel chain which owns three, four-star hotels: Artis Centrum and Ratonda Centrum in Vilnius and Monika Centrum in Riga.
Hotels in Vilnius:
Find hotels in Vilnius with special online rates.
Sort Vinius Hotels by: Hotel Price, Hotel Rating, Hotel Name.
The Lithuanians speak a Baltic language related to Latvian.
Lithuanian Parliament:
History of the Seimas and other information relating to the Lithuanian Parliament.
Lithuanian News Agency:
No eye candy, but you might need to look for a story through the text files.
Vilnius Hitch-Hiking Club:
Ambitiously dedicated to hitch-hikers of the world.
Travel to Lithuania:
Browse Amazon's best-selling list of books on travel in Lithuania.
Regional Directory - Search The Web - Top Travel Blogs and Websites: Europe.

If you find Travel Notes useful, please take a moment to like us on Facebook and share with your friends on social media.