Short URL: http://tnot.es/GY - National Anthem of Guyana.
The Co-operative Republic of Guyana, formerly British Guiana, is located on the northern coast of South America, between Venezuela, Brazil and Suriname.
Quick Links
Cultural Diversity, Flying to Guyana, Georgetown, Guyana Accommodation, Guyana Adventures, Guyana Attractions, Guyana Directory, Guyana Guides, Guyana Highlands, Guyana Interior, Guyana News, Guyana Travel, Guyana Travel Guides, Guyana Volunteers, Guyana Weather, Map of Guyana.
Forming Guyana's southern border with northern Brazil, the Guiana Shield extends from eastern Colombia to French Guiana.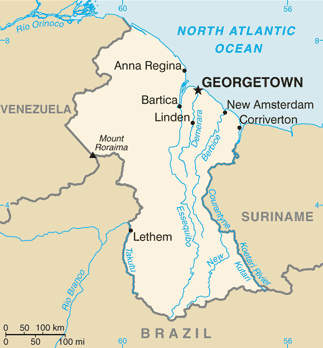 One of the highest single-drop waterfalls in the world, Kaieteur Falls (226 m) is on the Potaro River.
Weaher in Guyana
View a graphical weather forecast for the week ahead in places around Guyana.
Georgetown Weather, New Amsterdam Weather.
The main airport, Timehri International, is near Georgetown.
The national airline, Guyana Airways, provides domestic and international service and other international airlines also fly to Guyana.
Trans Guyana Airways:
Born out of the need to serve the mining community, Guyana's leading domestic carrier now serves 20 destinations in Guyana's 10 regions.
Guyana Travel Advice:
Although most visits to Guyana are trouble free certain precautions are advisable. Armed robbery and violent crime have increased recently, particularly in Georgetown and along the east coast -- from the British High Commission.
Map of Guyana:
Large map of Guyana outlining roads, rivers and localities.
The capital of Guyana is on the Atlantic Ocean, at the mouth of the Demerara River.
Named after King George III, Georgetown was founded by the British in 1781. The French and Dutch were in town for a while, until the British regained control in 1812.
The city lies below the high-tide level and is protected from floods by a sea wall; completed in 1882. Many locals hang out along the wall.
The older buildings in Georgetown are raised on piles to keep them above the flood level.
Georgetown Nightlife:
Georgetown is surprisingly lively at night, mainly with gold miners, traders and overseas Guyanese throwing US$ around. Take care walking home at night -- or better still get a taxi.
Guyana Zoo:
Join the 10,000 monthly visitors to Georgetown's Guyana Zoo, for a glimpse of local wildlife and endangered species.
Illustrated Georgetown:
Hyperlinks to pop-up windows beautifully illustrate this article about Georgetown, the capital of Guyana, without waiting ages for the page to load.
East Indians, descendants of indentured labourers from India, make up over half of the population of Guyana; with African descendendants the second largest.
Chinese, Portuguese and Amerindians add to the melting pot and help to create the mixed race that nakes Guyana unique.
The large East Indian population in Guyana still speak their Urdu, Hindi, and Tamil dialects.
Guyana achieved independence from Britain on May 26, 1966 and with it (some would say) a new search for identity.
Guyana: Land of Six Peoples:
Guyana is often referred to as the land of six peoples, reflecting the multi-ethnic composition of its population. Living together means recognising that the history of each single group, is the common property of all.
Hello Guyana:
Offers Guyana and Guyanese everywhere a place to get together in chat rooms, post personals, find local events and parties or chuckle at a few jokes.
Music From Guyana:
Showcases music written or performed by Guyanese musicians.
Accommodation in Georgetown
Hotels in Georgetown:
Find hotels in Georgetown, Guyana with special online rates.
Brandsville Apartments:
Six, two-room suites with maid service for US $55.00 a day. Reduced rates for stays of two weeks or one month. Located a short walk from Georgetown's popular seawall.
Georgetown: Ariantze Hotel:
Conveniently located in the heart of Georgetown within walking distance of Guyana's main historical buildings, commercial and shopping centres. The Sidewalk Café and Jazz Club offers local entertainment in a comfortable indoor and outdoor patio setting.
Georgetown: Cara Inn:
Cara Inn is the latest addition to the Cara family of hotels in Guyana and is located on the outskirts of Georgetown, in a quiet residential area. Situated on the seawall, it has beautiful views of the Atlantic Ocean and is cooled by constant sea breezes.
Georgetown: Cara Lodge:
One of the oldest wooden buildings in Georgetown, Cara Lodge was built in the 1840s and originally consisted of two houses. The home of the first Lord Mayor of Georgetown has also accommodated Edward VII, Jimmy Carter and Prince Charles.
Georgetown: Cara Suites:
A collection of self contained studios and suites, centrally located in the heart of Georgetown. Its non hotel atmosphere has made Cara Suites a favourite over the years with the regular business traveller to Guyana.
Georgetown: Hotel Tower:
Honoured by a commemorative postage stamp on her 50th Anniversary, the Hotel Tower is known as the Leading Businessman's Hotel in Georgetown. Also promotes tourism into the interior through the Amazonian Cacique lodges and tours.
Georgetown: Friends Hotel:
The Friends Hotel offers several room types to serve long-term residents or the overnight guest. From 23 US dollars for standard rooms to $45 for semi-deluxe. Friends Travel World also arranges tours to the interior.
The Interior
Baganara Island Resort:
Five miles South of Bartica, it is the getaway to the unspoilt rainforest of Guyana and the junction where the great Essequibo and Mazaruni Rivers meet.
Rock View Lodge:
Nestled between the Amerindian villages of Annai and Rupertee on the North Rupununi Savannahs, where the foothills of the Pakaraima mountain range meet the tropical rainforest of Guyana. Comfortable, well furnished self-contained suites.
Timberhead Eco-Resort:
Jungle lodges, built by native craftsmen using handcrafted local timber and thatched roofs, on an Amerindian reservation and reached only by boat. Each lodge offers double or twin rooms with all conveniences.
cGuyana:
Comprehensive directory of Guyana related links especially sorted for aesthetes, businessmen, citizens, naturalists, scholars, surfers and tourists - or you can pick from the A to Z topics.
Guyana Guide:
Comprehensive guide to Guyana. Plenty of information on the site complemented with links to other Guyana resources.
Guyana Online:
News and general information about Guyana as well as a directory listing of Guyanese online.
Guyana Outpost:
Wayne Mosses has put together a very useful and informative Guyana resource.
Guyana Attractions:
Guyana offers visitors a truly unique view of nature; the heartland provides an experience with raw, rugged nature that is an ideal complement to the more traditional tourism fare of the Caribbean.
Guyana Photo Album:
Collection of photographs from around Guyana and the Caribbean with links to the accredited photographer's website where available. Brief captions would enhance the photo tour though.
Two Tom Cats:
Offroading across Guyana and neighbouring countries with a loose affiliation of rum-soaked Guyanese.... and their husbands. A gallery of knee-deep in mud and water images to make you reach for the distilled sugar-cane.
Wilderness Explorers:
Tour operator in Guyana offering combination itineraries to Venezuela, Suriname, French Guiana, Brazil and the Caribbean. Experience the best Guyana has to offer or combine one or more countries to get a real feel for South America and the Caribbean.
Guyana Youth Corps:
Volunteer Youth Corps is a group of young people between the ages of 18 - 28 years of age who work alongside national colleagues in the health and social sectors of Guyana. This work is aimed at contributing to the socio-economic advancement of Guyana.
What's happening around Guyana.
GTV Spotlight Extra:
Real media streaming video news - spotlight from Guyana.
Guyana Chronicle:
Guyana's most widely circulated newspaper brings you the top stories, features, sports, cartoons and a pen-pals section.
Guyana Information Services:
News bulletins and government statements from the Ministry of Information in Guyana.
Guyana Monthly Update:
A monthly look at Guyana events, obtained from the Embassy of Guyana, in Washington DC.
Guyana Review:
A current affairs, news magazine, published monthly in Guyana by Cosmopolitan Communications Corporation. The online edition is not that up to date but it's good for the archives.
Stabroek News Online:
Publishers of the Stabroek News and Sunday Stabroek bring a daily round-up of the local news and sports to the online community.
The Mirror:
A round-up of Guyana news every Sunday and Wednesday.
Guyana Weather:
We like the Weather Channel's ten-day forecast and satellite image of the south American continent.
Travel to Guyana:
Browse Amazon's best-selling list of books on travel in Guyana.
Regional Directory - Search The Web - Top Travel Blogs and Websites: South America.

If you find Travel Notes useful, please take a moment to like us on Facebook and share with your friends on social media.