Quick Links
Brazil Beaches, Brazil Cities, Brazil Hotels & Tours, Brazil News, Brazil Regions, Brazil Tourism.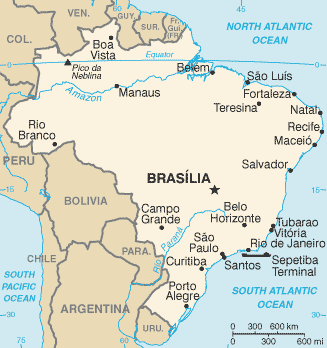 The capital of Brazil is Brasilia.

The flag of Brazil is green with a large yellow diamond in the centre bearing a blue celestial globe with 27 white five-pointed stars (one for each state and the Federal District); arranged in the same pattern as the night sky over Brazil.
The globe has a white equatorial band with the motto 'Ordem e Progresso' (Order and Progress).
Following three centuries under the rule of Portugal, Brazil became an independent nation in 1822 and a republic in 1889.
By far the largest and most populous country in South America, Brazil overcame more than half a century of military intervention in the governance of the country when, in 1985, the military regime peacefully ceded power to civilian rulers.
Brazil continues to pursue industrial and agricultural growth and development of its interior. Exploiting vast natural resources and a large labour pool, it is today South America's leading economic power and a regional leader. Highly unequal income distribution remains a pressing problem though.
Geographically
Eastern South America - bordering the Atlantic Ocean.
Administrative Divisions
1 federal district:
(distrito federal)
Distrito Federal.
26 states:
(estados; singular - estado)
Acre; Alagoas; Amapa; Amazonas; Bahia; Ceara; Espirito Santo; Goias; Maranhao; Mato Grosso; Mato Grosso do Sul; Minas Gerais; Para; Paraiba; Parana; Pernambuco; Piaui; Rio de Janeiro; Rio Grande do Norte; Rio Grande do Sul; Rondonia; Roraima; Santa Catarina; Sao Paulo; Sergipe; Tocantins.
Independence
7th September, 1822 (from Portugal).
National Holiday
Independence Day: 7th September.

Add a Business Listing - Add a Destination Guide - Add a Place to Stay.



If you find Travel Notes useful, please take a moment to like us on Facebook and share with your friends on social media.
South America Index - South America Tourism - South America Websites.