Make the most of your visit to California.
California Hotel Reservations.
Book a Rental Car - Check out Flights - Compare Hotel Rooms.
Become a California City Guide:
You really know the California scene - where to eat, where to stay, and what to do. Tell our visitors more about the sights and delights and how to make the most of their time in California.
California at a Glance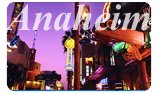 Anaheim, California:
The city of Anaheim, some 30 miles from Los Angeles in Orange County, is one of Southern California's top tourist draws.
You might want to consider an Anaheim hotel or motel close to the attraction at which you will be spending most of your time. Also, take advantage of hotel shuttles to the amusement parks, and save yourself a lot of driving headaches.
Anaheim averages over 328 days of sunshine annually, with an average daily temperature of 73 degrees.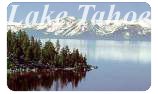 Lake Tahoe, California:
Many visitors think of Lake Tahoe as a winter destination, and rightfully so. With more than a dozen ski resorts in the area, Tahoe draws everyone from the backcountry powder hound to the first-time skier.
From condos to cabins to campgrounds to casinos, and with nearly as many beds as blackjack tables, the Lake Tahoe Basin offers accommodations to suit every traveler.
Depending on what kind of sports you're interested in, Lake Tahoe is best visited during either the summer or winter months.
Los Angeles, California:
There's a cliche that Los Angeles is a group of suburbs in search of a city. To suggest that LA has no heart is untrue. While the city does sprawl and has lots of diverse communities within its boundaries, each of those districts has a heart and soul of its own.
Los Angeles' widespread nature can pose a problem as it does not have a great public transportation system. The new red line subway links downtown to Hollywood. Additionally there are buses, but because of the distances between many destinations they tend to be slow going.
Forget smog. Visit Los Angeles during the winter months: November to May.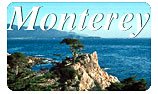 Monterey, California:
The Monterey Peninsula is a shining jewel on the crown of California's scenic Central Coast.
Located between Los Angeles and San Francisco, Monterey County is accessible by both Coastal Highway One and Highway 101, which travels along the agricultural byways of the Monterey Valley corridor.
Monterey is an ideal year-round destination although it is imperative to remember to pack both sunscreen and sweaters.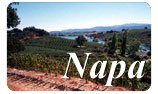 Napa, California:
Lodging choices range from restored Victorians in the city of Napa to grand resorts on the outskirts of St. Helena to simple motel-spa combinations in the northern town of Calistoga.
The most famous winemaking region in the United States is a narrow swath of expensive real estate stretching from the top of San Francisco Bay nearly 20 miles north to the foothills of Mount St. Helena.
The gorgeous views and luxury accommodations of California's wine country make this the perfect year-round alternative to a honeymoon in Tuscany.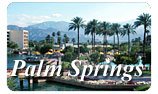 Palm Springs, California:
At home with desert temperatures that hover in the 108-degree range in summer months, Palm Springs is a resort destination, with plenty of spas, sports and sunshine to go around.
The City of Palm Springs seems to be wrapped in a dreamlike quality. The heat could be the culprit or the number of lush spa hotels, or the large number of gourmet restaurants and then again, it might just be the slow place of town life.
The comfortable climate and range of activities make Palm Springs perfect year-round. Even during the summer the absence of humidity means you're very over-heated.
Sacramento, California:
Boasting a 'Mediterranean climate' with mild year-round temperatures, Sacramento is located 90 miles northeast of San Francisco and 383 miles north of Los Angeles.
Sacramento International Airport (SMF) is served by all major airlines with direct flights from Europe offered by several carriers. With about 140 daily flight arrivals into SMF and 120 departures throughout North America and the world, Sacramento clearly stands on its own against Los Angeles and San Francisco.
Sacramento is a great starting point for some of the attractions that draw tourists to California: Lake Tahoe, Yosemite National Park, and the Gold Country are all easily accessible.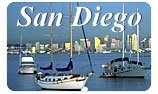 San Diego, California:
Previously perceived as a sleepy, sunny seaside town, San Diego now ranks as America's 6th largest city.
On final approach into San Diego, you'll fly directly over Balboa Park, one of the nation's largest urban parks. Just beyond the left wing of the aircraft, you'll see San Diego's ever- expanding downtown skyline, fronted by a massive bayside convention center, set along one of the world's great natural harbors.
San Diego Trolley routes serve downtown, Old Town, and the city of Santee as well as extending to Mission Valley and the Qualcomm Stadium area.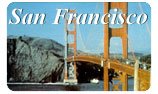 San Francisco, California:
Though summer is the high point of the tourist season, San Francisco sees a steady flow of visitors that come for business and varying flavours of pleasure year round.
Less official than New York's borough delineations, San Francisco is composed of a patchwork of neighbourhoods, each with its own unique flavor, feel, shops and vibe.
With such a moderate climate, San Francisco can be visited any time of year. Keep in mind that some days may be foggier than others, and some parts of town, such as the Richmond, Sunset, or the Upper Haight, are much foggier year-round, and can often be colder than the nearby Mission or Downtown areas.
San Francisco Attractions
Alcatraz Island
Anchor Brewing Company
Angel Island State Park
Ansel Adams Center
Arboretum - Japanese Tea Gardens
Asian Art Museum
Bay Bridge
Cable Car Charters
Cable Car Museum
California Academy of Science
California Museum of Modern Art
Cable Cars
Chinatown
Cliff House - views of the Pacific
Coit Tower
Conservatory of Flowers
Craft & Folk Art Museum
Delores Mission
Excursions
Exploratorium
Gambling Casinos
Ghiradelli Square
Golden Gate Bridge
Golden Gate Park
Gray Line Tours
Hard Rock Cafe
Helicopter Tours
Hollywood Tours
Hornblower Dining Yachts
Jewish Museum
John Paul Getty Museum
Lombard Street
Magic Mountain - Roller coasters
Movieland Wax Museum
Muir Woods
Oceanic Society Farallon Island
Pacific Marine Yachts
Planet Hollywood
Randall Museum
Ripley's Believe it Or Not
Roger's tours
San Francisco seaplane tours
San Francisco walking tours
Sea Lions
Shark Guards
Stow Lake Boat House
Tatoo Art Museum
Treasure Island Museum
Twin Peaks - city view
Universal Studios
Warner Bros. Studios
Wax Museum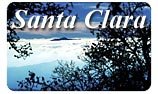 Santa Clara, California:
Santa Clara County, also referred to as 'Silicon Valley', is unique because of its combination of physical attractiveness and economic diversity.
The Santa Clara area has more than 3,700 guestrooms that include all the major chain affiliates and lodging options to satisfy all budgets.
Santa Clara has enough interesting attractions to make it an ideal year-round destination. But, if part of the draw for you is Paramount's Great America Theme Park, you'll want to visit June, July or August.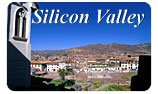 Silicon Valley, California:
Silicon Valley invariably conjures up images of technology and business but rarely images of a vacation paradise.
Cities incorporated into the valley include Palo Alto, Campbell, Los Altos, Los Gatos, Milpitas, Mountain View, Santa Clara, Saratoga, Sunnyvale and of course San Jose, the capital of Silicon Valley.
If you want to explore the whole Silicon Valley area and visit each city en route, it's usually advisable to rent a car.
California Hotel Guide:
Where to stay around the state of California.
US Hostels:
Ideal for backpackers and those travelling on a budget -- dorms, shared accommodation and private rooms.
California @ Travel Notes:
Travel and tourism links for California.
California Travel Articles:
Read what others think about California: Hollywood, Los Angeles, Palm Springs, San Diego and San Francisco are all covered.
Write For Travel Notes
Submit a California Travel Article:
If you're on the road or have just returned from somewhere in California, send us your updates for publication.
Sightseeing Tours, Events and Attractions.
California Travel Guides:
Browse Amazon's best-selling list of books on travel in California.
Backpackers:
Budget accommodation around the United States and Canada.
Travel by Car:
Driving distances between major cities in the United States.
Travel Industry
Add Your Tours - Add Your Property

Add a Business Listing - Add a Destination Guide - Add a Place to Stay.



If you find Travel Notes useful, please take a moment to like us on Facebook and share with your friends on social media.
North America Index - North America Tourism - North America Websites.