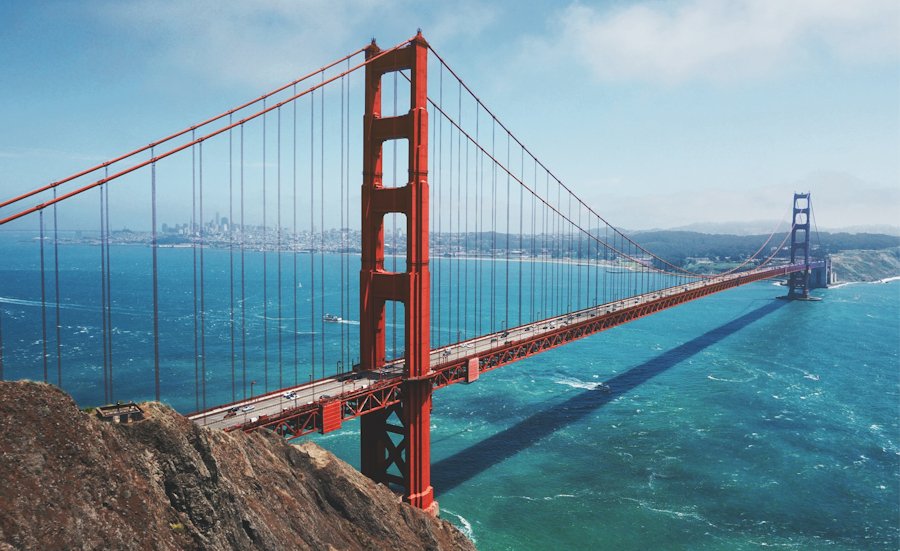 Golden Gate Bridge, San Francisco, United States by Maarten van den Heuvel on Unsplash.
Travel Notes: North America - United States - California Travel Notes - Updated 04 August, 2023.


Short URL: https://tnot.es/usCA
California Travel and Tourism on Travel Notes

Find California Travel and Tourist Information with links to official travel and tourism websites and state resources for visitors to California.
About California
California has a thriving travel and tourism industry, attracting millions of visitors from around the world to its beaches, national parks, and cultural attractions.
Also known as the Golden State, in reference to the discovery of gold, southern California now attracts visitors looking for a golden tan.
States neighbouring California: Oregon, Nevada and Arizona. California also shares a border with Mexico.
Map of California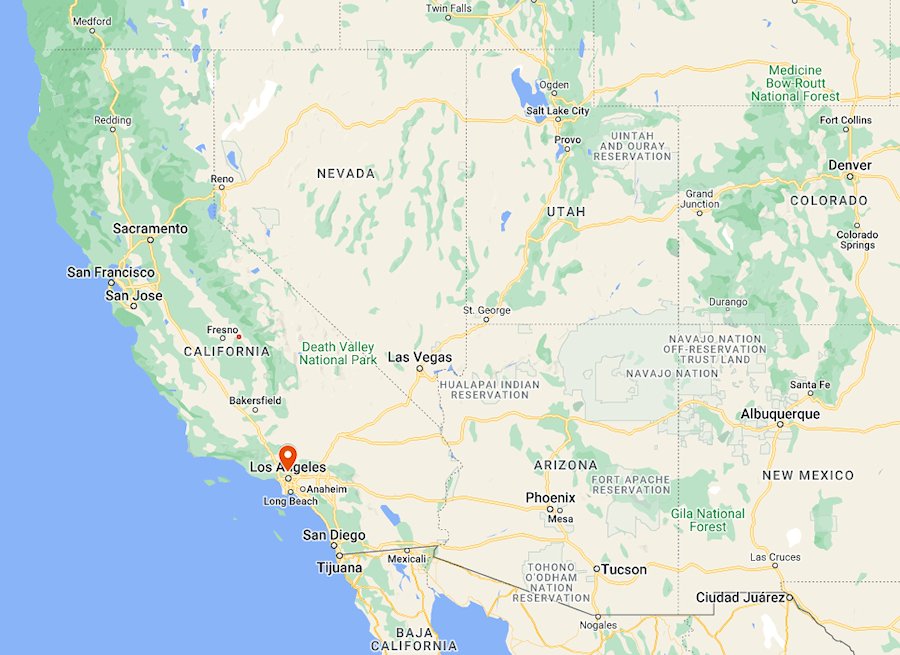 California is bordered by Oregon to the north, Nevada to the east, Arizona to the south-east, Mexico to the south, and the Pacific Ocean to the west.
The state capital of California is Sacramento.
County Map of California:
Colourful map of California showing the location of all 58 counties: Alameda, Alpine, Amador, Butte, Calaveras, Colusa, Contra Costa, Del Norte, El Dorado, Fresno, Glenn, Humboldt, Imperial, Inyo, Kern, Kings, Lake, Lassen, Los Angeles, Madera, Marin, Mariposa, Mendocino, Merced, Modoc, Mono, Monterey, Napa, Nevada, Orange, Placer, Plumas, Riverside, Sacramento, San Benito, San Bernardino, San Diego, San Francisco, San Joaquin, San Luis Obispo, San Mateo, Santa Barbara, Santa Clara, Santa Cruz, Shasta, Sierra, Siskiyou, Solano, Sonoma, Stanislaus, Sutter, Tehama, Trinity, Tulare, Tuolumne, Ventura, Yolo and Yuba.
California is a state located on the west coast of the United States, and it is the most populous state in the country.
Although the state's capital is Sacramento, its most famous city is Los Angeles, followed by San Francisco and San Diego.
California is known for its diverse geography, which includes mountains, beaches, forests, and deserts.
It is home to several iconic landmarks such as the Golden Gate Bridge, Hollywood Sign, Disneyland, and Yosemite National Park.
The state is also famous for its vibrant culture, entertainment industry, and technology sector.
Hollywood, located in Los Angeles, is the center of the American film industry, and Silicon Valley, located in the San Francisco Bay Area, is home to many of the world's largest technology companies.
California is also known for its progressive political leanings and its history of social activism.
The state has been at the forefront of many social and environmental movements, including the civil rights movement, the feminist movement, and the environmental movement.
In terms of the economy, California is the largest state economy in the United States, with a gross domestic product (GDP) of over $3 trillion.
Major industries in the state include entertainment, technology, agriculture, and manufacturing.
California was named after an imaginary island in a popular Spanish romance when Hernan Cortes first sighted the Baja Peninsula.
The Spaniard, Hernan Cortes had already made a name for himself as Captain General and the conqueror of the Aztecs in Mexico, before he moved up the coast on another expedition in 1536.
The Spaniards didn't seem to trust one another, governors were constantly being replaced and new orders given.
Thus a stream of other conquistadors took it in turns to explore further north.
Dutch and English pirates were also attracted to the area to try and relieve the armadas of some of their bounty, but it was not until 1769 that San Diego was settled.
Franciscan priests seeking to convert the inhabitants of the New World to Christianity established San Francisco in 1776.
In 1822 California became a part of independent Mexico, although very much neglected.
American settlers resented Mexican rule, and captured the town of Sonoma in June 1846.
Shortly afterwards the US Navy occupied the area, forcing Mexico to sign the Treaty of Guadalupe Hidalgo in 1848.
Then came the Gold Rush.
The Golden State:
The Government of California's online presence.
California is a diverse state with many attractions, so there's something for everyone.
Visit California
Places to visit and things to do in Califonia.
Whatever your interests are, you're sure to find something to love in the beautiful state of California.
Lake Tahoe
This beautiful alpine lake is a popular destination for skiing, snowboarding, and other winter sports.
In the summer, enjoy swimming, kayaking, and hiking in the beautiful mountains.
Los Angeles
Los Angeles is a bustling city, known for Hollywood, celebrities, and sunny beaches.
Visit the Hollywood Walk of Fame, the Getty Center, and the Santa Monica Pier.
Monterey Bay
This beautiful coastal town is home to the Monterey Bay Aquarium, Cannery Row, and some of the best seafood in California.
Napa Valley
Napa Valley is a beautiful region famous for its wine country and picturesque vineyards.
Take a wine tour and sample some of the world's finest wines, or simply enjoy the stunning scenery.
San Diego
San Diego is a laid-back city famous for its beautiful beaches, parks, and world-renowned zoo.
Visit Balboa Park, home to many museums and cultural institutions, and explore the Gaslamp Quarter, an historic district with shops, restaurants, and nightlife.
San Francisco
San Francisco is a beautiful city famous for its iconic Golden Gate Bridge, Alcatraz Island, Fisherman's Wharf, and cable cars.
Take a ferry to the former island prison of Alcatraz, stroll through the bustling Chinatown, and enjoy the city's vibrant food and drink scene.
Yosemite National Park
Yosemite National Park is home to some of the most breathtaking natural scenery in the world.
Hike the trails, see the waterfalls, and take in the awe-inspiring views.
Visit California:
Endless sunshine, world-class theme parks and incredible outdoor experiences all await the visitor to California.
Map of Los Angeles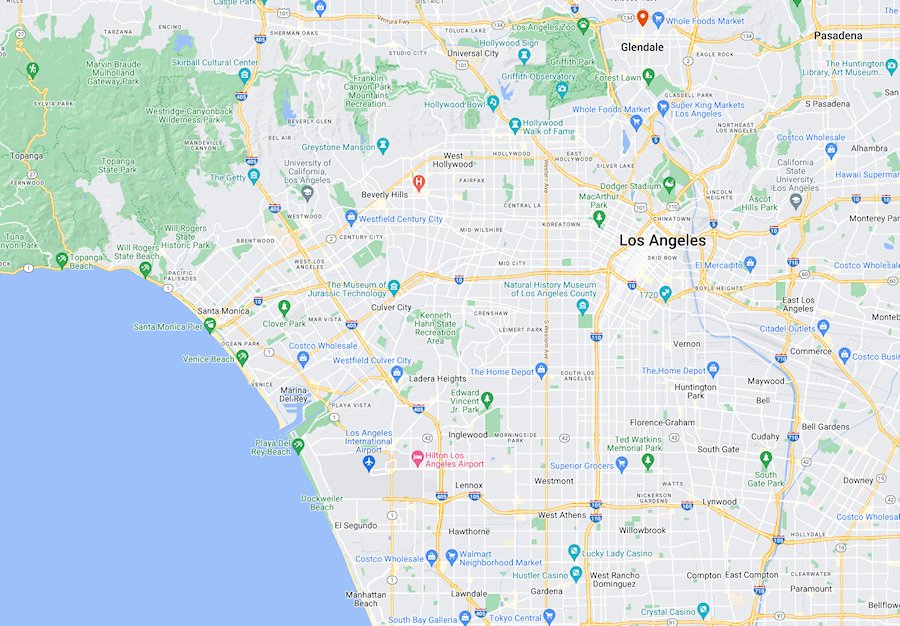 L.A. Sightseeing
From Hollywood to the Grand Canyon, there's never a shortage of places to go or things to do in LA.
Discover Los Angeles:
The official resource for visitors to Los Angeles.
Where to Stay in Los Angeles
San Diego is known for year round great weather, surrounded by the beautiful Pacific Ocean.
San Diego is one of the most visited cities in the U.S. and rated in the top three for beach vacations.
San Diego Beaches
With miles and miles of superb beaches in San Diego, how do you pick the best?
Whether you're a first-time visitor or life-long resident, The San Diego Convention & Visitors Bureau encourages you to enjoy the beach and hopes the information provided here will help you to make the most of your stay:
Cardiff Beaches; Carlsbad State Beach; Coronado Municipal Beach; Del Mar Beaches; Encinitas; Imperial Beach; La Jolla Beaches; La Jolla Reefs; Leucadia; Mission Bay; Mission Beach; Ocean Beach; Oceanside City Beach; Pacific Beach; Point Loma Beaches; San Onofre State Beach; Silver Strand State Beach; Solana Beach; Torrey Pines State Beach.
San Diego Union-Tribune:
San Diego news and weather from the online daily.
San Diego Travel Tips
When in San Diego skip the San Diego Zoo and visit the San Diego Safari Park instead. You will thank yourself after.
Skip SeaWorld. See Balboa Park and art museum. Torey Pines Glider Point. Temecula Wine Tasting Tour.
History San Jose manages two sites and a collection of over 500,000 historical artefacts from Santa Clara Valley.
History Park:
History Park is located at the south end of Kelley Park at the corner of Senter Road and Phelan Avenue. Through 32 original and reproduction homes, businesses, and landmarks, History Park reveals Santa Clara Valley's past.
Peralta Adobe - Fallon House Historical Site:
Located in the heart of downtown San José, adjacent to San Pedro Market.
San Pedro Square:
With its antique archway and Euro-style patio dining, San Pedro Square offers first class restaurants, cafes and bistros, a microbrewery and night-clubs.
Visit San Jose:
The San Jose Convention and Visitors Bureau provides a complete source of information for all your vacation planning needs in Silicon Valley.
Winchester Mystery House:
Tour through 110 of the 160 rooms and look for the bizarre phenomena that gave the mansion its name; a window built into the floor, staircases leading to nowhere, a chimney that rises four floors, doors that open onto blank walls, and upside down posts!
Where to Stay in San Jose
Hotel de Anza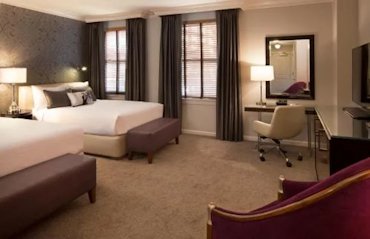 Hotel de Anza: 233 West Santa Clara Street.
This iconic, boutique hotel is centrally located in the heart of Downtown San Jose within walking distance of San Jose's finest restaurants and attractions.
Enjoy classic Art Deco architecture and decor with modern comforts and hospitalit at the Hotel de Anza - a Destination by Hyatt Hotel.
Hotels in San Jose - Hotels in Silicon Valley.
Where to Stay in Monterey
Hotel Pacific
Hotel Pacific: 300 Pacific Street, Monterey.
Located within walking distance of Fisherman's Wharf, Cannery Row, and the Monterey Bay Aquarium.
Perfectly set along California's central coast, Hotel Pacific brings you within moments of the best of downtown Monterey.
California Municipalities
Established in 1895, the Anaheim Chamber of Commerce is the premier business organization in Anaheim.
Established in 1957, the Pacifica Chamber of Commerce is comprised of more than 400 business leaders who are passionate about improving the local business climate. Pacifica is a coast-side community, 15 minutes south of San Francisco.
Discover what Santa Barbara has to offer, from exhilarating outdoor adventure to fascinating arts and culture and an incredible variety of local food and wine on the American Riviera.
Santa Monica is a coastal city west of downtown Los Angeles. Santa Monica Beach is fringed by Palisades Park, with views over the Pacific Ocean.
Venice Beach has almost 3 miles of coastline with 238 acres of beach and 3 parking lots with over 1200 spaces. The beach area from the Santa Monica Pier south to Marina Del Rey has more things to do than anywhere else in Los Angeles.
Apart from the beaches of Southern California, visitors are also attracted to Hollywood, Palm Springs, Disneyland, Lake Tahoe, the Napa and Sonoma wine valleys, and Yosemite and Sequoia National Parks.
Also Visit:
Pioneer Village in Bakersfield, El Pueblo de Los Angeles State Historic Park, the Old Customs House in Monterey, and Sutter's Fort in Sacramento.
California Parks
Death Valley, (86 m. below sea level), is the lowest point in North America, while Mount Whitney (4,417 m .), in the Sierra Nevada, is one of the highest peaks in the United States.
Located between Los Angeles and Las Vegas, the Mojave Desert occupies a significant portion of Southern California and parts of Utah, Nevada, and Arizona.
California Attractions
The soaring roof of Albert Frey's Tramway gas station is a Palm Springs landmark, and home to the Official Palm Springs Visitor Information Center; located at 100 S. Palm Canyon Drive.
Where to Stay in Palm Springs
Tuolumne County's Gold Country is rich and alive with thriving Gold Rush towns such as Jamestown, Sonora and Columbia.
Visit The Famous 'Gold Rush' Town of Columbia
Columbia State Historic Park:
Columbia was once known as the 'Gem of the Southern Mines'. The town's Gold Rush-era business district was designated as a State Park in July 1945. Today we can take a step back in time to experience life in 1850s California.
Historically referred to as the 'Queen of the Southern Mines', Sonora - the county seat of Tuolumne County - is located in the beautiful Sierra Nevada Foothills, in the heart of California's 'Gold Country'.
Considered a gateway to Yosemite National Park, Sonora is also close to amazing vineyards, world-class golfing, stunning caverns, hiking, water sports and horseback riding.
Sonora's prosperity during the late 1800s and early 1900s is evidenced by many of the historic homes and buildings that local residents can treasure today. Sonora is home to museums, art galleries and live theatre.
There are so many things to see and do in and around Sonora, California; a short drive from historic Columbia, Angels Camp and Murphys. The City also plays host to numerous festivals and special events throughout the year.
The Tuolumne County Visitors Bureau at 193 S Washington St provides information on lodging and tourist activities in the California Gold Country.
Where to Stay in Sonora
Best Western Sonora Oaks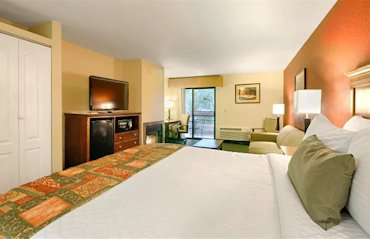 Best Western Sonora Oaks: 19551 Hess Avenue, Sonora.
Nestled under ancient arbours in the historic Mother Lode area of the Sierra Foothills lies the Best Western Sonora Oaks Hotel and Conference Center.
Guests at The Best Western Sonora Oaks hotel can also use the outdoor heated pool and spa.
Bear Valley
The Bear Valley area as we know it today was originally called Grizzly Bear Valley. The Bear Valley Mountain Resort is operated under special use permit on the Stanislaus National Forest.
Northern California's most centrally located mountain resort, conveniently accessible via the historic Ebbetts Pass Highway 4 corridor, Bear Valley Village is home to a variety of services, shops, restaurants and a wide range of accommodations options.
Calaveras County
Calaveras County is located in the foothills of the Sierra Nevada Mountains - 133 miles east of San Francisco and 135 miles west of Lake Tahoe. Midway along State Highway 49, which links the towns of the Gold Country, Calaveras County is filled with natural and historic diversity.
Ironstone Vineyards is a premier Calaveras County destination offering visitors wine tasting, fine dining and winery estate tours. Highlights of the tours include the wine production area, tank farm and bottling line, wine-aging cavern, amphitheatre, gardens and Lakeside Park. Ironstone wines reflect the diversity of offerings from the Lodi and Sierra Foothills Appellations of Northern California.
Mercer Caverns
World famous for the rare Aragonite flos ferri, Mercer Caverns first received paying customers in 1885; making it the longest continually operating commercial caverns in the state of California. Located in Calaveras County, just outside Murphys and about five miles from Angels Camp. Travel time from Sacramento is about two hours.
Number One For Golf in Sonora
Located above the fog and below the snow in historic Sonora, Teleli Golf Club offers the chance to play a scenic 18-hole Robert Muir Graves designed championship course while enjoying the Gold Country and the scenic beauty of the Sierra Nevada foothills.
Stanislaus National Forest
During the gold rush, the area that would become the Stanislaus National Forest was a busy place, occupied by miners and other immigrants, homesteaders and ranchers, dam builders and loggers.
Today you can fish in over 800 miles of rivers and streams, stay in a campground, or hike into the backcountry seeking pristine solitude.
You can swim near a sandy beach or wade into cold clear streams, raft the exciting Tuolumne River, or canoe one of the many gorgeous lakes.
Depending on the time of year, you can ride a horse, a mountain bike or a snowmobile.
Located in California's Central Coast region, between the Gavilan and Diablo Ranges of the Santa Cruz Mountains, Hollister is about 95 miles south of San Francisco, 45 miles east of Monterey and 300 miles north of Los Angeles.
In 1868, 'Colonel' (honorary title) William Welles Hollister sold his portion of the original land grant, known as Rancho San Justo, to a group of civic-minded citizens.
Hollister was officially incorporated as a city on August 29th, 1872 and by February 12th, 1874 had secured its place as the most important city in the area when San Benito County was formed and Hollister was named the county seat.
The Hollister Downtown Association was established in 1984 to revitalize the Historic Downtown to be the hub of social and economic activity in our community.
Hollister is served by major California highways and has one of the few remaining executive airports in the country.
San Benito County
San Benito County covers approximately 1,396 square miles ranging in elevation from near sea level to over 5,000 feet, has a population of over 56,000, and is bordered to the north by Santa Clara and Santa Cruz counties, by Merced and Fresno counties to the east, and by Monterey County on the west and south.
In 1772 Father Crespi named the San Benito River, the main waterway in the county, in honour of Saint Benedict.
Early history of San Benito County revolved around Mission San Juan Bautista, founded in 1797; the seventh mission to be built in California.
Where to Stay in Hollister
Best Western Hollister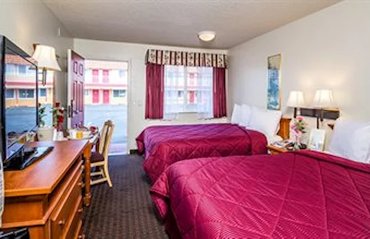 Best Western Hollister: 660 San Felipe Road, Hollister.
Experience a refreshing blend of modern luxury and laid-back Northern California lodging in the heart of Hollister.
With easy access from Route 156 and 25, the Best Western Hollister is an exceptional value economy hotel near the Santa Cruz Beach Boardwalk.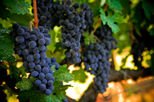 California Wine Country Tours
Chateau Souverain identifies Alexander Valley as the best location for growing Cabernet Sauvignon, Merlot and Sauvignon Blanc; the cool-climates of Carneros and Russian River Valley for Chardonnay; and Dry Creek Valley for Zinfandel.
Napa Valley Wineries:
Napa Valley features some premier wine producers. The climate and soil are virtually perfect for growing the type of grapes required to produce premium wines.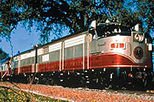 Take The Wine Train
Experience a true Napa Legend and discover the wine that put Napa Valley on the map. After a gourmet lunch aboard the elegant Wine Train, indulge in a seated tasting at Grgich Hills Estate.
Napa Valley Wine Train:
A 3-hour, 36 mile, excursion from the historic town of Napa through one of the world's most famous wine valleys to the quaint village of St. Helena and return. Government regulations do not permit the train to stop or disembark passengers en-route, except at designated stops or stations.
Temecula Valley:
Visit the award winning wineries in Temecula; 90 miles south-east of Los Angeles and 60 miles north of San Diego.
California Houseboats
House boating can be a lot of fun for any age, size or type of group.
Explore California Houseboat Rentals.
RV Camping in California
Located at 23223 Italian Bar Rd, Columbia, the 49er RV Ranch is a full service RV Park in a rustic setting serving Columbia Historic State Park; a replica gold rush town of the 1850-1870 time period.
California Travel Guides - California Maps.
About California - California Weather:
Find out more about California before you travel there.
Travel Notes Online Guide to Travel
Africa - Asia - Caribbean - Europe - Middle East - North America - Oceania - South America.

The Travel Notes Online Guide to Travel helps visitors plan their trip with country and city travel guides, local tourist information, reviewed web sites, and regular travel articles.

Colorado.
Travel and Tourism Guides on Travel Notes
Travel Professionals Based in California.
If Travel Notes has helped you, please take a moment to like us on Facebook and share with your friends on social media.


Travel & Tourism With Industry Professionals.