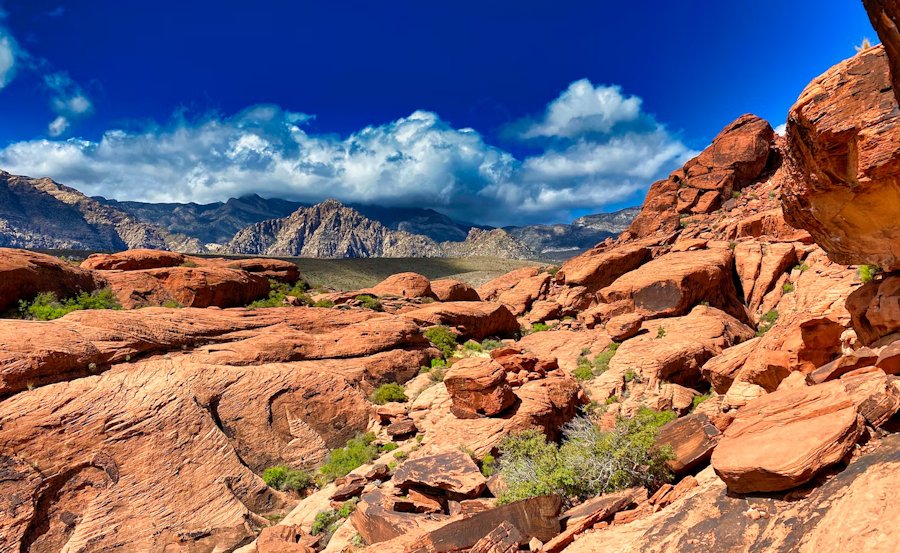 Red Rock Canyon, Nevada by Daniel Halseth on Unsplash.
Travel Notes: North America - United States - Nevada Travel Notes - Updated 17 July, 2023.


Short URL: https://tnot.es/usNV
Nevada Travel and Tourism on Travel Notes

Find Nevada Travel and Tourist Information with links to official travel and tourism websites and state resources for visitors to Nevada.
About Nevada
Nevada is also known as the Silver State, because of its large silver mine industries.
The state capital of Nevada is Carson City.
Map of Nevada
States neighbouring Nevada: California, Oregon, Idaho, Utah and Arizona.
Nevada gets its name from the Sierra Nevada.
The excitement capital of the world; especially if you win.
The gambling centres of Reno and Las Vegas is what attracts most visitors to Nevada; even the Greyhound from San Francisco to Salt Lake City and Denver stops at Reno for enough time to let you play the slots; if you're over 21.
Apart from the distractions of the casinos and neon in Las Vegas and Reno, there are also some scenic attractions in Nevada.
Hoover Dam straddles Nevada and Arizona. The colossus concrete structure holds back the Colorado River, and creates a man-made lake.
A number of historical sites also survive in Nevada: An 1868 mansion in Virginia City is known as the Castle; the Mormon Station Historic State Monument is in Genoa; and you can visit Fort Churchill Historic State Monument in Yerington.
Nevada Museums
Many of Nevada's museums exhibit Native American crafts and artefacts and relics from the early mining days.
Among these are the Nevada State Museum, in Carson City; North-eastern Nevada Museum, in Elko; and the Nevada Historical Society, in Reno.
Visit Nevada for the golden-hour ghost towns, intriguing attractions and far-out art; stay for the cafe classics, sagebrush saloons, and surprising scenery.
Nevada offers let's-see-what-happens adventure everywhere you look, and touring Nevada is the best way to explore it.
Nevada Ghost Towns
When silver mining was no longer profitable in Nevada, the people moved out. You can find at least twenty of these historic ghost towns between Lake Tahoe and Salt Lake City, and there are many more around Nevada.
Lake Tahoe crosses the boundary between California and Nevada, at an altitude of about 1,897 m. On its shores are tourist resorts and state recreation areas.
Where to Stay in Lake Tahoe
Bally's Lake Tahoe Casino and Resort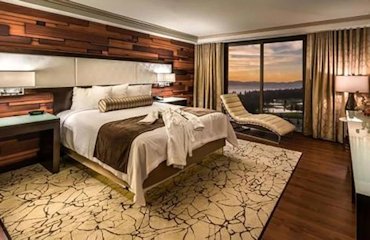 Bally's Lake Tahoe Casino Resort: 55 Highway 50, Lake Tahoe, Nevada.
Hit the jackpot with exclusive offers; from discounts on room rates to dining credits and extra perks you won't find at any other hotels.
Formerly the MontBleu Resort Casino and Spa, Bally's Lake Tahoe Casino Resort still overlooks Lake Tahoe and the Sierra Nevada mountains.
The Washoe and Paiute tribes were already here when a trading post was set up in 1851. Silver was discovered in the nearby Comstock Lode and the Carson City silver dollar was born.
Carson City thrives on tourism. Apart from the casinos, tourists can also visit Old West ghost towns, and abandoned gold and silver mines.
The desert area is known as Death Valley, and it holds the record of the hottest temperature ever recorded in North America, a sweltering 57º C, in 1913.
Death Valley National Park, in south-western Nevada and south-eastern California, is the largest in the adjoining United States.
Nevada Travel Guides - Nevada Maps.
About Nevada - Nevada Weather:
Find out more about Nevada before you travel there.
Travel Notes Online Guide to Travel
Africa - Asia - Caribbean - Europe - Middle East - North America - Oceania - South America.

The Travel Notes Online Guide to Travel helps visitors plan their trip with country and city travel guides, local tourist information, reviewed web sites, and regular travel articles.

New Hampshire.
Travel and Tourism Guides on Travel Notes
If Travel Notes has helped you, please take a moment to like us on Facebook and share with your friends on social media.


Travel & Tourism With Industry Professionals.