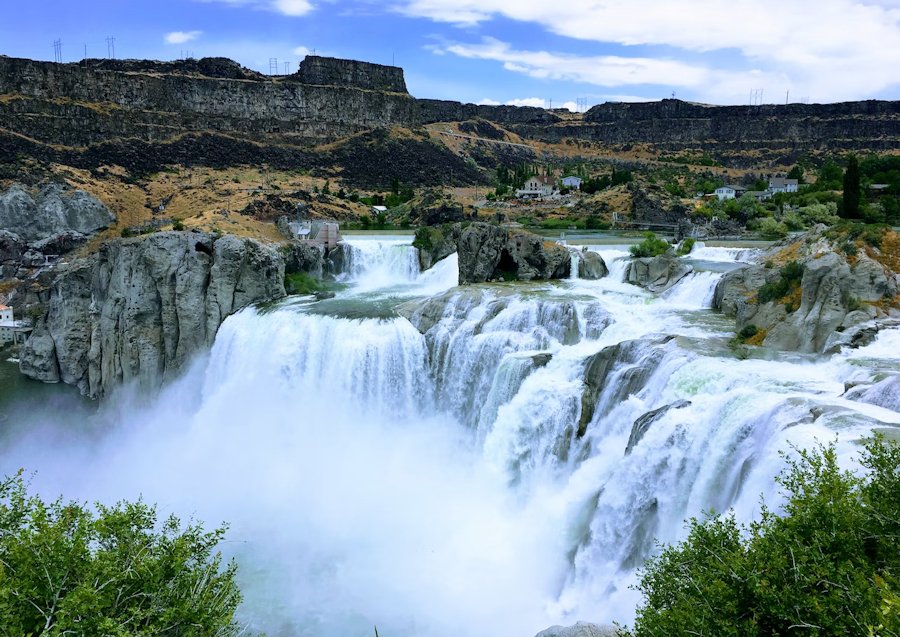 Shoshone Falls in Twin Falls, Idaho by Ryan Fish on Unsplash.
Travel Notes: North America - United States - Idaho Travel Notes.


Short URL: https://tnot.es/usID
Idaho Travel and Tourism on Travel Notes

Find Idaho Travel and Tourist Information with links to official travel and tourism websites and state resources for visitors to Idaho.
About Idaho
Idaho's natural beauty, outdoor recreational opportunities, and diverse economy contribute to its appeal as a place to live and visit.
Also known as the Gem State, or Gem of The Mountains, Idaho might be famous for potatoes but the unspoiled mountains of coniferous pines, in the north of the state, is what most visitors come to Idaho for.
Whether you're interested in exploring the wilderness, experiencing cultural events, or pursuing career opportunities, Idaho offers an unique blend of natural splendour and modern amenities.
States neighbouring Idaho: Nevada, Oregon, Washington, Montana, Wyoming and Utah.
Map of Idaho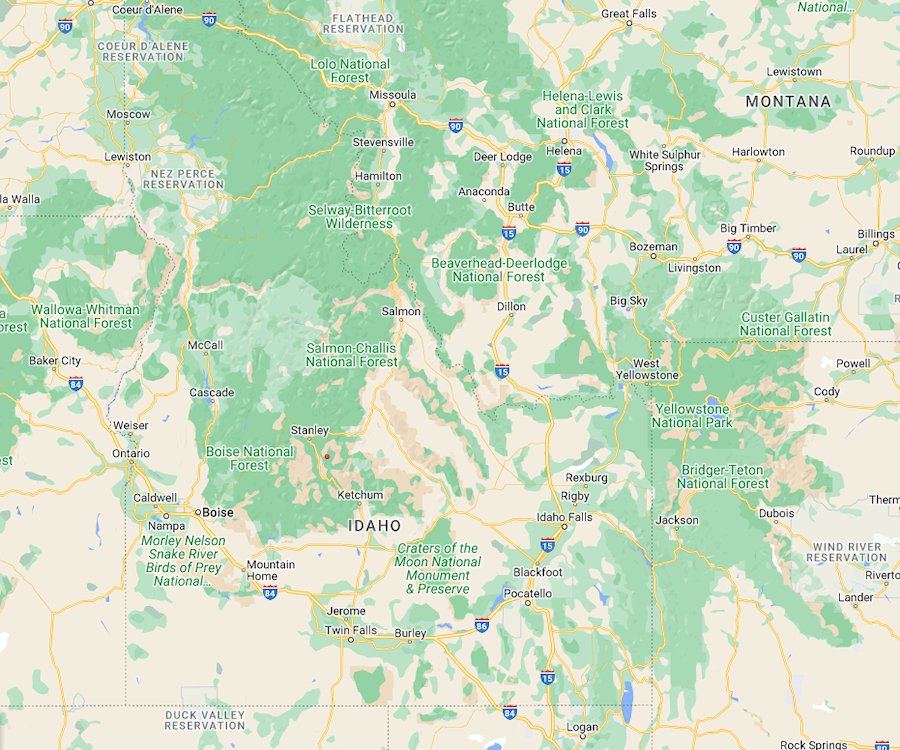 Idaho is bordered by Washington and Oregon to the west, Nevada and Utah to the south, Montana and Wyoming to the east, as well as Canada to the north.
The state capital of Idaho is Boise.
Idaho is a state located in the north-western region of the United States.
The state's nickname is the 'Gem State' due to its rich deposits of various precious and semi-precious gemstones.
Capital and Major Cities
Boise is the capital and largest city of Idaho.
It serves as the state's political, cultural, and economic centre.
Culture and Heritage
Idaho has a rich cultural heritage influenced by Native American tribes, early explorers, and pioneers.
The state hosts various festivals, including the Western Idaho Fair, the Idaho Shakespeare Festival, and the Trailing of the Sheep Festival, which celebrates the region's sheep ranching history.
Idaho is also known for its cowboy culture, rodeos, and western-style events.
Economy
Idaho's economy is diverse, with agriculture, manufacturing, tourism, and technology sectors playing significant roles.
The state is a major producer of potatoes, wheat, barley, sugar beets, and other agricultural products.
Additionally, Idaho has a thriving high-tech industry, especially in the Boise area, with companies specialising in semiconductors, computer hardware, software development, and data centres.
Other notable cities in Idaho include Coeur d'Alene, Idaho Falls, Nampa, and Pocatello.
Geography
Idaho is known for its diverse geography, featuring mountainous regions, vast forests, deep river canyons, and expansive plains.
The Rocky Mountains dominate the eastern part of the state, while the Snake River Plain cuts across the southern portion.
Idaho is also home to several large lakes, including Lake Pend Oreille, Payette Lake, and Redfish Lake.
Higher Education
Idaho is home to several universities and colleges.
The University of Idaho, located in Moscow, is the state's oldest university.
Boise State University, Idaho State University, and the College of Idaho are other prominent institutions offering a wide range of academic programs.
National Parks and Monuments
Idaho is home to several national parks and monuments, including Yellowstone National Park, which extends into Idaho from Wyoming and Montana.
Craters of the Moon National Monument and Preserve showcases an otherworldly volcanic landscape, while Hells Canyon National Recreation Area boasts the deepest river gorge in North America.
Other notable sites include Sawtooth National Recreation Area, City of Rocks National Reserve, and Minidoka National Historic Site.
Outdoor Recreation
Idaho is renowned for its abundance of outdoor recreational opportunities.
Its vast wilderness areas, national parks, and scenic landscapes make Idaho a popular destination for outdoor enthusiasts.
Visitors and residents can enjoy activities such as hiking, camping, fishing, hunting, boating, skiing, snowboarding, and whitewater rafting.
If you're planning to visit Idaho, you're in for a treat.
The state offers a wide range of attractions and activities that cater to various interests.
Boise
Start your trip in the capital city of Boise.
Explore the vibrant downtown area with its unique shops, galleries, and restaurants.
Visit the Boise Art Museum, catch a performance at the Boise Contemporary Theater, or stroll along the scenic Boise River Greenbelt.
Don't miss a visit to the Idaho State Capitol Building and the Old Idaho Penitentiary, which offers a fascinating glimpse into the state's history.
Coeur d'Alene
Visit the charming city of Coeur d'Alene, situated on the shores of Lake Coeur d'Alene.
Take a cruise on the lake, relax on its sandy beaches, or explore the Coeur d'Alene Resort Golf Course, known for its stunning waterfront views.
The city's downtown area features shops, restaurants, and art galleries.
Craters of the Moon National Monument and Preserve
Discover an unique volcanic landscape at Craters of the Moon.
Explore lava fields, cinder cones, and lava tubes on guided hikes or scenic drives.
The park offers camping opportunities and is an excellent spot for stargazing.
Idaho Wineries
Idaho has a burgeoning wine industry, particularly in the Snake River Valley region.
Take a wine tour and visit vineyards and wineries, where you can sample a variety of award-winning wines while enjoying picturesque views.
Outdoor Adventures in Idaho
Idaho is a playground for outdoor enthusiasts.
Go whitewater rafting on the Salmon River, fly-fish in one of the many pristine rivers and streams, or go hiking in the Sawtooth Wilderness.
The state also offers opportunities for hunting, mountain biking, rock climbing, and off-road exploration.
Sawtooth Mountains
Experience the breathtaking beauty of the Sawtooth Mountains in central Idaho.
This rugged mountain range is perfect for outdoor activities like hiking, camping, fishing, and horseback riding.
Shoshone Falls
Known as the 'Niagara of the West', Shoshone Falls is a spectacular natural wonder located near Twin Falls.
It's higher than Niagara Falls and offers stunning views, especially during the spring when water levels are at their peak.
Explore the surrounding area, which includes hiking trails and picnic areas.
Visit the scenic Redfish Lake, go rafting on the Salmon River, or take a scenic drive along the Sawtooth Scenic Byway.
Idaho Experiences
Sun Valley
Head to Sun Valley, a renowned resort destination for outdoor enthusiasts.
Enjoy skiing or snowboarding during the winter months, or engage in activities like hiking, mountain biking, and golfing in the summer.
Sun Valley also hosts cultural events, including music festivals and art exhibitions.
Also known as the Treasure Valley, Boise grew rapidly after the discovery of gold in the region around 1863.
Map of Boise
Located on the Boise River, visitors to the State of Idaho capital today are close to the splendours of nature; with a rise of mountains to the northeast known as The Foothills, and the Owyhee Mountains to the southeast.
Popular with skiers, local attractions include Bogus Basin Ski Area, Boise State University, Edwards Entertainment Complex, Gowen Field, Idaho Ice World and the State Capitol.
Enjoy the picturesque views or take in the contemporary art exhibits at the Boise Art Museum. There's also a zoo for the kids, an aquarium and the Discovery Center.
Boise has plenty of lodging options to choose from, with several hotels offering exclusive Park and Fly packages for guests who fly out of Boise's Airport.
Just four miles from the city centre, Boise Airport (BOI) is served by several airlines, including Delta, Frontier and Southwest.
Most major car rental agencies operate at the airport , or you can choose to use the hotel shuttles just outside.
Boise also has plenty of taxis and public transportation, for those on a tighter budget.
Grove Hotel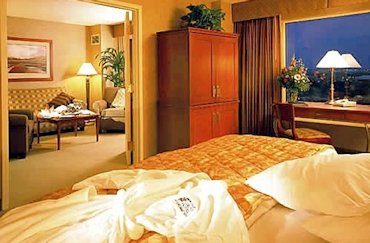 Grove Hotel: 245 S Capitol Blvd, Boise, Idaho.
Located in downtown Boise, walk through the doors to find a quiet, welcoming retreat from the busy streets outside. Enjoy an eclectic dining experience at Trillium, melt away calories at the Grove Fitness Club and Spa, or catch up on work in the Library.
As the original AAA Four Diamond full-service hotel in Boise, The Grove Hotel upholds its reputation as the city's premier hotel by offering luxury without sacrificing comfort.
Holiday Inn Boise Airport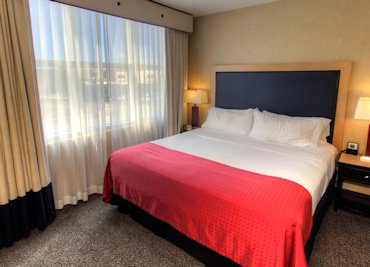 Holiday Inn Boise Airport: 2970 West Elder Street, Boise, Idaho.
This all-suite hotel with state-of-the-art Fitness Center, indoor pool and spa is conveniently located close to I-84 and just five minutes from downtown Boise.
With its convenient location, well-appointed accommodations, and full-service features, the Holiday Inn Boise Airport Hotel sets the standard of value for Boise airport hotels.
Hyatt Place Boise Town Square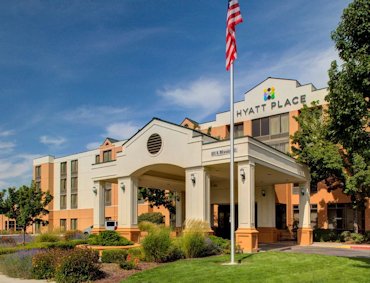 Hyatt Place Boise Town Square: 925 N. Milwaukee St., Boise, Idaho.
The hotel is located just ten minutes from downtown Boise and within walking distance of the Boise Towne Square mall and some 23 restaurants.
Guests at the Hyatt Place Boise Town Square can relax poolside or enjoy a refreshing dip in the hotel's indoor pool.
Red Lion Hotel Boise Downtowner
Red Lion Hotel Boise Downtowner: 1800 Fairview Avenue, Boise, Idaho.
Located off I-184 in the core of downtown Boise, this AAA hotel is just a short drive to the State Capitol, the Boise Convention Center and many other popular attractions.
Close enough to Boise Airport and only one mile from Boise State University, Red Lion Hotel Boise Downtowner serves corporate guests, holiday travellers, and BSU family and alumni.
Lake Pend Oreille and Coeur d'Alene are both natural lakes tucked away in the north of the state, and there are many artificial ones on the Snake River and its tributaries.
Salmon and trout fishing are popular in Idaho, and some of the best white water rafting can be found along the western border.
The Oregon Trail went further south than the Louis and Clark expedition, although it picked up the Snake River between Fort Hall and Fort Boise.
Many visitors to Idaho also visit parts of the trail.
In May, 1804, Meriwether Lewis and William Clark set out from St. Louis, with some 45 men, to explore the newly gained lands west of the Mississippi and open up a route to the Oregon.
The expedition followed the Missouri River north to Fort Mandan in North Dakota, where they spent the winter, and east to the Missouri headwaters.
They then came over the Rockies and followed the Snake river through Idaho and Washington to join the Columbia river.
Sun Valley, outside Ketchum, is the state's ski resort that allures the rich, famous and fashionable to the central Idaho Rockies.
The hot springs in the hills are also an attraction.
While most people associate Sun Valley recreation with world-class skiing, it's really only a small part of the mountain resort's story.
Winter or summer, when you visit Sun Valley the first thing you need to do is decide what is you want to do; backpacking, fly-fishing, golfing, hiking, mountain-biking or whitewater-rafting . The list of possible activities in the open ais is endless.
No matter what stage of the journey you find yourself in, finalizing your trip itinerary or daydreaming about your next vacation, Visit Idaho has the information you need to craft your ideal getaway.
Explore the Gem State's seven unique regions to find out what the buzz is all about.
Idaho Wineries
While a few of the 15 Idaho wineries are located in the beautiful northern Panhandle area, most are concentrated along the Snake River in south-western Idaho.
The Salmon River
The Main Salmon River combines all the elements that bring people to wilderness river travel. Legendary white-water, pristine scenery, abundant wildlife, sandy beaches and hot springs are samples of what this magnificent canyon has to offer.
Rafting The Main Salmon
This is the one families enjoy the most. The Salmon river canyon is one of the deepest in America and is famous for exhilarating rapids, abundant wildlife, big sandy beaches and numerous historical sites. June, July and August.
The Middle Fork of The Salmon
To professional river guides and long time river runners, the Middle Fork is considered America's best wilderness river trip.
Depending on your interests the best time to float the Middle Fork will vary. You'll find the most exciting rapids in June and the best combination of white-water and weather in July and August. Fishing gets better as water levels decline.
Idaho River Journeys has been a Middle Fork of the Salmon River outfitter for forty years, and has an outstanding crew. Their Salmon River rafting and fishing guides come from varied backgrounds, have worked together for a number of seasons, and are passionate about sharing their knowledge about the Middle Fork of the Salmon River with guests.
A narrow and winding road following the Clearwater and Lochsa Rivers.
This road is not designed for the fast traveller. There are lots of pull-outs, to let traffic pass and to savour the breath-taking views of the country.
Places to Visit Along Highway 12
Clarkston, Lewiston, Lenore, Peck, Orofino, Greer, Kamiah, Kooskia, Lowell, Lolo and side trips to Pierce, Weippe, Asotin and Lapwai.
Idaho Travel Guides - Idaho Maps.
About Idaho - Idaho Weather:
Find out more about Idaho before you travel there.
Travel Notes Online Guide to Travel
Africa - Asia - Caribbean - Europe - Middle East - North America - Oceania - South America.

The Travel Notes Online Guide to Travel helps visitors plan their trip with country and city travel guides, local tourist information, reviewed web sites, and regular travel articles.
Travel and Tourism Guides on Travel Notes
If Travel Notes has helped you, please take a moment to like us on Facebook and share with your friends on social media.


Travel & Tourism With Industry Professionals.

Illinois.