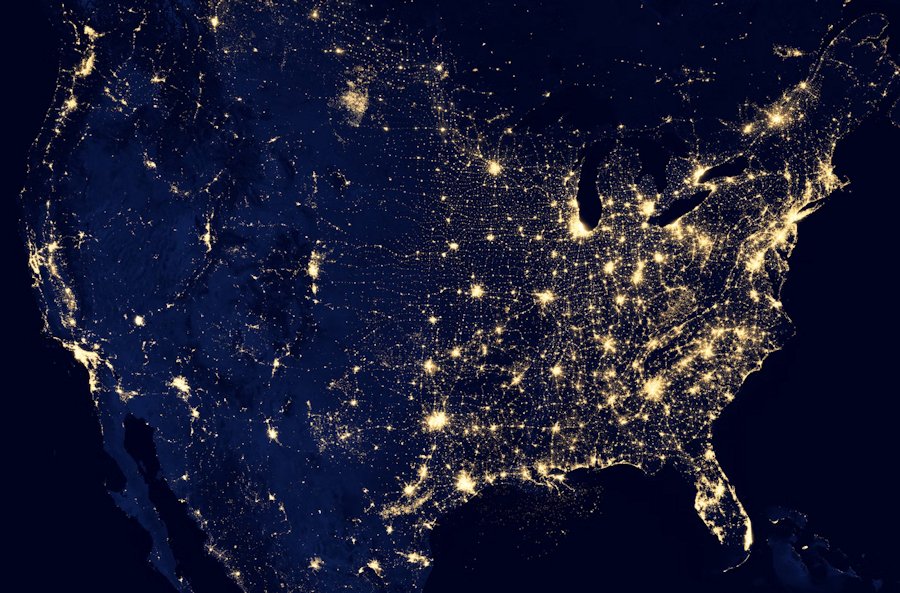 United States by NASA on Unsplash.
Travel Notes: North America - United States of America.


About the United States

Find out more about United States before you travel.
Order tourist brochures then research things to do and places to stay in the USA.
Map of The United States
Alabama - Alaska - Arizona - Arkansas - California - Colorado - Connecticut - District of Columbia - Delaware - Florida - Georgia - Hawaii - Idaho - Illinois - Indiana - Iowa - Kansas - Kentucky - Louisiana - Maine - Maryland - Massachusetts - Michigan - Minnesota - Mississippi - Missouri - Montana - Nebraska - Nevada - New Hampshire - New Jersey - New Mexico - New York - North Carolina - North Dakota - Ohio - Oklahoma - Oregon - Pennsylvania - Rhode Island - South Carolina - South Dakota - Tennessee - Texas - Utah - Vermont - Virginia - Washington - West Virginia - Wisconsin - Wyoming.
US Hostels:
Ideal for backpackers and those travelling on a budget: dorms, shared accommodation and private rooms.
The United States of America is a vast and diverse country with a wide range of attractions, landmarks, and cultural experiences.
When thinking about visiting the United States it's important to ask yourself what it is you're looking for.
Which cities or regions in the United States would you like to visit?
What are your interests or preferences?
Are you interested in history, nature, food, or any specific activities?
How long do you plan to stay in the United States?
Do you have any specific budget considerations?
Visiting the United States in general is an exciting endeavor, given the country's diverse landscapes, vibrant cities, and rich cultural heritage.
Accommodation
The United States offers a variety of accommodation options, ranging from luxury hotels to budget motels, vacation rentals, and hostels.
Major cities have a wide range of choices, but it's advisable to book in advance, especially during peak travel seasons.
Currency and Tipping
The currency in the United States is the U.S. dollar.
Credit cards are widely accepted, but it's a good idea to carry some cash for small purchases or places that may not accept cards.
Tipping is customary in the U.S., and it's common to tip around 15-20% in restaurants, bars, and for other services.
Entry Requirements
Make sure to check the entry requirements for your country of residence.
Most travelers will need a valid passport and possibly a visa or an ESTA (Electronic System for Travel Authorization) for visa-exempt countries.
Check with the U.S. embassy or consulate in your home country for the most up-to-date information.
Local Customs
The United States is a diverse country with a variety of cultures and customs.
It's important to respect local customs and etiquette, such as greeting people with a handshake, being mindful of personal space, and following any specific rules or regulations at attractions or public places.
Popular Destinations
The United States offers a wide range of popular destinations to explore.
Some of the most iconic cities include New York City, Los Angeles, San Francisco, Chicago, and Miami.
Natural wonders like the Grand Canyon, Yellowstone National Park, Yosemite National Park, and the Great Smoky Mountains are also worth considering.
Safety and Security
While the United States is generally a safe destination, it's always important to take common-sense precautions.
Be aware of your surroundings, follow local laws and regulations, and keep your belongings secure.
It's also a good idea to have travel insurance that covers medical emergencies and trip cancellations.
Transportation
Depending on your itinerary, you can choose to fly between cities or use domestic transportation options like trains, buses, or rental cars.
Domestic flights are common for long distances, while trains and buses can be more suitable for shorter trips or scenic routes.
Weather and Seasonality
The weather in the United States can vary greatly depending on the region and time of year.
It's important to research the weather conditions for your desired destinations and pack accordingly.
Keep in mind that the U.S. has different seasons, and the timing of your visit can affect availability and prices.
Where to Go
The United States is a vast country, with a wide range of destinations to visit, so planning your trip based on your specific interests and preferences will help you make the most of your visit.
From the mountains of Colorado and Montana to the beaches of Florida and California, the U.S. is full of hidden gems and diverse experiences.
Chicago, Illinois:
With its iconic architecture, sports teams, deep-dish pizza, and blues music, Chicago is always worth a visit.
Las Vegas, Nevada:
Known for its casinos, nightlife, and entertainment, Las Vegas offers a different kind of travel experience.
Maui, Hawaii:
With its lush valleys, pristine beaches of azure waters, and warm breezes, Maui is a perfect tropical excursion.
New Orleans, Louisiana:
A city marked by its unique French influence, jazz music, and colorful architecture, New Orleans is a place like no other in the United States.
New York City, New York:
One of the most popular cities in the world with its iconic skyline, central park, broadway shows, and museums.
Orlando, Florida:
Home to Walt Disney World, Universal Studios, and other amusement parks, Orlando is a perfect place to take the family for some fun times.
San Francisco, California:
Known for its scenic views of the Golden Gate Bridge, Alcatraz Island, Fisherman's Wharf, and the famous cable-cars.
The Grand Canyon, Arizona:
One of the most spectacular natural wonders in the world, with mesmerizing views of its unparalleled beauty.
Washington D.C.:
Home to some of the most important historical and cultural landmarks in the United States, including the National Mall, the White House, and the Smithsonian museums.
Yellowstone National Park, Wyoming:
With its wildlife, hot springs, and geysers, Yellowstone is one of the most unique and diverse national parks in the world.
Become a U.S. City Guide:
You really know the local scene - where to eat, where to stay, and what to do. Tell our visitors more about the sights and delights and how to make the most of their time in the United States.
North America @ Travel Notes:
Travel and tourism links for North America.
Write For Travel Notes
Submit Your U.S. Travel Article:
If you're on the road or have just returned from somewhere in the United States, send us your updates for publication.
Sightseeing Tours, Events and Attractions.
More detailed travel destination information about the United States:
US Travel.:
Official US tourist information for visitors to the United States of America. Includes state county maps and city travel guides to make your stay a pleasant one.
Travel by Car:
Driving distances between major cities in the United States.
Travel Industry
Add your Lodging - Add your Tours - Add your Travel Listing.
Sightseeing Tours, Events and Attractions.
Travel Notes Online Guide to Travel
Africa - Asia - Caribbean - Europe - Middle East - North America - Oceania - South America.

The Travel Notes Online Guide to Travel helps visitors plan their trip with country and city travel guides, local tourist information, reviewed web sites, and regular travel articles.
Travel and Tourism Guides on Travel Notes
If Travel Notes has helped you, please take a moment to like us on Facebook and share with your friends on social media.


Travel & Tourism With Industry Professionals.
Online Travel Resources

Advertise - Affiliates - Airlines - Airports - Business Listings - Car Hire - City Guides - Cruises - Favourite Places - Flights - Hostels - Hotels - Lodging - Rail Travel - Round The World - Timeshares - Topsites - Tours - Travel Blogs - Travel Directory - Travel Insurance - Vacation Rentals.

Alabama.